WATCH: Jenna & Barbara Bush dish on life in the 'haunted' White House
And yes, the interview was full of psychic twin moments.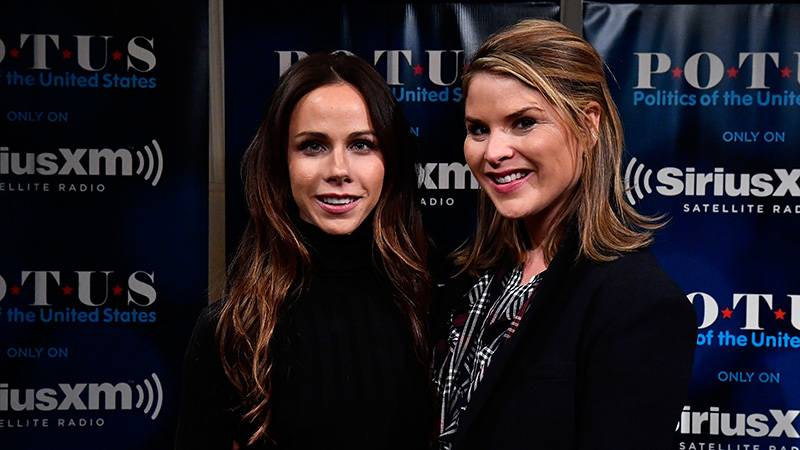 WASHINGTON, DC – OCTOBER 26: Sisters Jenna Bush-Hager (R) and Barbara Bush discuss their new book during a SiriusXM "Town Hall" event hosted by Julie Mason at SiriusXM Studio on October 26, 2017 in Washington, DC. (Photo by Larry French/Getty Images for SiriusXM)
It's been more than a decade since the twin daughters of Pres. George W. Bush made splashy headlines on the cover of tabloid newspapers, and now, Jenna Bush Hager and Barbara Pierce Bush are taking back the narrative of what they're referring to as their "wild and wonderful life."
During a SiriusXM Town Hall hosted by Julie Mason, the grown-up former first daughters shared stories from their new, revealing memoir, Sisters First. The book details their lives as college students during their father's first year in office, the life-changing events of Sept. 11th, dealing with the subsequent War in Iraq and that, yes, the White House is haunted.
But despite growing up in the spotlight as "the Bush twins" — Bush jokes that at 7 years old, she didn't realize that not all grandfathers had inaugurations — the twins were able to maintain and develop their own identities.
"Not comparing us," Hager and Bush said in unison laughing, having one of those psychic twin moments when asked how their parents were able to allow the girls to foster their own personalities.
"They never compared us. And thank goodness," Hager said before sharing that her twin — who attended Yale University — had only missed a single math problem on her SATs.
And the sisters also revealed how the Bush family gives new meaning to being home for the holidays. The former first families won't leave Texas during the festive season.
"They don't want the Secret Service to have to leave their families on holidays," Hager revealed, admitting she stopped asking for a White Christmas in New York a few years ago. "And it takes far less Secret Service if we stay at our, at my parents' house. And I think that's because we greatly respect them."
The Press Pool with Julie Mason airs weekdays at 3 pm ET on SiriusXM P.O.T.U.S. (Ch. 124).
---
---
---