SiriusXM Town Hall with Stephen A. Smith: The State of Sports, Media and Culture Today
SiriusXM hosted an in-depth Q+A with one of sports media's most intriguing and provocative personalities, Stephen A. Smith. The interview took place in front of an audience of SiriusXM listeners at our New York City studio and was conducted by SiriusXM host … Continued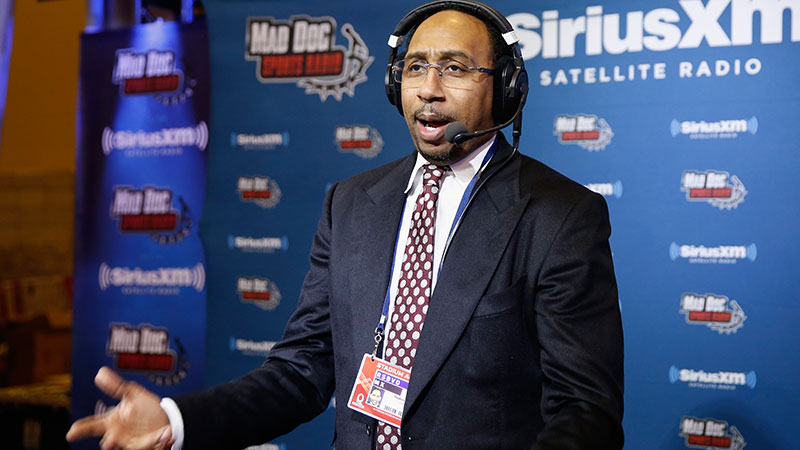 SiriusXM hosted an in-depth Q+A with one of sports media's most intriguing and provocative personalities, Stephen A. Smith. The interview took place in front of an audience of SiriusXM listeners at our New York City studio and was conducted by SiriusXM host Karen Hunter. Smith discussed such hot-button issues as racism, sexism, abuse and the role media plays in today's sports scene.
During the Town Hall, Smith discussed his controversial comments on domestic violence. While discussing the NFL's decision to suspend then-Baltimore Ravens running back Ray Rice in the wake of video surfacing of him dragging his then-fiancée out of an elevator, Smith made comments on ESPN First Take that led to the company suspending him for a week.
"There's never an excuse to put your hands on a woman," Smith said in 2014. "We also have to make sure that we learn as much as we can about elements of provocation. Not that there's real provocation, but the elements of provocation, you got to make sure that you address them, because we've got to do is do what we can to try to prevent the situation from happening in any way. And I don't think that's broached enough, is all I'm saying. No point of blame."
Smith then came under fire from people who received those statements as him making an excuse for Rice. Rice was later suspended by the NFL for the entire 2014 season after video was released of him striking his then-fiancée and knocking her unconscious. Journalism colleagues criticized Smith for seemingly blaming women for provoking men and thereby condoning domestic abuse. Smith clarified the situation during the Town Hall.
"It was devastating to me because people who know me, people who love me, people who are familiar with my work know my longstanding position," Smith said. "Think about the world that I live in. I cover professional sports, I've dealt with professional athletes who have made the mistake of putting their hands on women; ask them what happened to them when they had to deal with me because they made that kind of error in judgment. I've written about it, I've spoken about it, I have a career spanning in excess of 20 years that shows my position on that."
He continued, "For me to be stained as somebody who would even come close to thinking that is OK, it is truly the one time in my entire career that I can sit here before a live studio audience and tell you that I was genuinely hurt and felt betrayed by an industry that allowed me to be projected in that way."
Smith also discussed issues of racism in America. When posed with the question of how he thinks he would be treated if he were White, Smith pulled no punches.
"If I was a white man I think I'd be even better off," Smith said. "The fear factor wouldn't be attached to me."
He continued, "The reality of the situation is clear. If you are outspoken, and you happen to be Black, and you happen to have a level of intellect attached to you… There are still some folks out there who may fear that impact, and the kind of impact it could potentially have on society at large.
"SiriusXM's Town Hall with Stephen A. Smith: The State of Sports, Media and Culture Today" will air nationwide on March 18, 2016 at 12 pm ET on Urban View (Ch. 126) and through the SiriusXM App on smartphones and other connected devices, as well as online at siriusxm.com. It will also rebroadcast on Sunday, March 20, on Insight (Ch.121) at 8 pm ET. After the broadcast, "SiriusXM's Town Hall with Stephen A. Smith" will be available on SiriusXM On Demand for subscribers listening via the SiriusXM App for smartphones and other mobile devices or online at SiriusXM.com. Click here for more info on SiriusXM On Demand.
For a free 30-day trial, check out http://www.siriusxm.com/freeTrial
---
---
---