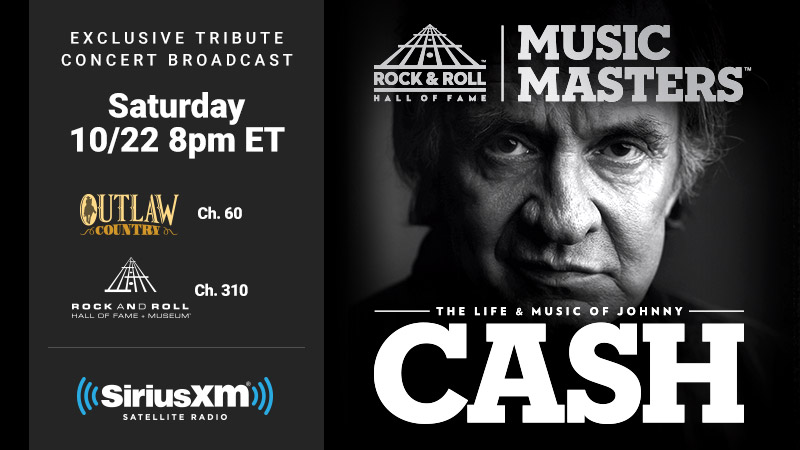 The Man in Black will be remembered this weekend on SiriusXM.
Johnny Cash is being honored at the Rock & Roll Hall of Fame's 21st Annual Music Masters concert, and SiriusXM's Outlaw Country (Ch. 60) and Rock & Roll Hall of Fame Radio (Ch. 310) will bring the fanfare to you on Saturday, Oct. 22 at 8 p.m. ET.
The special will also broadcast Sunday, Oct. 23 at 9 a.m. ET on Outlaw Country and on Rock & Roll Hall of Fame Radio at 12 a.m and 3 p.m. ET as well as Tuesday, Oct. at 12 p.m. ET and Thursday, Oct. 28 at 6 p.m. ET.
Although he's most remembered as a country music icon, his genre-blending style was also embraced by rock 'n' roll and influenced artists like Bob Dylan and Trent Reznor. His crossover appeal earned him a spot in the Rock & Roll Hall of Fame in 1992.
The celebration of his life and music will be produced by Cash's son John Carter Cash, who will serve as executive band leader, and will feature performances from Paul Cauthen, Ana Cristina, Ira Dean, Nikki Lane, Terry McBride, Bill Miller, The Oak Ridge Boys, Charlie Worsham, Mike Ness of Social Distortion, Eilen Jewell, L.A. punk band X, and WS Holland. The concert will be broadcast from the Playhouse Square Theater in Cleveland, Ohio.
In the meantime, check out Lyle Lovett inducting Cash into the Rock & Roll Hall of Fame:
And re-live Cash's performance from the 1992 Induction Ceremony:
For a free 30-day trial, check out http://www.siriusxm.com/freetrial/blog.
---
---
---