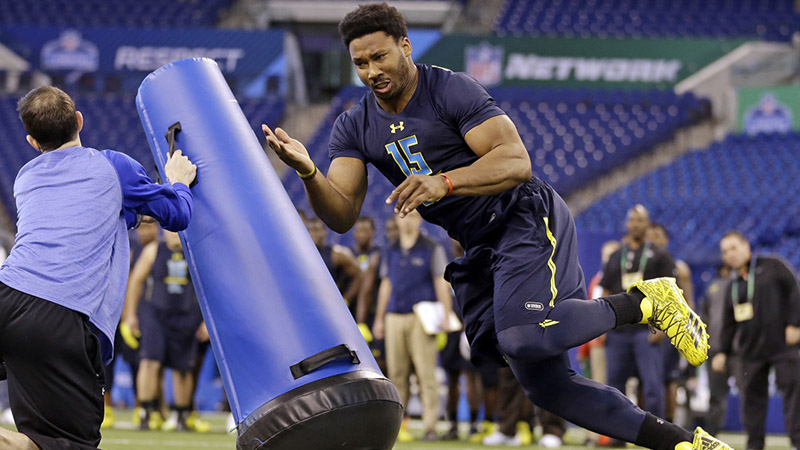 Texas A&M defensive end Myles Garrett runs a drill at the NFL football scouting combine in Indianapolis, Sunday, March 5, 2017. (AP Photo/Michael Conroy)
The NFL Draft is right around the corner, and that means you should be acquainted with the future stars of the league.
SiriusXM NFL Radio will be carrying the action live during Round 1 on Thursday, April 27, through the finish on Sunday, April 30, offering up expert analysis and opinions as the picks come in. In fact, we're already talking to some of the top draft prospects ahead of the big event in Philly.
Former North Carolina quarterback Mitch Tribusky joined SiriusXM NFL Radio to talk about his college career and his nerves heading into next week.
ICYMI: UNC QB @Mtrubisky10 joined LH to talk about his lack of starts in college and his nerves as the draft nearshttps://t.co/YJVO15mcqD pic.twitter.com/rPYvakVr8Z

— SiriusXM NFL Radio (@SiriusXMNFL) April 18, 2017
In the days leading up to the draft, our hosts are tinkering with their mock drafts, absorbing each day's news and switching up their boards as needed. Case in point, Jim Miller and Pat Kirwan are already on their fifth Movin' the Chains mock draft.
Here is the FIRST Round of Mock Draft 5.0. Trades allowed #MTCMockDraft pic.twitter.com/6MwASQzwl9

— SiriusXM NFL Radio (@SiriusXMNFL) April 14, 2017
That's not all, though. SiriusXM's Greg McElroy has you covered with prospect profiles just in case you're not sure who your team should take. Texas A&M's Myles Garrett appears to be heading to Cleveland as this year's top draft pick. McElroy explains why.
"Very athletic, extremely versatile, checks every box when it comes to size," McElroy said in his evaluation of Garrett. Despite his weakness when it comes to stopping the run, McElroy concluded that the six-foot-five, 271-pound Garrett is "tremendously gifted and deserving of the top overall pick."
For more on the draft and what's happening in the world of pro football, listen in on SiriusXM NFL Radio, Ch. 88.
---
---