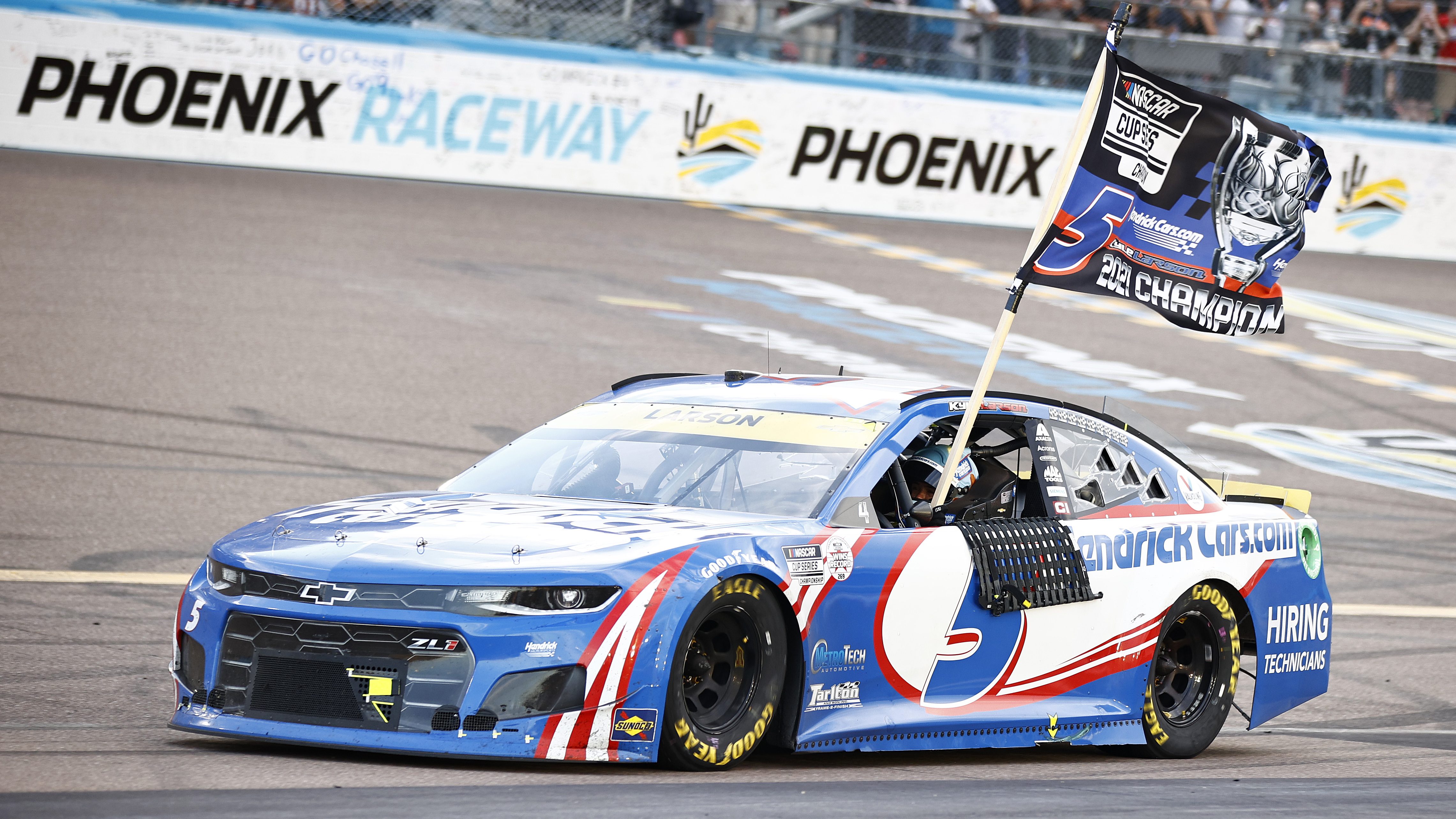 Can Kyle Larson win a second straight title in 2022? (Photo: NASCAR)
Pete Pistone will unveil Power Rankings each week of the NASCAR season. Check out this week's edition of NASCAR Power Rankings below, and listen to SiriusXM NASCAR Radio (Ch. 90) on the SXM App now.

1. Kyle Larson
The defending series champion should be strong again in 2022 but maybe not to the tune of winning 10 races. Still, look for Larson and crew chief Cliff Daniels to set the pace in search of a second straight title.
2. Martin Truex Jr.
Four wins a year ago kept Truex in the discussion as one of NASCAR's elite drivers. However, the year seemed to be a tale of two seasons with a good start, mediocre middle and then a strong finish. Let's see if Truex Jr. can keep things a bit more even throughout all of 2022.
3. Denny Hamlin
Every metric of 2021 was incredibly strong for Hamlin — except for one glaring statistical column: victories. There's a good chance Hamlin will get to the Championship 4 in Phoenix once again this season, but the bigger question will always be can he win the title until he finally accomplishes the feat.
4. Chase Elliott
Many have called last year's effort by Elliott and company below average. That's fair when you consider what he did the season prior on his way to the Cup championship. But even though Elliott won only twice in 2021 with both victories on road courses, don't underestimate the caliber of the No. 9 team this year.
5. Kyle Busch
The Joe Gibbs Racing driver might be the happiest in the Cup garage to see the last generation of car and its rules package disappear. Busch won twice last season but just couldn't seem to get a complete hold of things, something he's looking to overcome with the NextGen car in 2022.
6. Ryan Blaney
The Team Penske driver enjoyed his breakthrough season in 2021 when he visited Victory Lane three times. He added 11 top-fives and 20 top-10s, building a foundation Blaney and new crew chief Jonathan Hassler look to build on this season.
7. Joey Logano
The odds of Logano winning just once last season and that victory coming on the Bristol dirt track were more than likely extremely low. He's now the veteran of the Team Penske trio and Logano, who set a positive tone for the year by winning the Clash at the Coliseum, hopes to have a more "normal" year with multiple wins on the board.
8. William Byron
The Hendrick Motorsports driver took major steps forward in his progression as a Cup driver last year with a win, a spot in the Playoffs and several performances late in the year that nearly scored Byron another win. He's back with crew chief Rudy Fugle again in 2022 and seems poised to breakout even more.
9. Kevin Harvick
It was a steep drop for Harvick to go from nine victories in 2020 to none last season. The positive view is performance was much-improved in the second half of 2021 providing a glimmer of optimism to the Stewart-Haas Racing organization for a rebound.
10. Alex Bowman
A four-race winner last season, Bowman found himself in the middle of controversy late in the campaign after he and Denny Hamlin made contact at Martinville. The No. 48 team has to find a way to mitigate the inconsistent swings during the year that led to a 14th-place finish in the final point standings.
---
---
---