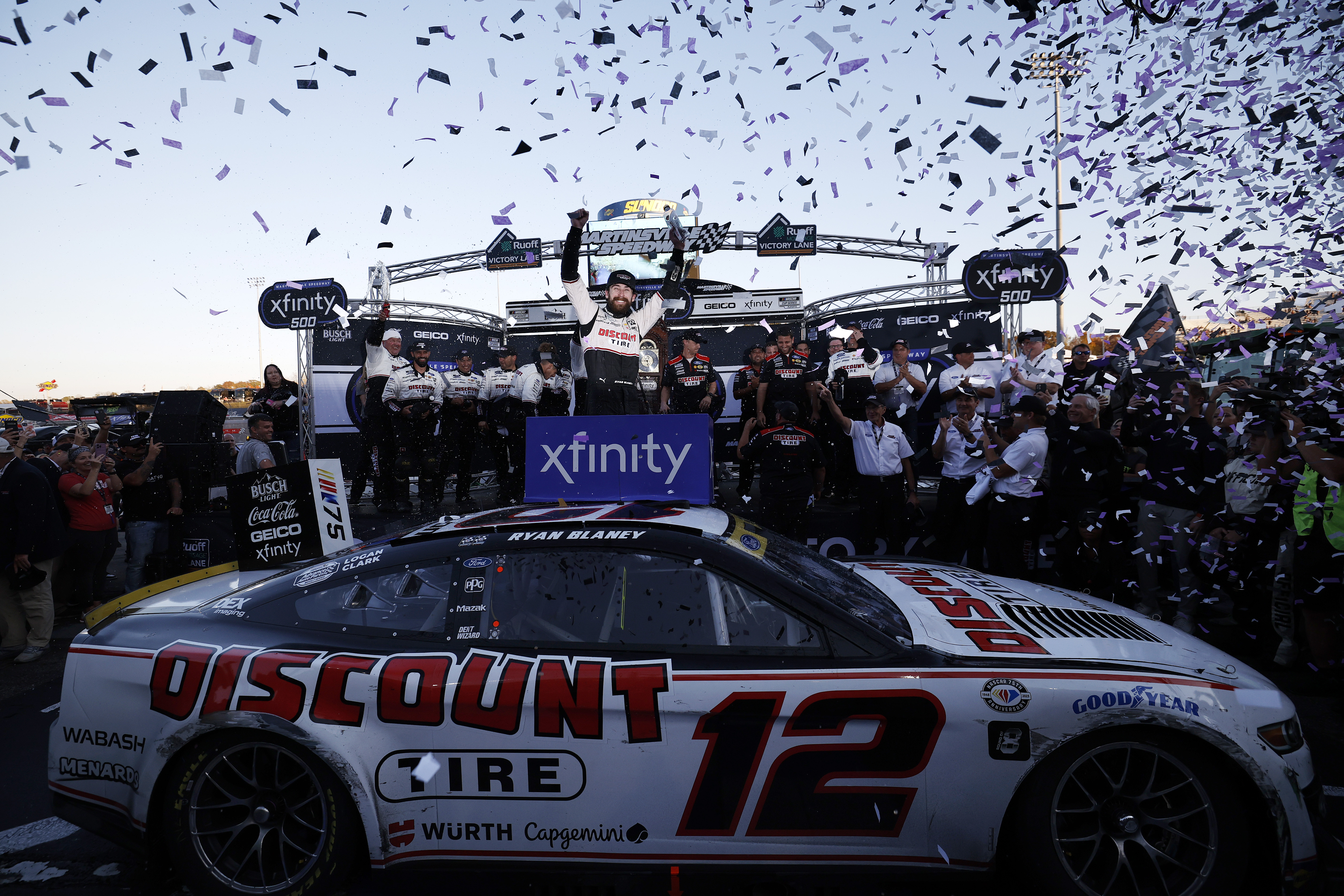 Pete Pistone will unveil Power Rankings each week of the NASCAR season. Check out this week's edition of NASCAR Power Rankings below, and listen to SiriusXM NASCAR Radio (Ch. 90) on the SiriusXM App and web player now.

---
Read all of Pete Pistone's previous Power Rankings here
---
The Round of 8 of the NASCAR Cup Series Playoffs came to a close Sunday at Martinsville Speedway. Here's a look at the "Power Rankings" after the Xfinity 500:
1. Kyle Larson
There's one previous champ in Sunday's Championship 4 and that's Larson after his 2021 title.Although he didn't win in the spring he was the dominant car leading 201 laps on his way to a fourth place finish.
Playoff Ranking: T-1st
Last Week: 2nd
2. Ryan Blaney
Momentum is definitely on Blaney's side after he led 145 laps on his way to winning Sunday's Xfinity 500 at Martinsville.Blaney is working on a streak of four straight top-five Phoenix finishes including a pair of runner-ups. Could that make him the favorite on Sunday?
Playoff Ranking: T-1st
Last Week: 6th
3. Christopher Bell
The Joe Gibbs Racing driver had locked up his Championship 4 spot the week before with a win at Homestead. Bell turned in a solid seventh-place Martinsville run and now makes his second straight appearance in the title quartet of drivers at Phoenix.
Playoff Ranking: T-1st
Last Week: 1st
4. William Byron
What looked to be a healthy margin over the cutline proved anything but for Byron who had to scratch and claw his way to a finish good enough for a spot in the Championship 4. He has six wins this year with one coming at Phoenix in the spring something Byron and the No. 24 team would love to replicate on Sunday.
Playoff Ranking: T-1st
Last Week: 3rd
5. Denny Hamlin
He finished third and led a race-high 156 laps on Sunday but it wasn't enough to keep Hamlin from missing the Championship 4 for a second straight season. A mechanical issue at Homestead and a lackluster tenth place run at Las Vegas are too much to overcome in the Round of 8 for Hamlin who continues his legacy as the best Cup driver to never win a title.
Point Standings: 5th
Last Week: 4th
6. Chris Buescher 
The opening two races of the Round of 8 did Buescher in and his eighth place Martinsville performance wasn't enough to keep him in the Playoff picture. There is no doubt that 2023 will be his best career Cup Series campaign.
Point Standings: 8th
Last Week: 8th
7. Bubba Wallace
A finish just outside the top-10 Sunday at Martinsville for Wallace who is looking to put his best career finishing in the standings in the books in 2023. Wallace's best point finish was 19th and he's now on track for a much better ending this year.
Point Standings: 10th
Last Week: 7th
8. Joey Logano
He was eliminated from the Playoffs early on but that hasn't stopped Logano from putting together a pretty solid run in recent weeks. Two top five finishes in the last four races are on the board for Logano who looks to play possible spoiler Sunday in Phoenix.
Point Standings: 11th
Last Week: NR
9. Tyler Reddick
The Round of 8 couldn't have been more sour for Reddick who despite finishing third in the middle race at Homestead was not able to stay above the cutline and advance to the Championship 4. A miserable 26th-place finish at Martinsville ended his title hopes.
Point Standings: 6th
Last Week: 5th
10. Martin Truex Jr.
The championship dream came to an end for the regular season champion Sunday at Martinsville when Truex Jr. was penalized for speeding on pit road and could not fight his way back to the front of the field ending up with a disappointing 12th place finish.
Point Standings: 12th
Last Week: 10th
Dropped Out: Brad Keselowski
---
---
---