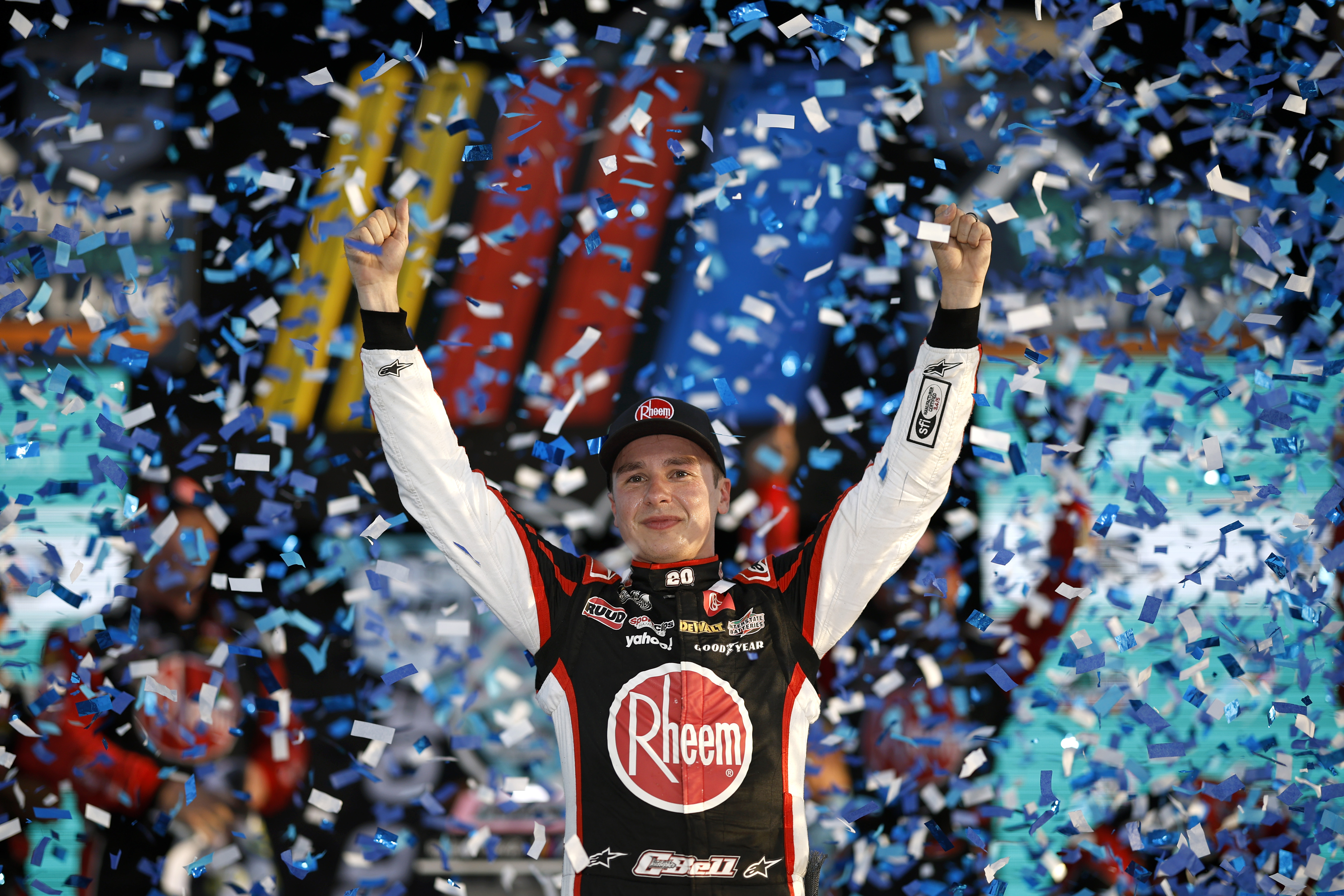 Pete Pistone will unveil Power Rankings each week of the NASCAR season. Check out this week's edition of NASCAR Power Rankings below, and listen to SiriusXM NASCAR Radio (Ch. 90) on the SiriusXM App and web player now.

---
Read all of Pete Pistone's previous Power Rankings here
---
The Round of 8 of the NASCAR Cup Series Playoffs moved to Homestead-Miami Speedway. Here's a look at the "Power Rankings" after Sunday's 4EVER 400:
1. Christopher Bell
Move over Reggie Jackson, Bell is the new "Mr. October." He's back in the Championship 4 for the second consecutive season after pulling off a victory at Homestead on the heels of finishing second the week before to open the Round of 8 at Las Vegas.
Playoff Ranking: T-1st
Last Week: 4th
2. Kyle Larson
Dominated Homestead and in front for 96 laps until disaster struck when he crashed into the sand barrels at the head of pit road and was credited with a 34th place finish. But Larson already is locked into the Championship 4 despite his 8th DNF of the season.
Playoff Ranking: T-1st
Last Week: 1st
3. William Byron
A consistent outing for Byron at Homestead that saw the Hendrick Motorsports driver finish fourth, score 16 stage points and build a cushion of 30 points from the Playoff cutline.
Playoff Ranking: 3rd
Last Week: 2nd
4. Denny Hamlin
Here we go again. The wheels of Hamlin's title hopes are nearly all the way off after a broken part eliminated him Sunday at Homestead after 236 laps and he left South Florida with a 30th-place finish. He is 17 points out and one race away from potentially missing the Championship 4 field for a second straight season.
Playoff Ranking: 7th
Last Week: 3rd
5. Tyler Reddick
Was Homestead another missed opportunity for Reddick? That's tough to say after finishing third but Reddick was a pre-race favorite and came out of Homestead below the cutline ten points out of a Playoff position.
Playoff Ranking: 5th
Last Week: 5th
6. Ryan Blaney
Another solid outing for Blaney with a second place finish at Homestead that saw him pace the field for 53 laps. He has the final spot in the Playoffs heading to Martinsville and is ten points above the cutline.
Playoff Ranking: 4th
Last Week: 8th
7. Bubba Wallace
An outside front row starting spot helped Wallace lead nine laps in the opening stages of Sunday's race. Handling issues got the better of the No. 23 Toyota but adjustments helped Wallace gut out an impressive sixth-place finish.
Point Standings: 11th
Last Week: NR
8. Chris Buescher
It's a must-win at Martinsville not for Buescher who has not had the best Playoff run by any means and comes into the last race in the Round of 8 after a disappointing 21st-place performance at Homestead.
Playoff Ranking: 8th
Last Week: 6th
9. Brad Keselowski
He led 16 laps and scored eight stage points in the early part of the race. But things went south from there for Keselowski who picked up damage from an accident and then went on to finish 28th at Homestead.
Point Standings: 9th
Last Week: 7th
10. Martin Truex Jr.
Once again teetering on an elimination after Truex Jr. started from the pole on Sunday then was eliminated with a blown engine on lap 237. He'll need to find his former Martinsville magic to advance to the Championship 4.
Playoff Ranking: 6th
Last Week: 9th
Dropped Out: Kyle Busch
---
---
---