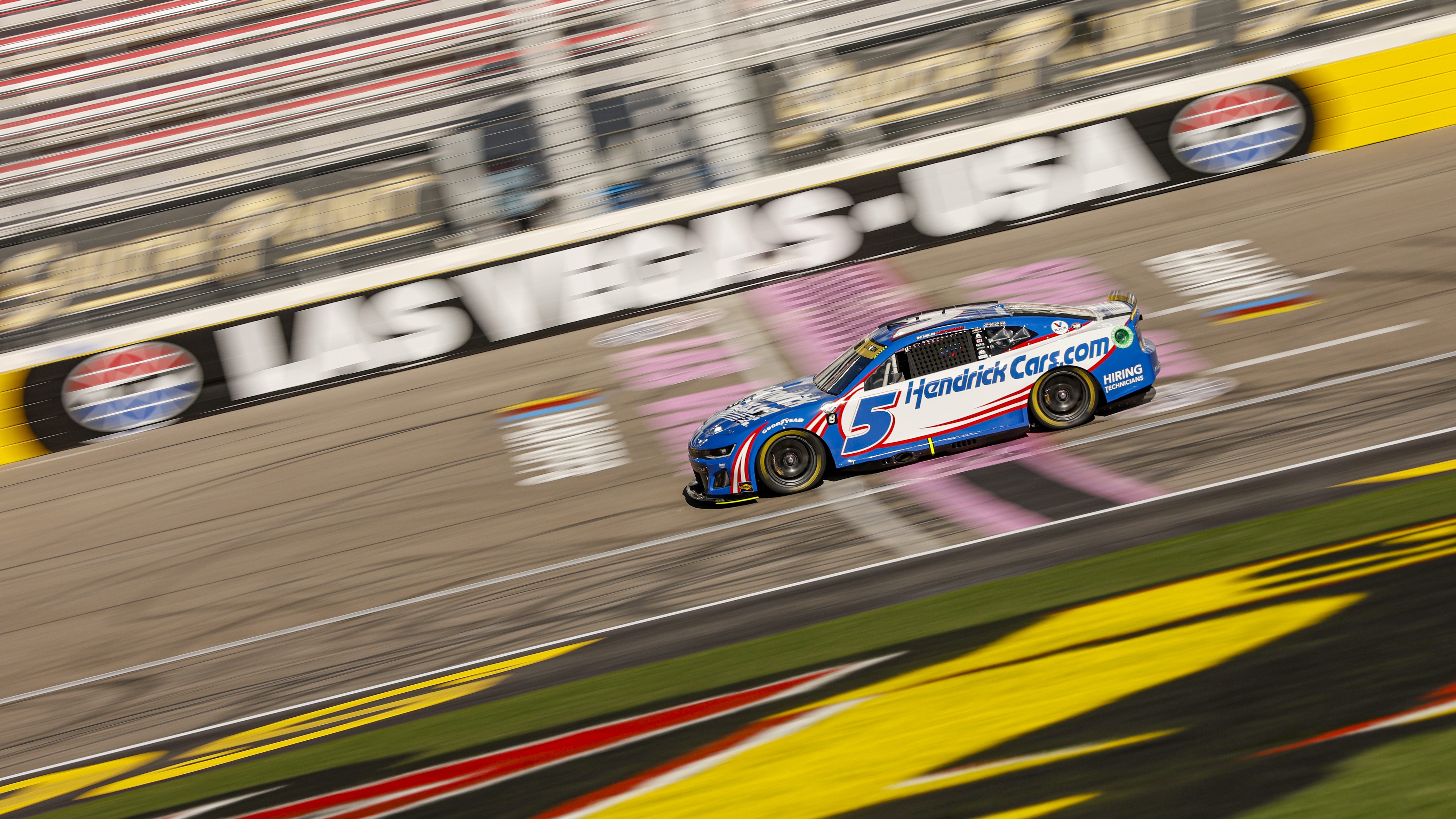 Photo by Sean Gardner/Getty Images
Pete Pistone will unveil Power Rankings each week of the NASCAR season. Check out this week's edition of NASCAR Power Rankings below, and listen to SiriusXM NASCAR Radio (Ch. 90) on the SiriusXM App and web player now.

---
Read all of Pete Pistone's previous Power Rankings here
---
The Round of 8 of the NASCAR Cup Series Playoffs kicked off at Las Vegas Motor Speedway. Here's a look at the "Power Rankings" after Sunday's South Point 400:
1. Kyle Larson
His seat at the Championship Four is set after Larson swept the opening two stages and went on to score a win at Las Vegas. Larson leads the Cup Series in a couple of interesting categories; DNF's (7) and laps led (1,031), which he added 133 to in his Las Vegas triumph.
Playoff Ranking: 1st
Last Week: 2nd
2. William Byron
The spring Las Vegas winner could do no better than seventh on Sunday, which by his lofty standards was a bit of a left down for Byron and company. He's 11 points ahead of teh cut line going to Homestead, one of his better tracks on the schedule.
Playoff Ranking: 2nd
Last Week: 1st
3. Denny Hamlin
Two straight weeks of not the best performances for Hamlin. A last place Roval finish led to a tenth-place Vegas performance, typically one of Hamlin's better tracks. He's still above the cut line but the No. 11 JGR team needs to start trending in a better direction.
Playoff Ranking: 3rd
Last Week: 3rd
4. Christopher Bell
If there were one more lap on Sunday there's a good possibility Bell would have been the winner. He ran down eventual race winner Kyle Larson in the closing laps and respectfully raced him to finish second after starting the race from the pole, his sixth of the season.
Point Standings: 5th
Last Week: 6th
5. Tyler Reddick
An eighth-place finish is certainly not a bad run for Reddick. But it felt like a let down after a week of Reddick and company felling they were poised to have a much better day in Las Vegas.
Playoff Ranking: 6th
Last Week: 5th
6. Chris Buescher
The other half of the RFK duo is still alive in the Playoffs but Buescher's day in Vegas was a mixed bag. His eleventh place finish was his second best career Vegas outing but Buescher is 23 points below the cut line heading to Homestead.
Playoff Ranking: 7th
Last Week: 4th
7. Brad Keselowski
Another driver knocked out of the Playoffs the week prior that followed up with a good run in Las Vegas. Keselowski paced the field for 38 laps and put a top-five effort on the board with a fourth place finish.
Point Standings: 9th
Last Week: NR
8. Ryan Blaney
The Team Penske driver actually had a decent run in Las Vegas and Blaney took the checkered flag in sixth. He was originally DQ'd from the race after a post race inspection issue with a shock, a ruling that was rescinded by NASCAR keeping Blaney's Playoff hopPlayoff Ranking: 8th
Last Week: 7th
9. Martin Truex Jr.
After six dismal races to start the Playoffs, there was a glimmer of hope for Turex Jr. and the Joe Gibbs Racing team in Vegas with a top-10 performance. He's just a tick above the cut line and needs a couple more outings like Sunday to have a shot at the Championship Four.
Playoff Ranking: 4th
Last Week: NR
10. Kyle Busch
He was eliminated from the Playoff picture the week prior in Charlotte, but Busch put up a strong performance in Las Vegas. He finished third for the second straight race Busch's first back-to-back top-five finishes since July.
Point Standings: 11th
Last Week: NR
Dropped Out: Chase Elliott, Bubba Wallace, Alex Bowman
---
---
---