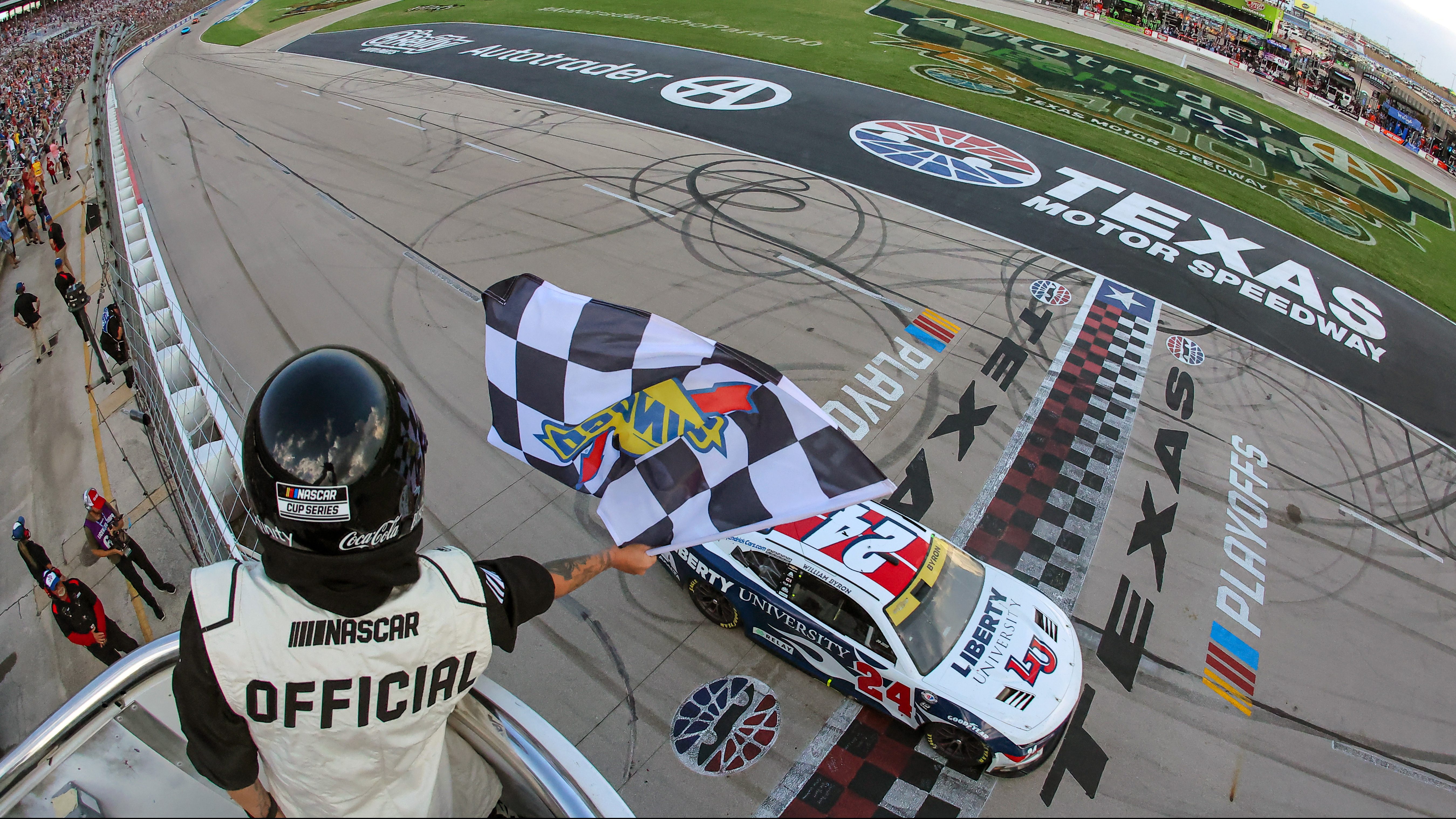 Pete Pistone will unveil Power Rankings each week of the NASCAR season. Check out this week's edition of NASCAR Power Rankings below, and listen to SiriusXM NASCAR Radio (Ch. 90) on the SXM App now.

The NASCAR Cup Series Playoffs kicked off the second round of the Playoffs at Texas Motor Speedway. Here's a look at the "Power Rankings" after Sunday night's AutoTrader EchoPark Automotive 400:
1. Denny Hamlin
Damage with JGR teammate Ty Gibbs impacted Hamlin's handing but he was still able to muscle his way home to a fifth place Texas finish and stay very much alive in his quest to end his career championship drought.
Playoff Ranking: 2nd
Last Week: 1st
2. William Byron
A series-high victory number six gave Byron a berth in the Round of 8 and the opportunity to rest easier at Talladega and The Roval in the rest of this round. It also gave Hendrick Motorsports its 300th Cup victory.
Playoff Ranking: 1st
Last Week: 5th
3. Kyle Larson
He led 99 laps but an accident while racing for position with Bubba Wallace sent Larson into the wall, out of the race and home from Texas with a disappointing 31st place finish. Talladega will be a struggle for Larson based on past history at the track where he's had four finishes of 33rd or worse since 2019.
Playoff Ranking: 8th
Last Week: 2nd
4. Chris Buescher
Not the Texas homecoming he was looking for but Buescher did lead a couple of laps for the first time at his home track. He'll look to return to his better finishing ways this week at Talladega.
Playoff Ranking: 3rd
Last Week: 4th
5. Bubba Wallace
The dominant car at Texas winning the pole and leading 111 laps. But another costly late race restart mistake kept Wallace from Victory Lane and he was forced to settle for third place on Sunday.
Playoff Ranking: 9th
Last Week: 9th
6. Brad Keselowski
Another steady as she goes outing for Keselowski who brought home a seventh-place Texas finish. He heads to Talladega where career win number seven on Sunday would come at a very opportune time for Keselowski in this year's Playoffs.
Playoff Ranking: 7th
Last Week: 6th
7. Christopher Bell
The Joe Gibbs Racing driver said after the race he didn't have a fast car and there were more struggles for the No. 20 team on pit road. But somehow Bell was able to persevere through all those challenges to come home with a top-five Texas finish.
Point Standings: 4th
Last Week: 8th
8. Tyler Reddick
Strategy and restarts impacted Reddick in both a good way and bad way Sunday at Texas. A late race accident finally ended any hopes for a good finish to back up his Texas win of a year ago and Reddick was credited with a 25th-place finish.
Playoff Ranking: 10th
Last Week: 3rd
9. Chase Elliott
Consistent finishes haven been the calling card for Elliott over the last couple of months. However, winning remains elusive and Sunday at Talladega will mark the one year anniversary of the last time the No. 9 team won a race.
Point Standings: 17th
Last Week: 7th
10. Ross Chastain
Speed looks to be back for Chastain and the No. 1 team at Trackhouse Racing. Even after struggling with some throttle issues Chastain was able to bounce back and earn a second place finish at Texas.
Playoff Ranking: 6th
Last Week: NR
Dropped Out: Martin Truex Jr.
---
---
---