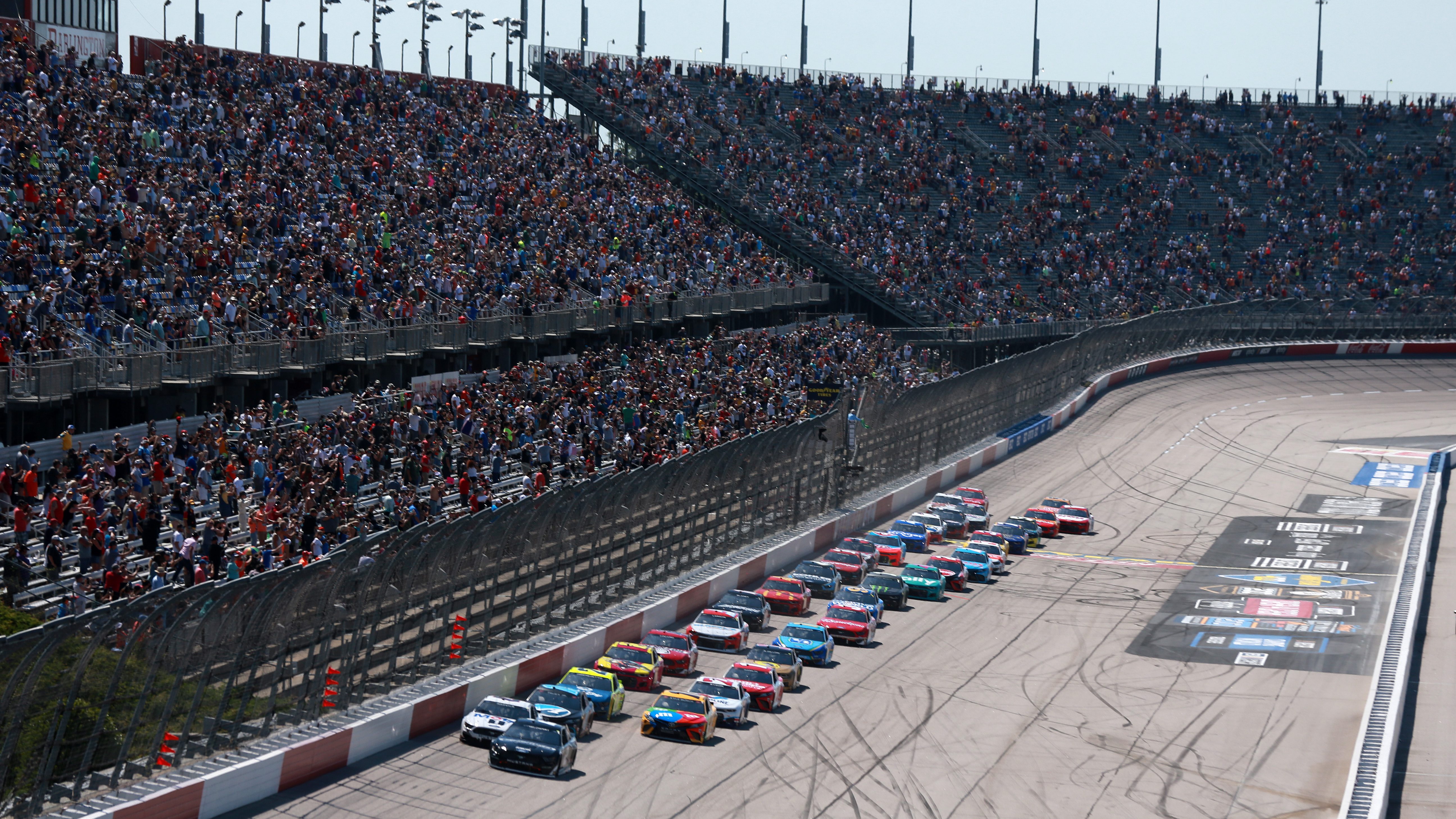 DARLINGTON, SOUTH CAROLINA – MAY 09: Brad Keselowski, driver of the #2 Freightliner Ford, leads the field to star the NASCAR Cup Series Goodyear 400 at Darlington Raceway on May 09, 2021 in Darlington, South Carolina. (Photo by Sean Gardner/Getty Images)
Pete Pistone will unveil Power Rankings each week of the NASCAR season. Check out this week's edition of NASCAR Power Rankings below, and listen to SiriusXM NASCAR Radio (Ch. 90) on the SiriusXM app now.

Here's how Sunday's Goodyear 400 at Darlington Raceway impacted this week's NASCAR Cup Series Power Rankings:
1. Martin Truex Jr. – A three-time winner in 2021 thanks to another dominating performance in Darlington on Sunday. Truex Jr. led 248 laps and was never really seriously challenged all afternoon sweeping a race for the sixth-time in his career. He has now won three of the last eight races after only winning only one of the prior 43.
Driver Rating: 108.1
Point Standings: 2nd
Previous Ranking: 3rd
2. Denny Hamlin – The good news for Hamlin is he has nine top-fives in 2021. However, the Joe Gibbs Racing driver is also now on a 17 race winless streak.
Driver Rating: 116.1
Point Standings: 1st
Previous Ranking: 1st
3. William Byron – A strong fourth-place performance for Byron at Darlington. It was his 10th straight top-10 finish, the longest streak by a Hendrick Motorsports driver since Jeff Gordon in 2007. Byron is also the youngest driver ever with a 10 race top-10 streak after his career-best finish at Darlington.
Driver Rating: 100.0
Point Standings: 3rd
Previous Ranking: 4th
4. Kyle Busch – A nice rebound from a lap 22 blown tire for Busch Sunday at Darlington to finish inside the top-five. It's the first time in 2021 Busch has with consecutive top-fives after his Kansas Speedway win a week ago.
Driver Rating: 98.0
Point Standings: 10th
Previous Ranking: 5th
5. Brad Keselowski – A miserable day for Keselowski who started from the pole, but that was the highlight of his day. He fell back early and never mounted a charge to the front, ending up with a 24th-place Darlington finish.
Driver Rating: 93.7
Point Standings: 9th
Previous Ranking: 2nd
6. Kyle Larson – Did his best to try to rundown Truex Jr. in the closing stage but to no avail. Larson's second-place effort gives him a 6.0 average finish at Darlington, the best of all drivers with more than two starts. He also rebounded from a speeding penalty on Sunday.
Driver Rating: 95.3
Point Standings: 6th
Previous Ranking: 8th
7. Kevin Harvick – Still looking for his first win of 2021 after scoring nine victories a year ago. But Harvick scored his 11th straight top-10 finish at Darlington, the second-longest streak there of all-time.
Driver Rating: 93.1
Point Standings: 7th
Previous Ranking: 7th
8. Ryan Blaney – Bets Darlington career Cup finish for Blaney who stayed inside the top-10 most all afternoon and ultimately took the checkered flag with an eighth-place finish.
Driver Rating: 92.6
Point Standings: 5th
Previous Ranking: 6th
9. Joey Logano – Started the day with finishes of sixth and seventh in the opening two stages but slipped a little in the final run to the checkered flag and ended up with a 12th-place Darlington finish.
Driver Rating: 100.7
Point Standings: 4th
Previous Ranking: 10th
10. Christopher Bell – Decent but not spectacular Darlington effort for Bell. He was credited with a 14th-place finish after coming home 11th and sixth in the first two stages.
Driver Rating: 89.4
Point Standings: 11th
Previous Ranking: 9th
Dropped Out: None
---
---
---