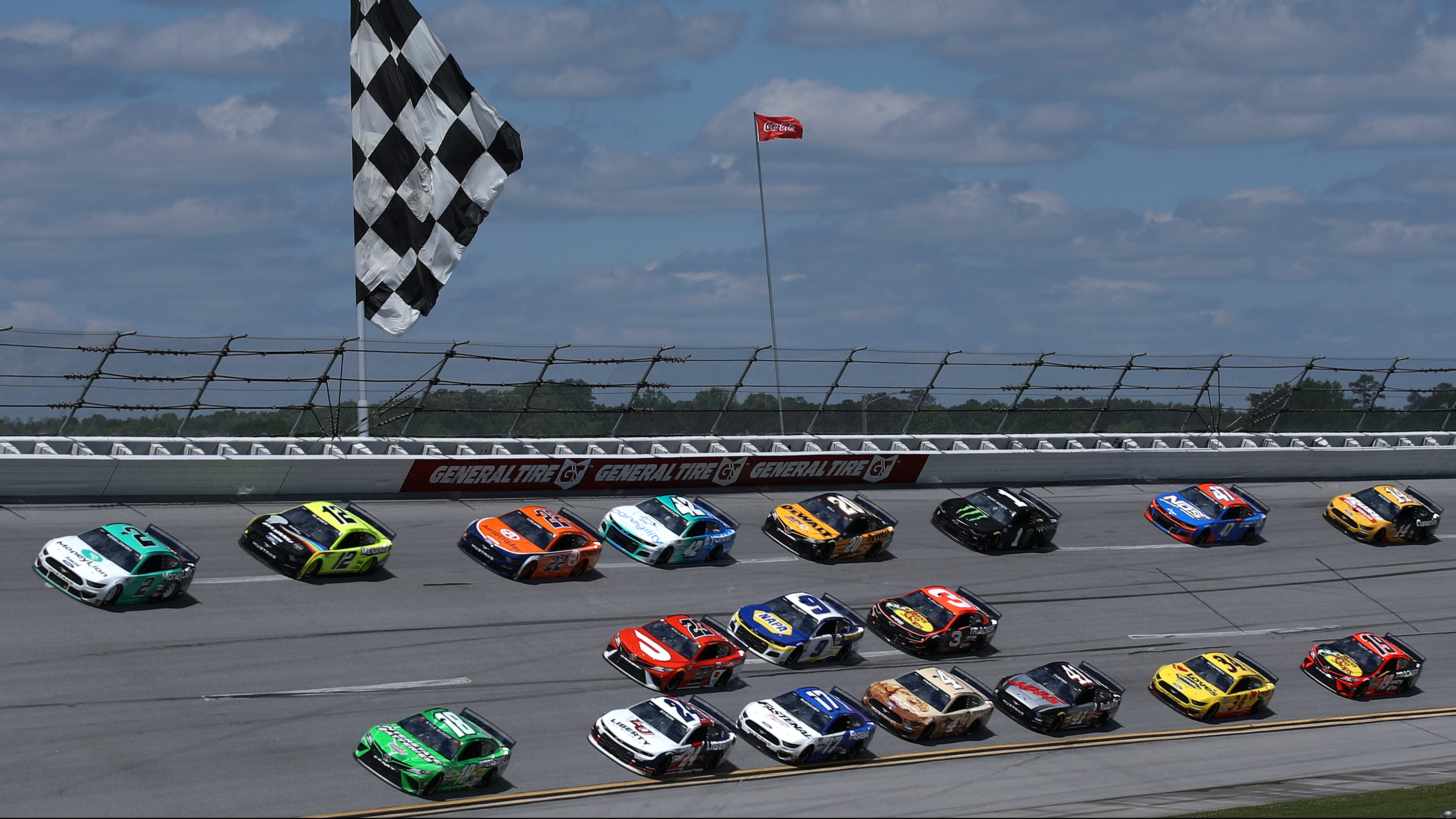 (Photo by Sean Gardner/Getty Images)
Pete Pistone will unveil Power Rankings each week of the NASCAR season. Check out this week's edition of NASCAR Power Rankings below, and listen to SiriusXM NASCAR Radio (Ch. 90) on the SiriusXM app now.

Here's how Sunday's Geico 500 at Talladega Superspeedway impacted this week's edition of Power Rankings:
1.   Denny Hamlin – The pole sitter had a very challenging Geico 500. Despite having a fast car, Hamlin was the victim of the overall Toyota team plan and was credited with a 32nd place finish.
Driver Rating: 117.0
Point Standings: 1st
Previous Ranking: 1st
2.   Martin Truex Jr. – Not a great day as a member of the struggling Toyota squad. Truex Jr. had a tire issue late to bring out caution and ended up with a disappointing 31st place finish.
Driver Rating: 105.3
Point Standings: 2nd
Previous Ranking: 2nd
3.   Brad Keselowski – He established himself as one of the best ever at Talladega, tying Dale Earnhardt Jr. and Jeff Gordon with six victories at the Alabama track. Keselowski's first win of the season came after he led just one lap in overtime to take the checkered flag.
Driver Rating: 93.8
Point Standings: 6th
Previous Ranking: NR
4.   Joey Logano – A scary day for Logano, who started from the front row and per usual had a strong car at the head of the pack until he got caught in an accident that sent his Team Penske Ford airborne and out of the race.
Driver Rating: 103.1
Point Standings: 3rd
Previous Ranking: 3rd
5. William Byron – He has finished top-10 in the last eight races, the longest top-10 streak by a Hendrick Motorsports driver since Dale Earnhardt Jr had eight between Talladega in October 2013 and Las Vegas in March 2014. The last Hendrick driver with a nine race top-10 streak was Jimmie Johnson in 2010.
Driver Rating: 99.0
Point Standings: 4th
Previous Ranking: 5th
6.   Ryan Blaney – A lot of adventures throughout the afternoon for Blaney, who faced a number of challenges and adversity. But he persevered and took home a hard fought top-10 Talladega finish.
Driver Rating: 92.0
Point Standings: 5th
Previous Ranking: 6th
7.   Christopher Bell – He was the best of the Toyota bunch — which wasn't a lot, considering Bell finished 17th on Sunday. But he showed strength at times and had a fast car much of the afternoon.
Driver Rating: 90.7
Point Standings: 10th
Previous Ranking: 8th
8.   Kyle Larson –  His day was over before it even started Sunday when a blown engine knocked Larson out of the Geico 500 after only three official laps completed.
Driver Rating: 93.7
Point Standings: 9th
Previous Ranking: 7th
9.   Alex Bowman – The race after he scored victory number one of the season at Richmond was a bummer for Bowman. He ended up 38th Sunday at Talladega.
Driver Rating: 92.8
Point Standings: 14th
Previous Ranking: 4th
10. Michael McDowell – A third place finish for McDowell, who followed up his Daytona 500 win with another stellar superspeedway effort. It was his fourth top-10 finish of 2021, matching his most ever in a season set last year.
Driver Rating: 70.3
Point Standings: 13th
Previous Ranking: NR
Dropped Out: Chase Elliott, Kyle Busch
---
---
---