SiriusXM NASCAR Radio's Power Rankings
Pete Pistone will unveil Power Rankings each week of the NASCAR season. Check out this week's edition of NASCAR Power Rankings below, and listen to SiriusXM NASCAR Radio (Ch. 90) on the SXM App now. Revisit previous editions of our Power Rankings … Continued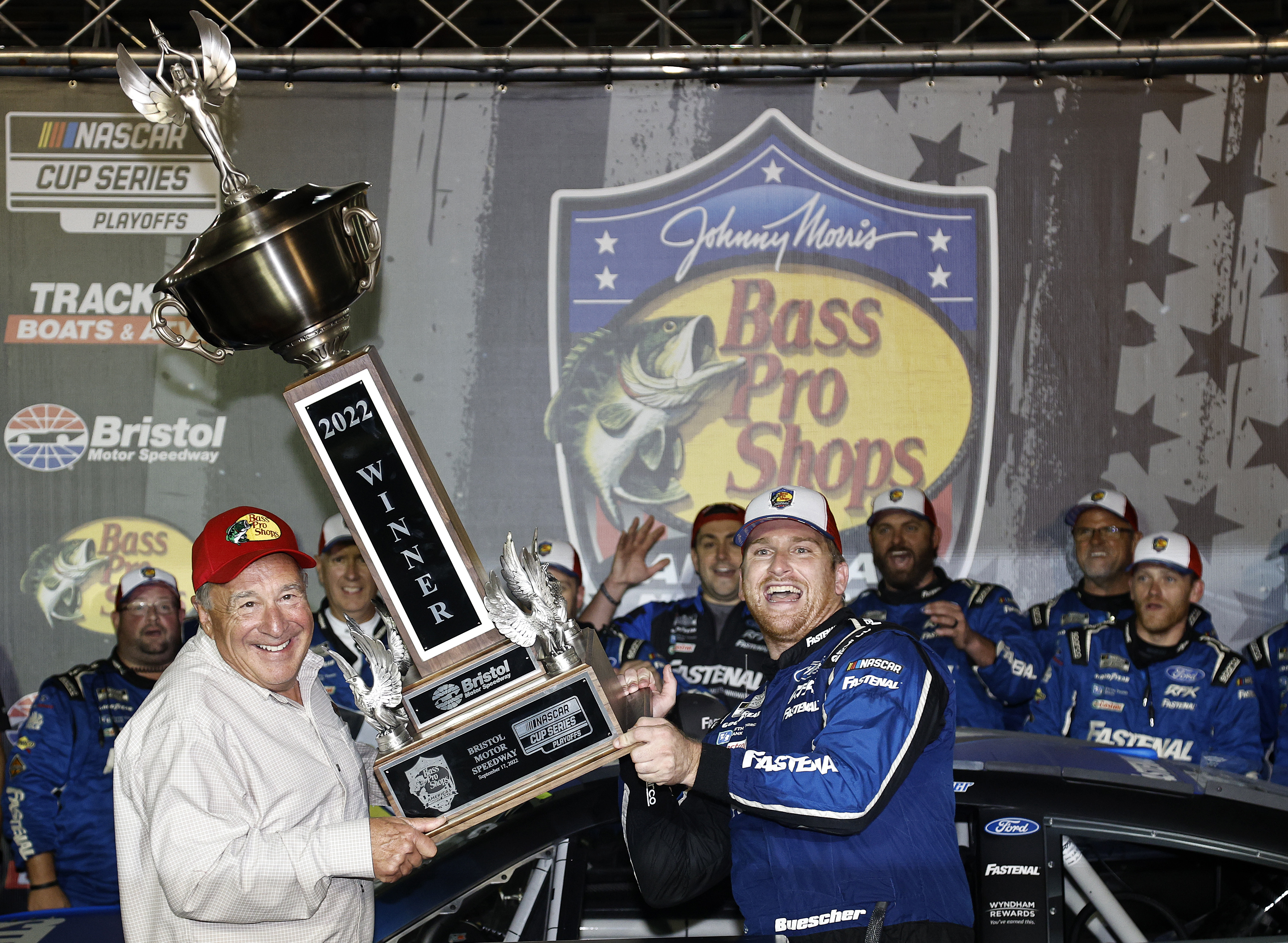 BRISTOL, TENNESSEE – SEPTEMBER 17: Chris Buescher, driver of the #17 Fastenal Ford, is presented the Bristol Motor Speedway trophy by Johnny Morris, founder and CEO of Bass Pro Shops in victory lane after winning the NASCAR Cup Series Bass Pro Shops Night Race at Bristol Motor Speedway on September 17, 2022 in Bristol, Tennessee. (Photo by Sean Gardner/Getty Images)
Pete Pistone will unveil Power Rankings each week of the NASCAR season. Check out this week's edition of NASCAR Power Rankings below, and listen to SiriusXM NASCAR Radio (Ch. 90) on the SXM App now. Revisit previous editions of our Power Rankings here.

The NASCAR Cup Series Playoffs ended the opening round last Saturday night at Bristol Motor Speedway. Here's a look at the Power Rankings after the Bass Pro Shops Night Race:
1. Denny Hamlin
He just hung around the front of the field most of Saturday never really making a serious charge to lead laps or win the race. But the JGR No. 11 team wanted to minimize mistakes and for the most part they did with Hamlin ending up crossing the finish line in ninth.
Playoff Grid: 6th
Last Week: 1st
2. Christopher Bell
A tire issue late may have kept Bell out of Victory Lane. The Joe Gibbs Racing driver led a 143 laps and after his challenge was still able to come back for a fourth-place finish and move on to the next round.
Playoff Grid: 7th
Last Week: 2nd
3. Chase Elliott
The regular season champion got off to a rough Playoff start with two tough outings in Darlington and Kansas. Things were better for Elliott and company at Bristol as a second place finish after starting 23rd ended the opening round on a much better note.
Playoff Grid: 1st
Last Week: 3rd
4. Kyle Larson
The defending race winner wasn't anywhere near as dominant this year but Larson still had a decent night. He led 34 laps, stayed out of trouble and mechanical issues to post a top-five finish.
Playoff Grid: 4th
Last Week: 6th
5. Ross Chastain
There hasn't been a lot of discussion about Chastain of late and maybe that's a good thing for the Trackhouse Racing driver. He came out of Bristol relatively unscathed and brought home a sixth-place finish.
Playoff Grid: 3rd
Last Week: 5th
6. William Byron
A drama free race for Byron is just what he needed to end the opening round of the Playoffs. The Hendrick Motorsports driver's third-place finish was a solid way to put a foundation in place for Round Two.
Playoff Grid: 5th
Last Week: 7th
7. Joey Logano
A surprisingly uncompetitive night for Logano at Bristol who is regularly competitive at the Tennessee short track. He last 437 laps before being eliminated from the race with suspension issues.
Playoff Grid: 2nd
Last Week: 3rd
8. Chase Briscoe
Speed early in the weekend added up to Briscoe qualifying outside the front row next to his Stewart-Haas Racing teammate Aric Almirola. From there it was an up and down day that included a loss of power steering early before Briscoe could take the checkered flag 14th.
Playoff Grid: 8th
Last Week: NR
9. Ryan Blaney
An absolutely miserable night for Blaney who had all sorts of problems adding up to his 30th place finish. The Team Penske driver also lost a wheel, which means crew chief Jonathan Hassler will be gone for the next four races of the schedule.
Playoff Grid: 9th
Last Week: NR
10. Austin Cindric
A challenging night for Cindric in Bristol, but he was certainly not alone. He was able to wade his way through the many variables and kept his Playoff hopes alive with a 20th place finish.
Playoff Grid: 12th
Last Week: NR
Dropped Out: Tyler Reddick, Daniel Suarez
---
---
---