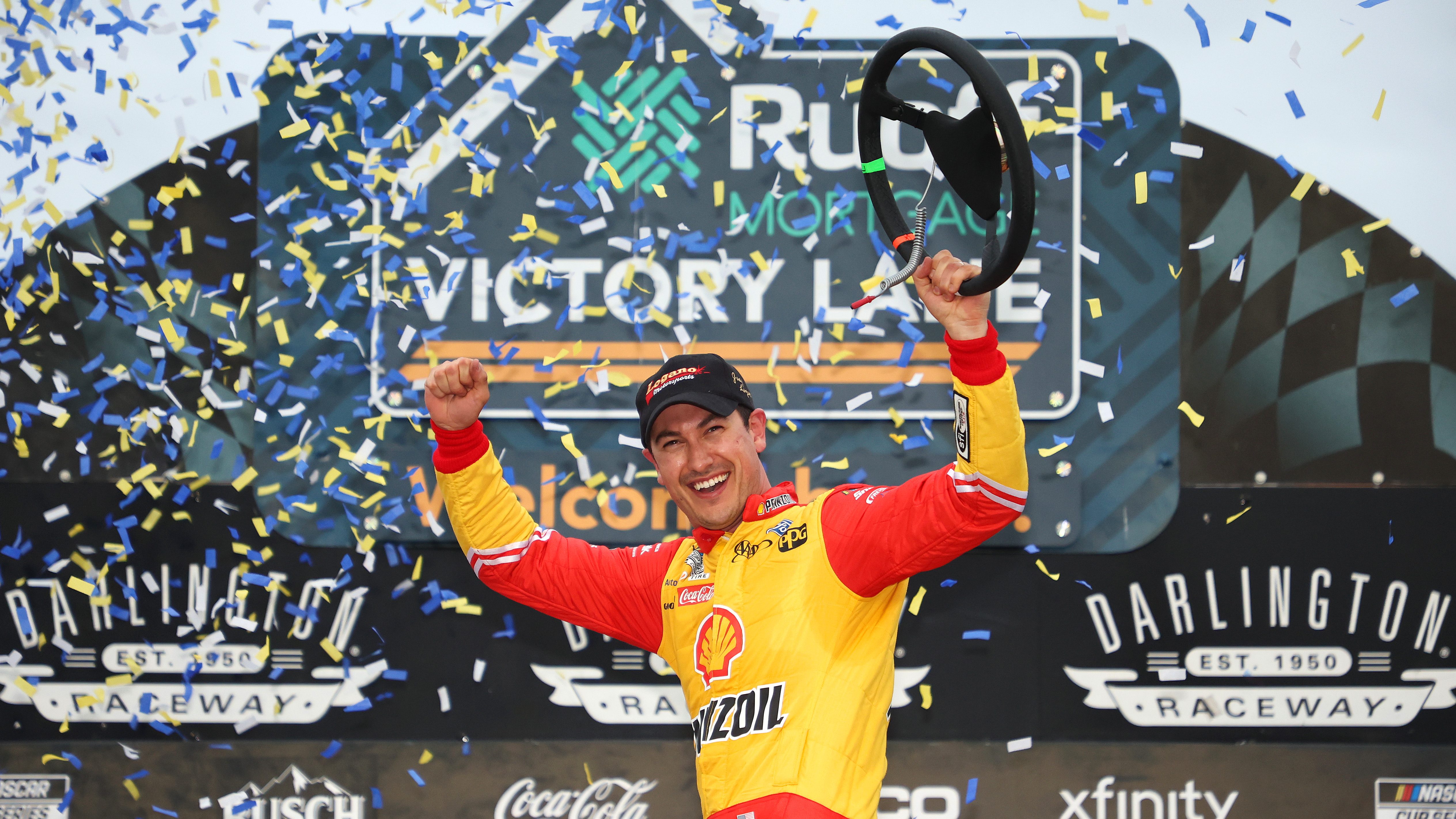 DARLINGTON, SOUTH CAROLINA – MAY 08: Joey Logano, driver of the #22 Shell Pennzoil Ford, celebrates in the Ruoff Mortgage victory lane after winning the NASCAR Cup Series Goodyear 400 at Darlington Raceway on May 08, 2022 in Darlington, South Carolina. (Photo by James Gilbert/Getty Images)
Pete Pistone will unveil Power Rankings each week of the NASCAR season. Check out this week's edition of NASCAR Power Rankings below, and listen to SiriusXM NASCAR Radio (Ch. 90) on the SXM App now.

It was "Throwback Weekend" for NASCAR this past Sunday at Darlington Raceway. Here's a look at the Power Rankings after the Goodyear 400:
1. Chase Elliott
The Hendrick Motorsports driver followed his Dover win a week ago with a hard-fought fifth-place finish that wasn't easy for Elliott, who faced a day for of challenges but was still to score his fifth straight top-10 finish of the year after start from the rear in a back-up car.
Point Standings: 1st
Last Week: 1st
2. Ross Chastain
The Trackhouse Racing driver paced the field for 26 laps and won the second stage. But he was another victim of an accident and Chastain's day ended on lap 194 with a 30th-place Goodyear 400 finish.
Point Standings:
Last Week: 2nd
3. William Byron
He held the top spot until the last lap and Byron was moved out of the lead by Joey Logano when the Team Penske made contact to the Hendrick Motorsports driver's rear bumper. A trip into the wall was the result and Byron was understandably upset with what turned out to be a 13th-place finish rather than victory number three of the season.
Point Standings: 2nd
Last Week: 4th
4. Kyle Busch
It was a miserable outing in Darlington for Busch who did lead twice for 19 laps before leaving the race – and his car on pit road – after an accident on the 167th lap.
Point Standings: 6th
Last Week: 3rd
5. Joey Logano
It didn't come without controversy but Logano was able to put his first win on the board of 2022 Sunday at Darlington. He made contact with the rear bumper of William Byron on the final lap and scooted by for his 28th career NASCAR Cup Series victory.
Point Standings: 4th
Last Week: NR
6. Christopher Bell
A second week of a nice performance from Bell and company. After his rebound last time out at Dover, Bell qualified third and drove home to a sixth-place finish, his fifth top-10 run in the last seven races of the season.
Point Standings: 10th
Last Week: 10th
7. Alex Bowman
His crew chief Greg Ives called the performance "garbage" and made no excuses for a long day in the No. 48 Hendrick Motorsports came that included Bowman getting eliminated from the race in an accident on lap 255.
Point Standings: 8th
Last Week: 4th
8. Ryan Blaney
The Team Penske No. 12 team is trending in the wrong direction. Blaney fell back in the field and was mired around that spot most of the day before finally crossing the finish line with a very disappointing 17th-place Darlington finish.
Point Standings: 3rd
Last Week: 7th
9. Martin Truex Jr.
It was a miserable day for the most part in Darlington for Joe Gibbs Racing and Truex Jr. would attest to that assertion. He was swept up in a multi-car accident on the backstretch and credited with a 24th-place Goodyear 400 finish.
Point Standings: 7th
Last Week: 8th
10. Kyle Larson
The up and down stretch for Larson rolled on with Darlington decidedly on the down side. An engine issue forced Larson out of the race after 112 laps and he now has four DNFs in the season's opening 12 races.
Point Standings: 9th
Last Week: 5th
Dropped Out: Chase Briscoe
---
---
---