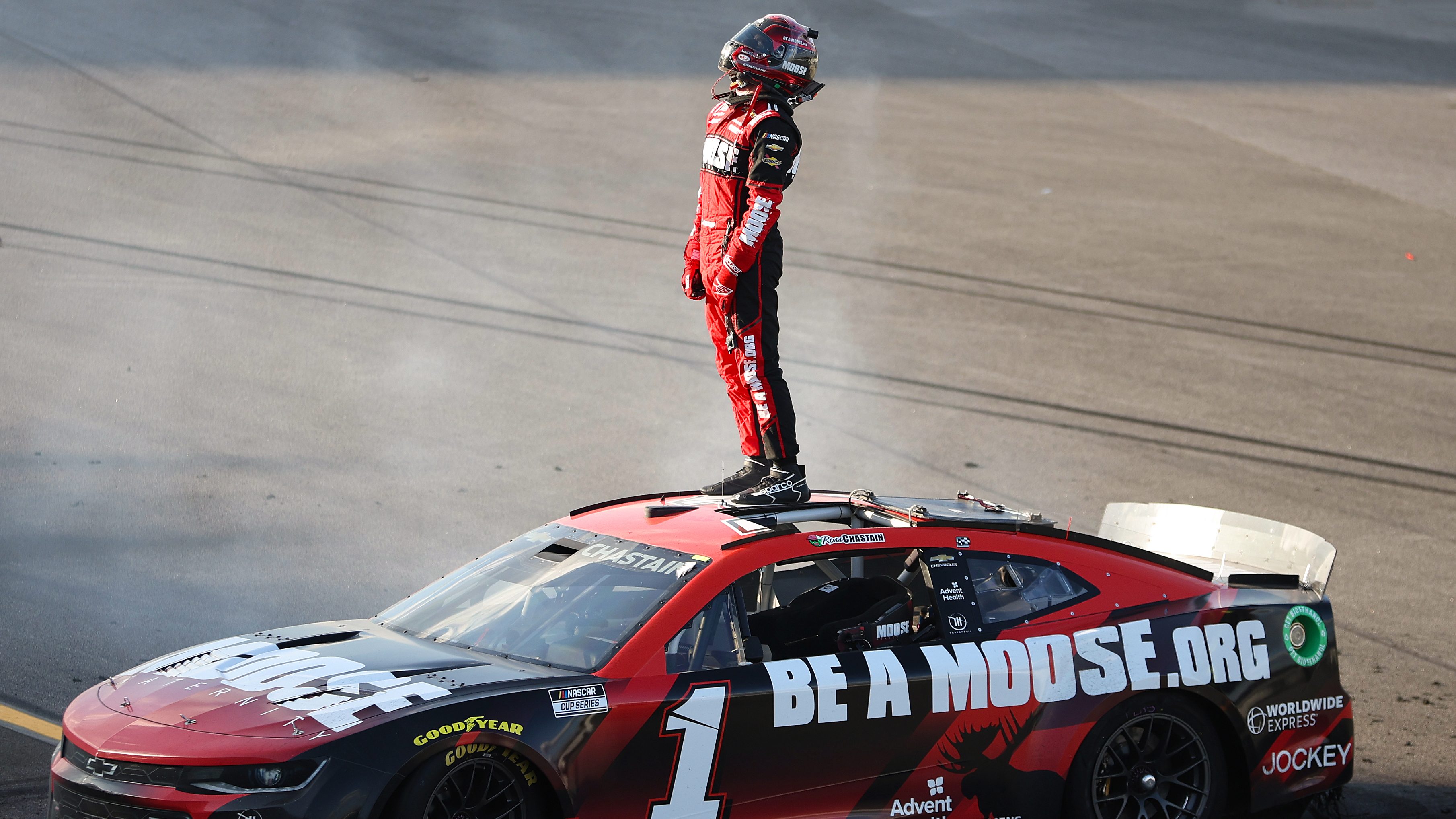 TALLADEGA, ALABAMA – APRIL 24: Ross Chastain, driver of the #1 Moose Fraternity Chevrolet, celebrates after winning the NASCAR Cup Series GEICO 500 at Talladega Superspeedway on April 24, 2022 in Talladega, Alabama. (Photo by James Gilbert/Getty Images)
Pete Pistone will unveil Power Rankings each week of the NASCAR season. Check out this week's edition of NASCAR Power Rankings below, and listen to SiriusXM NASCAR Radio (Ch. 90) on the SXM App now.

NASCAR visited the longest oval track on the schedule with a trip to Talladega Superspeedway. Here's a look at the Power Rankings after Sunday's Geico 500:
1. Ross Chastain
He led one lap and it was the most important one as Chastain scored his second Cup victory of the season. The Trackhouse Racing team has exceeded a lot of expectations this year already with Chastain already a multiple time winner in 2022.
Point Standings: 9th
Last Week: 9th
2. Chase Elliott
He didn't make much of an impact on Sunday but on the bright side had a clean race that saw Elliott jockeying for position late before ending up with a very quiet 7th-place finish after starting the day in 28th.
Point Standings: 1st
Last Week: 1st
3. Kyle Busch
It was an adventure but Busch was able to finish third on Sunday. It was a day that included a collision with his Joe Gibbs Racing teammate Christopher Bell as the duo left pit road but Busch, who also led three laps, will take the finish.
Point Standings: 4th
Last Week: 5th
4. William Byron
There was a very prominent stretch for Byron Sunday when he paced the field for 38 laps and looked as if he'd be in the mix to take the checkered flag. But drafting didn't quite work out for him and the Hendrick Motorsports driver crossed the finish line 15h in Talladega.
Point Standings: 3rd
Last Week: 2nd
5. Alex Bowman
Nothing spectacular for Bowman at Talladega but a clean day that ended up with a ninth-place finish. The Hendrick Motorsports crew will take the top-10 from Talladega and look for improvement when the series returns in October.
Point Standings: 5th
Last Week: 4th
6. Kyle Larson
The superspeedway drought for Larson has been a long one but the defending series champion was able to finally get a top-five finish on the board at Talladega. He led nine times for 32 laps in a very solid outing on Sunday.
Point Standings: 7th
Last Week: 6th
7. Ryan Blaney
A pre-race favorite, Blaney started the race in the middle of the field after a 22nd place qualifying effort. He did get to the front of the field to lead 23 laps but ultimately slid back in the final stages of the race to come home 11th on Sunday.
Point Standings: 2nd
Last Week: 3rd
8. Martin Truex Jr.
A refreshing Talladega finish for Truex Jr. and company who have struggled at the Alabama track in recent years. Truex Jr. posted a fifth-place run and a sigh of relief came from the Joe Gibbs Racing No. 19 team.
Point Standings: 8th
Last Week: NR
9. Denny Hamlin
He didn't have his best Talladega car but Hamlin was still competitive and led nine laps. But his crew did not get the Joe Gibbs Racing Toyota full of fuel on the final pit stop of the day and Hamlin ran out of gas on the last lap to finish 18th.
Point Standings: 24th
Last Week: 10th
10. Chase Briscoe
A victim of circumstances during a multi-car accident that occurred just after a restart as the field was getting up to speed through turns 1 and 2. Briscoe was eliminated from the race on lap 56 and ended up finishing 37th on Sunday.
Point Standings: 12th
Last Week: 8th
Dropped Out: Joey Logano
---
---
---