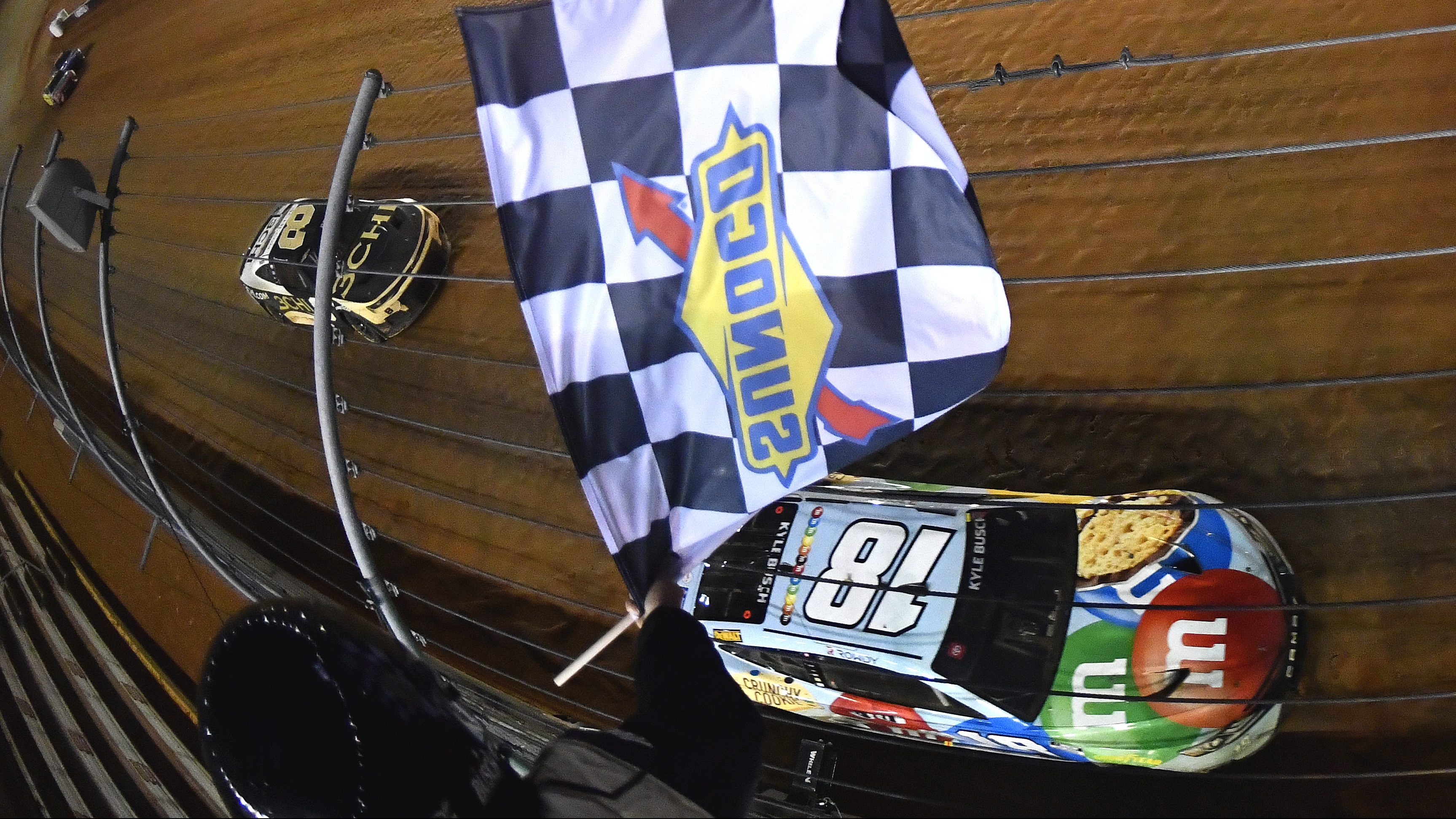 BRISTOL, TENNESSEE – APRIL 17: Kyle Busch, driver of the #18 Mars Crunchy Cookie Toyota, takes the checkered flag to win the NASCAR Cup Series Food City Dirt Race at Bristol Motor Speedway on April 17, 2022 in Bristol, Tennessee. (Photo by Logan Riely/Getty Images)
Pete Pistone will unveil Power Rankings each week of the NASCAR season. Check out this week's edition of NASCAR Power Rankings below, and listen to SiriusXM NASCAR Radio (Ch. 90) on the SXM App now.

NASCAR tackled a dirt track at Bristol Motor Speedway for the second straight year. Here's a look at the Power Rankings after Sunday's race in "Thunder Valley:"
1. Chase Elliott
Nothing spectacular for Elliott but a workman-like effort to stay inside the top-10 much of the night and when it was over the Hendrick Motorsports pilot ended up eighth.
Point Standings: 1st
Last Week: 2nd
2. William Byron
A somewhat surprising challenging night for Byron who came to Bristol off his Martinsville victory the week before. But he didn't have much on the Bristol dirt on Sunday and posted a disappointing 18th-place finish.
Point Standings: 4th
Last Week: 1st
3. Ryan Blaney
He had to come from the 25th starting spot to slice and dice his way to the front of the pack. Once he got there Blaney stayed in the mix and notched a top-five finish with a fifth-place run.
Point Standings: 2nd
Last Week: 4th
4. Alex Bowman
He hovered near the front pack most of Sunday night and Bowman showed off his dirt track prowess with a solid Bristol effort that netted the Hendrick Motorsports driver a sixth-place finish.
Point Standings: 5th
Last Week: 5th
5. Kyle Busch
He'll take it. Busch was the beneficiary of Tyler Reddick and Chase Briscoe getting together battling for the lead on the last lap and when they both spun out, Busch took advantage of the opportunity score his first win of the season. He has now won a Cup race in 18 straight seasons.
Point Standings: 6th
Last Week: 7th
6. Kyle Larson
He led 27 laps and was among the leaders for most of the night and when the checkered flag flew Larson crossed the finish line in fourth to put a much-needed top-five finish on the board.
Point Standings: 9th
Last Week: 8th
7. Joey Logano
Two Bristol dirt outings for Logano and an average finish of second. He followed up his win in last year's inaugural race with a third place performance on Sunday night.
Point Standings: 3rd
Last Week: 10th
8. Chase Briscoe
One of the night's best performances as Briscoe led 59 laps and was a factor in the outcome when he tried to slide by then race leader Tyler Reddick on the last lap only to make contact and take both drivers from racing for the win.
Point Standings: 10th
Last Week: 9th
9. Ross Chastain
His up and down ride the last few weeks was back down in Bristol as Chastain was a victim of engine issues that handed him a 33rd place finish after he was eliminated from competition on lap 150.
Point Standings: 8th
Last Week: 3rd
10. Denny Hamlin
A miserable outing on the Bristol dirt for Hamlin who struggle the whole weekend long including a tough starting spot of 34th before having an engine expire on lap 91 in the race to hand the Joe Gibbs Racing driver a 35th-place finish.
Point Standings: 23rd
Last Week: 6th
Dropped Out: None
---
---
---