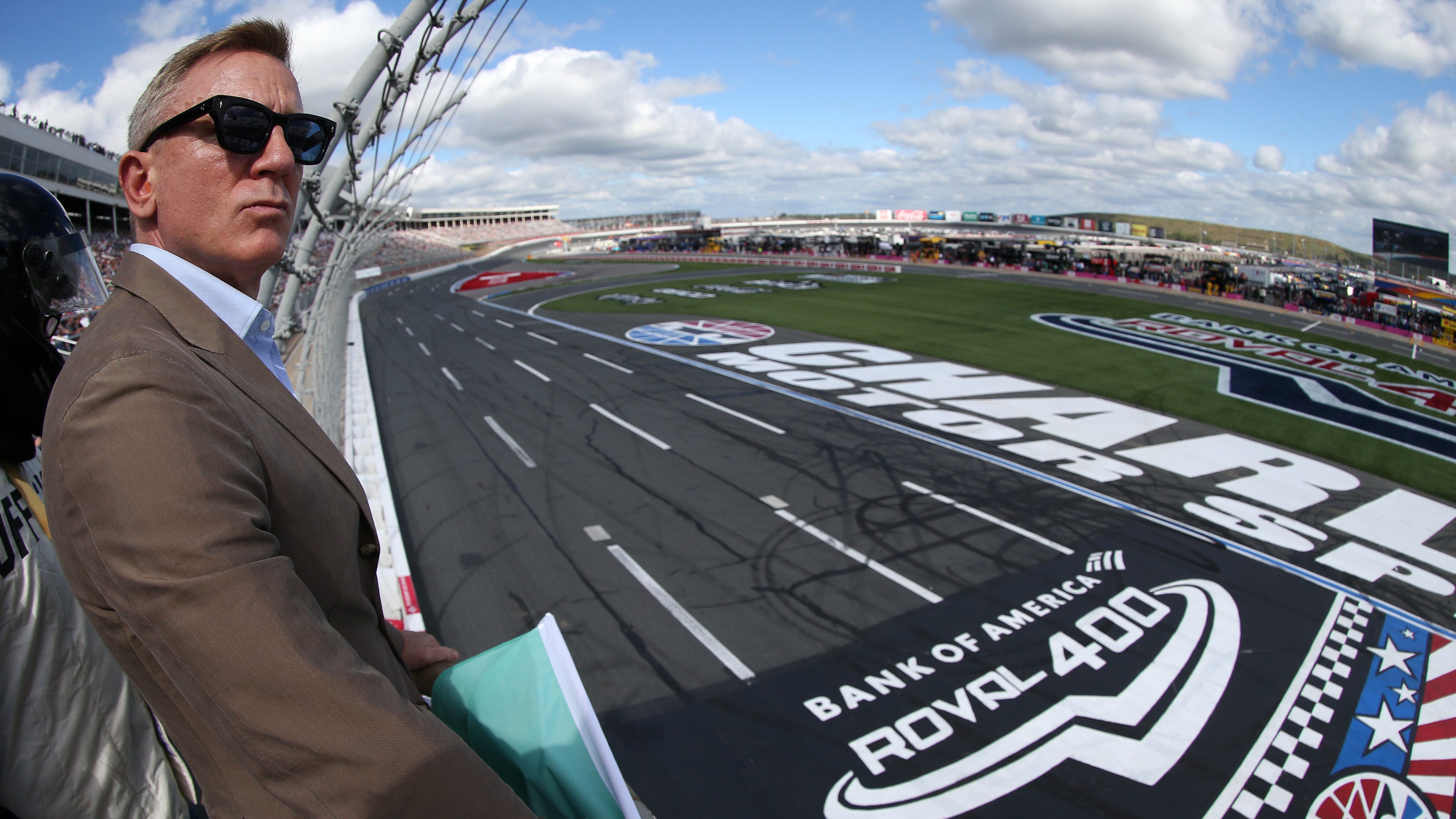 CONCORD, NORTH CAROLINA – OCTOBER 10: Honorary starter, actor Daniel Craig looks on from the flagstand prior to the NASCAR Cup Series Bank of America ROVAL 400 at Charlotte Motor Speedway on October 10, 2021 in Concord, North Carolina. (Photo by Brian Lawdermilk/Getty Images)
Pete Pistone will unveil Power Rankings each week of the NASCAR season. Check out this week's edition of NASCAR Power Rankings below, and listen to SiriusXM NASCAR Radio (Ch. 90) on the SXM App now.

Here's how Sunday's Bank of America Roval 400 at Charlotte Motor Speedway impacted this week's Power Rankings:
1. Kyle Larson – Victory number seven came Sunday for Larson who has now won more races this season than his combined career number heading into 2021. He is the first Hendrick driver to win seven times through 32 races since Jimmie Johnson in 2007. Larson enters the next round of the Playoffs as the top seed.
Driver Rating: 110.2
Playoff Standings: 1st
Previous Ranking: 2nd
2. Denny Hamlin – He was stress-free in terms of the Playoffs, having already earned a spot in the next round thanks to winning at Las Vegas. Hamlin came out of the Roval with a top-five effort and finished top-10 in all six Playoff races so far.
Driver Rating: 110.1
Playoff Standings: 2nd
Previous Ranking: 1st
3. Chase Elliott – An adventure to say the least for Elliott, who was in a tangle with Kevin Harvick early in the race that led to major damage to the No. 9 Hendrick Motorsports Chevrolet. But Elliott persevered and finished 12th, good to keep the defending Cup Series champion alive in this year's Playoff race.
Driver Rating: 100.2
Playoff Standings: 6th
Previous Ranking: 8th
4. Joey Logano – Another Team Penske driver who has been very consistent at the Roval. Logano posted a seventh-place performance this time around and he has also finished in the top-10 at every Roval outing so far.
Driver Rating: 95.5
Playoff Standings: 4th
Previous Ranking: 4th
5. Ryan Blaney – He's been one of the best at the Roval since it came on to the schedule four years ago. Blaney was again in the front of the field on Sunday and has finished top-10 in all four Roval races.
Driver Rating: 91.5
Playoff Standings: 4th
Previous Ranking: 6th
6. Kyle Busch – It's no secret the Roval is not high on the list of track favorites for Busch. But he was strong in his fourth trip to the track and came home fourth, his first finish better than 30th at the Roval.
Driver Rating: 97.4
Playoff Standings: 5th
Previous Ranking: 9th
7. Martin Truex Jr. – A very surprising and uncompetitive day for Truex Jr., an established and successful road racer. That was not the case on Sunday as he posted a very disappointing 29th-place finish.
Driver Rating: 96.5
Playoff Standings: 3rd
Previous Ranking: 3rd
8. Brad Keselowski – The good news for Keselowski is he was able to advance to the next round of the Playoffs. But the bad news is he was not nearly competitive at the Roval and despite starting outside the front row ended up 20th.
Driver Rating: 87.5
Playoff Standings: 8th
Previous Ranking: 7th
9. William Byron – William Byron – A roller-coaster day for Byron all while his Playoff hopes dangled in the beezee's. Mechanical problems, on-track skirmishes, and a multitude of challenges all added up to Byron being eliminated from the championship race while still finishing 11th on Sunday.
Driver Rating: 95.7
Point Standings: 13th
Previous Ranking: NR
10. Tyler Reddick – Was in the mix for a first career NASCAR Cup Series win with a day of aggressive driving from the Richard Childress Racing pilot. He finished second on Sunday and matched his best career finish for the third time.
Driver Rating: 81.4
Point Standings: 12th
Previous Ranking: NR
Dropped Out: Kevin Harvick, Christopher Bell
---
---
---