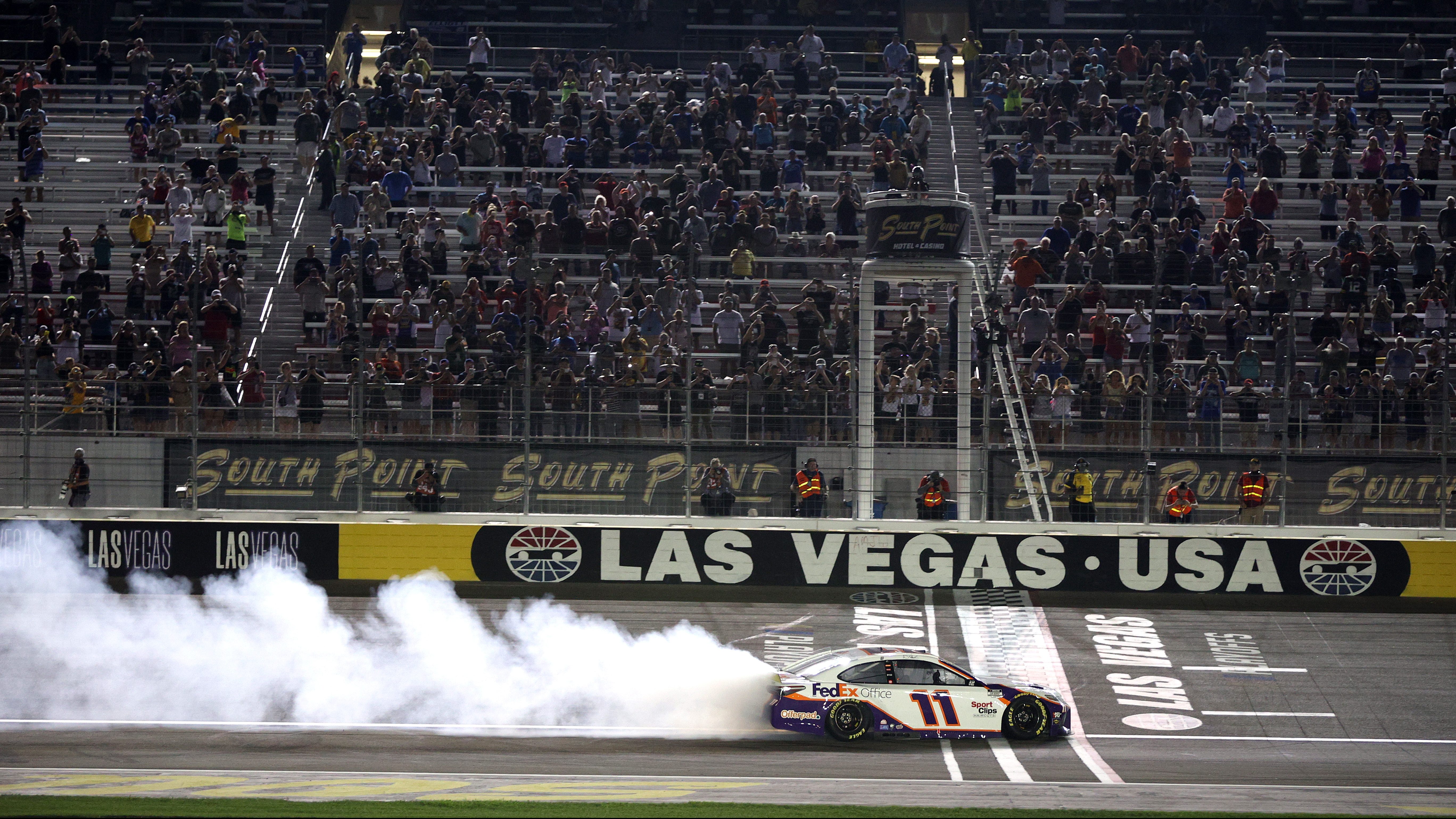 LAS VEGAS, NEVADA – SEPTEMBER 26: Denny Hamlin, driver of the #11 FedEx Office Toyota, celebrates with a burnout after winning the NASCAR Cup Series South Point 400 at Las Vegas Motor Speedway on September 26, 2021 in Las Vegas, Nevada. (Photo by Chris Graythen/Getty Images)
Pete Pistone will unveil Power Rankings each week of the NASCAR season. Check out this week's edition of NASCAR Power Rankings below, and listen to SiriusXM NASCAR Radio (Ch. 90) on the SXM App now.

Here's how Sunday night's South Point 400 at Las Vegas Motor Speedway impacted this week's Power Rankings:
1. Denny Hamlin – Scored his second win of the Playoffs and moved on to the third round with his South Point 400 victory. Hamlin led seven times for 137 laps, including the final 39, and has now led 36 percent of the laps raced in the 2021 Playoffs.
Driver Rating: 110.3
Playoff Standings: 1st
Previous Ranking: 3rd
2. Kyle Larson – He led 95 of the first 152 laps but pit strategy backfired on Larson and cost him precious spots on track that he could not make up, and he finished a disappointing 10th in Las Vegas.
Driver Rating: 111.6
Playoff Standings: 2nd
Previous Ranking: 1st
3. Martin Truex Jr. – The Joe Gibbs Racing driver has finished in the top-10 in the last four races. Truex Jr. only had four top-10 performances in the previous ten-race stretch. He finished fourth in the South Point 400.
Driver Rating: 98.0
Playoff Standings: 4th
Previous Ranking: 2nd
4. Ryan Blaney – Another top-five run for Blaney, who was the best of the Ford stable in Las Vegas. He has finished top-10 in six of the last seven races with top-five efforts in five of them.
Driver Rating: 91.0
Playoff Standings: 5th
Previous Ranking: 4th
5. Chase Elliott – He scored his best career Las Vegas Motor Speedway finish of second on Sunday, which was Elliott's only third top-five in his last ten starts. He simply did not have enough to run down eventual race winner Denny Hamlin.
Driver Rating: 101.1
Playoff Standings: 6th
Previous Ranking: 6th
6. Kyle Busch – A third-place finish for Busch at his home track in Vegas. It was the Joe Gibbs Racing driver's first top-five finish since Watkins Glen in August and came in his 600th career start.
Driver Rating: 98.1
Playoff Standings: 3rd
Previous Ranking: 7th
7. Joey Logano – Another nondescript day in Vegas for Logano. It wasn't terrible but it wasn't great and Logano finished just outside the top-10 with an 11th place performance.
Driver Rating: 95.1
Playoff Standings: 7th
Previous Ranking: 5th
8. Kevin Harvick  – Had some damage from contact early in the race and struggled with handling to finish ninth in Las Vegas. Harvick then lost crew chief Rodney Childers for this week's race at Talladega thanks to two missing lug nuts in post-race inspection.
Driver Rating: 90.9
Point Standings: 10th
Previous Ranking: 9th
9. Brad Keselowski – A seventh-place run for Keselowski Sunday in the South Point 400. It was his 12th career Las Vegas top-10 finish all coming in the last 13 races at the track.
Driver Rating: 87.3
Playoff Standings: 8th
Previous Ranking: 10th
10. William Byron – Brutal day for Byron who started from the rear of the field after his car failed pre-race inspection twice. He raced back to the front but pit road issues and a flat tire were just a few of the challenges that added up to an 18th-place finish.
Driver Rating: 95.8
Playoff Standings: 9th
Previous Ranking: 9th
Dropped Out: None
---
---
---