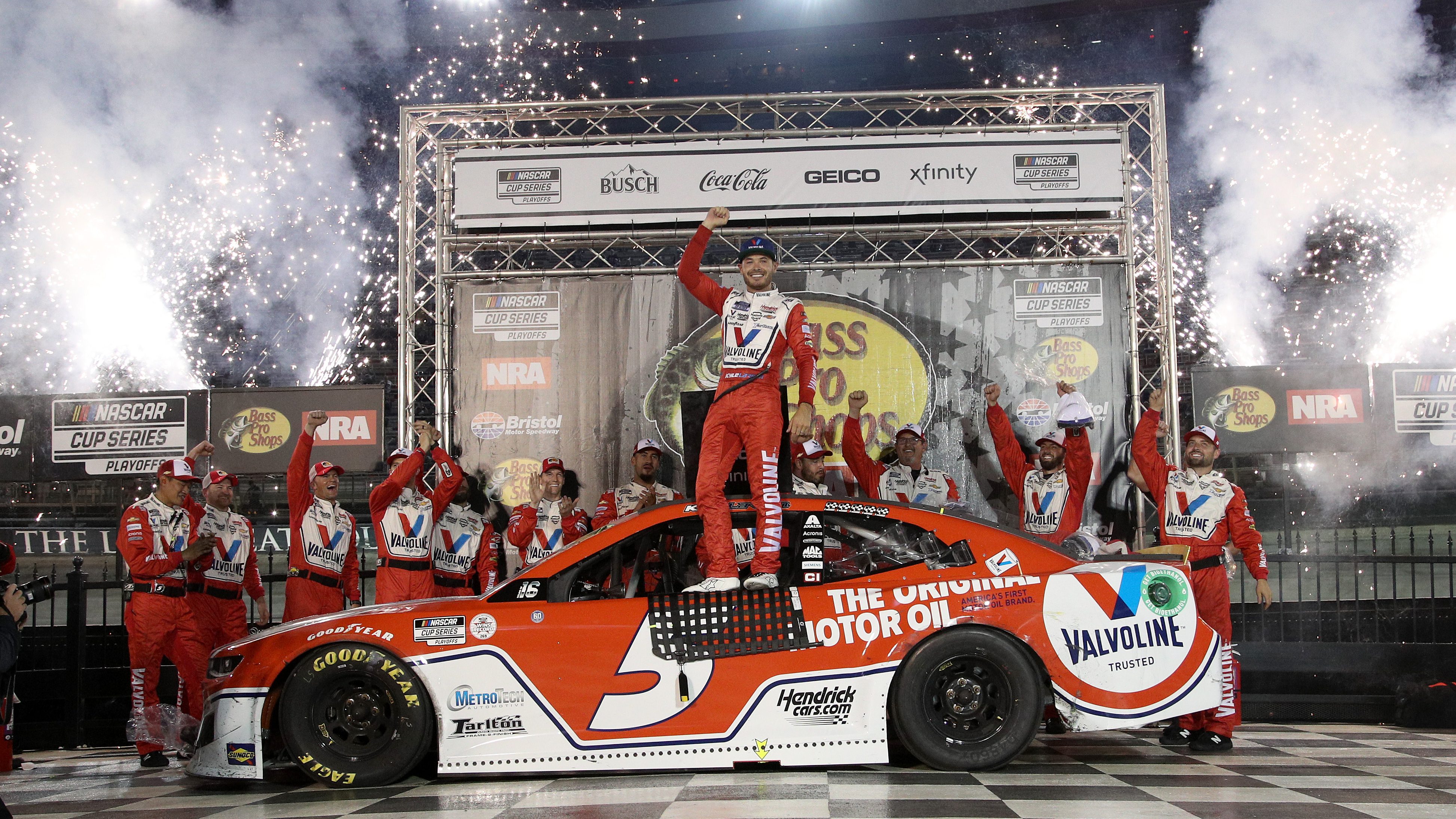 BRISTOL, TENNESSEE – SEPTEMBER 18: Kyle Larson, driver of the #5 Valvoline Chevrolet, celebrates in victory lane after winning the NASCAR Cup Series Bass Pro Shops Night Race at Bristol Motor Speedway on September 18, 2021 in Bristol, Tennessee. (Photo by Brian Lawdermilk/Getty Images)
Pete Pistone will unveil Power Rankings each week of the NASCAR season. Check out this week's edition of NASCAR Power Rankings below, and listen to SiriusXM NASCAR Radio (Ch. 90) on the SXM App now.

Here's how Saturday night's Bristol Night Race at Bristol Motor Speedway impacted this week's Power Rankings:
1. Kyle Larson – Victory number six of the season came in a dramatic fashion as Larson was able to navigate the rough and tumble waters at Bristol to get to Victory Lane. Larson led seven times for 175 laps including the final four and reinstated himself as the championship favorite now with a half dozen wins on the board.
Driver Rating: 112.6
Playoff Standings: 1st
Previous Ranking: 3rd
2. Martin Truex Jr. – A very strong start to the Playoffs for Truex Jr. His seventh-place performance was Truex Jr.'s best finish at Bristol since 2012.  He's finished top 10 in all three races this round.
Driver Rating: 98.6
Playoff Standings: 2nd
Previous Ranking: 2nd
3. Denny Hamlin – He won the first stage and finished second in number two but Hamlin faded back in the final run to the checkered flag. A ninth-place finish to end the first round for the Joe Gibbs Racing driver.
Driver Rating: 108.9
Playoff Standings: 3rd
Previous Ranking: 1st
4. Ryan Blaney – A solid fourth place outing for Blaney to end the opening round of the Playoffs in a solid way. The finish ties his best Cup career Bristol finish.
Driver Rating: 90.5
Playoff Standings: 4th
Previous Ranking: 4th
5. Joey Logano – He got better as the night went on but Logano wasn't really much of a factor Saturday night in Bristol. He finished 11th and will move on to the next round of the Playoffs after a decent but not spectacular opening three races.
Driver Rating: 96.0
Playoff Standings: 9th
Previous Ranking: 6th
6. Chase Elliott – The finish of 25th doesn't tell the story of Elliott's Bristol night that included a pair of run-ins with Kevin Harvick including one after the race when the two met on pit road for their airing of the grievances.
Driver Rating: 96.7
Playoff Standings: 6th
Previous Ranking: 5th
7. Kyle Busch – The good news was Busch was in the top-10 in the opening two stages. But a night of challenges added up to the Joe Gibbs Racing driver finishing 21st in a decidedly not Kyle Busch-like Bristol night.
Driver Rating: 97.7
Playoff Standings: 5th
Previous Ranking: 7th
8. Kevin Harvick – Was in the middle of the late-race fireworks with Chase Elliott that ended up with Harvick finishing second. It ties his best finish this season and was Harvick's third runner-up finish since his last win 36 races ago.
Driver Rating: 92.6
Point Standings: 12th
Previous Ranking: 10th
9. William Byron – Scored his first career top 5 finish at Bristol and only his third top 10 in the last 11 races. Byron advances to the next round of the Playoffs after entering Bristol 18 points below the cutline.
Driver Rating: 90.7
Playoff Standings: 8th
Previous Ranking: NR
10. Brad Keselowski – He made it out of the first round of the Cup Series Playoffs with a steady showing over the opening three races including Keselowski's sixth-place finish Saturday night at Bristol.
Driver Rating: 87.6
Playoff Standings: 10th
Previous Ranking: NR
Dropped Out: Kurt Busch, Ross Chastain
---
---
---