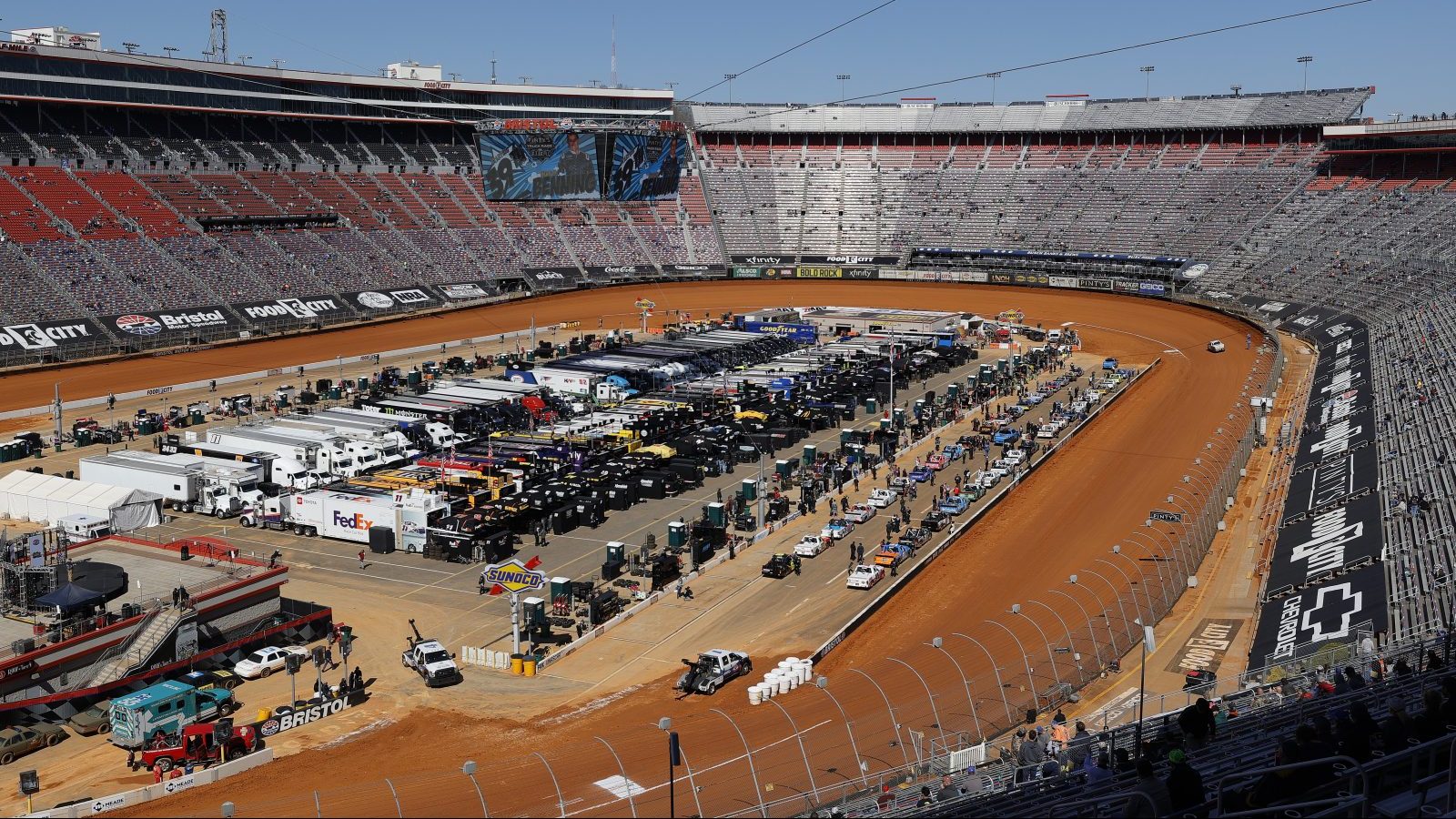 Bristol Motor Speedway was transformed into a dirt track. (Photo: NASCAR)
Pete Pistone will unveil Power Rankings each week of the NASCAR season. Check out this week's edition of NASCAR Power Rankings below, and listen to SiriusXM NASCAR Radio (Ch. 90) on the SiriusXM app now.

NASCAR competed on dirt for the first time since 1970 with the Food City Dirt Race at Bristol Motor Speedway. Despite the radical change in the type of track for the series, this season's theme continued with yet another different face in Victory Lane. Joey Logano became the seventh driver to win in the opening seven races of the season.
Here's how the Bristol race impacted this week's edition of the Power Rankings:
Denny Hamlin– Still winless but also a mainstay near the front of the field all year long. Hamlin couldn't mount a charge to challenge for the win Sunday but still posted a third-place finish and has put six top-five runs on the board in the season's opening seven races.
Driver Rating: 114.5
Point Standings: 1st
Previous Ranking: 1st
Joey Logano – No dirt background, no problem for Logano. He scored victory number one of the season on the Bristol dirt track and led just once for the final 61 laps, holding off Ricky Stenhouse Jr. and Denny Hamlin in an overtime finish.
Driver Rating: 106.0
Point Standings: 2nd
Previous Ranking: 9th
Ryan Blaney – He came into Bristol on the heels of winning at Atlanta the week before, and Blaney didn't have a bad follow-up. His eighth-place finish wasn't pretty, but it was still a solid outing for the Team Penske driver.
Driver Rating: 88.5
Point Standings: 7th
Previous Ranking: 3rd
William Byron – Make it five consecutive top-10 finishes for Byron for the longest streak in his Cup career. The Bristol dirt iRacing Pro Invitational race winner came home with a sixth-place run in the real thing.
Driver Rating: 97.2
Point Standings: 6th
Previous Ranking: 5th
Martin Truex Jr. – He started the day with a Camping World Truck Series victory. However, Truex Jr. couldn't replicate that success in the Cup Series race and left with a 19th-place effort.
Driver Rating: 104.3
Point Standings: 3rd
Previous Ranking: 4th
Kyle Larson – The odds-on favorite to win the race didn't come close. Larson's dirt track racing experience was never a benefit as he was involved in an early tangle and limped home to a very disappointing 29th-place finish.
Driver Rating: 106.2
Point Standings: 4th
Previous Ranking: 2nd
Chase Ellliott – Rebounded from an early exit at Atlanta with a blown engine the week before with a solid outing in Bristol. Elliott took the checkered flag in 10th place after starting 26th.
Driver Rating: 93.1
Point Standings: 9th
Previous Ranking: 7th
Brad Keselowski – Not great but not terrible for Keselowski. He survived the Bristol dirt experiment in basically one piece and finished just outside the top-10 with an 11th-place performance.
Driver Rating: 93.2
Point Standings: 5th
Previous Ranking: 10th
Kevin Harvick – The mediocrity continued for Harvick who did express a fondness for racing in the dirt early in the weekend. However, the best he could muster in the race was a finish of 15th place.
Driver Rating: 91.8
Point Standings: 8th
Previous Ranking: 7th
Kyle Busch – Miserable doesn't describe the day Busch had in the dirt at Bristol. His car had an overheating issue early, and later, visibility was so bad Busch said he literally could not see anything on the track. Somehow he still finished 17th.
Driver Rating: 89.8
Point Standings: 13th
Previous Ranking: 6th
Dropped Out: None
---
---
---