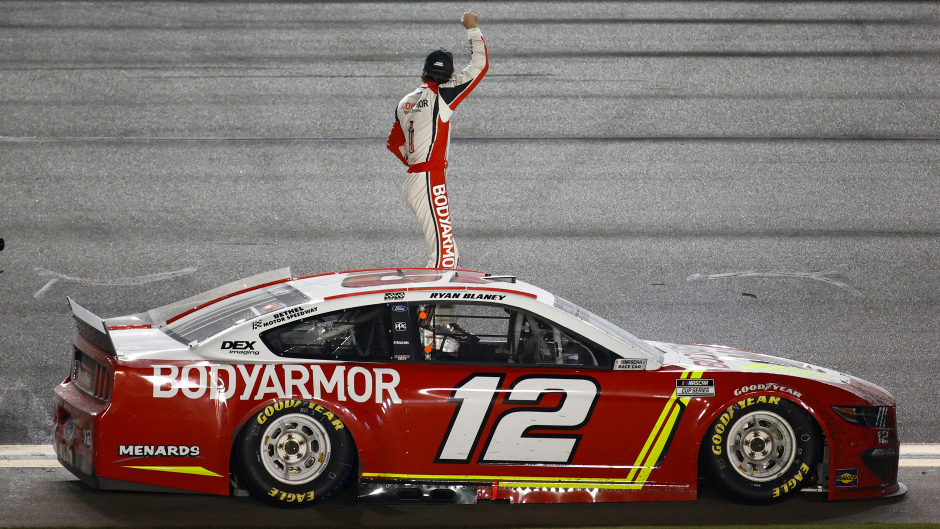 (Photo by Jared C. Tilton/Getty Images)
Pete Pistone will unveil Power Rankings each week of the NASCAR season. Check out this week's edition of NASCAR Power Rankings below, and listen to SiriusXM NASCAR Radio (Ch. 90) on the SXM App now.

Here's how Saturday night's Coke Zero Sugar 400 at Daytona International Speedway impacted this week's Power Rankings:
Kyle Larson  – Despite finishing 20th, Larson was able to come out of Daytona and enter the Playoffs as the regular season champion. Although the last few weeks have not gone his way, Larson remains the favorite to catch for this year's 2021 NASCAR Cup Series title.
Driver Rating: 109.9
Playoff Standings: 1st
Previous Ranking: 1st
2.   Ryan Blaney – A second straight win for Blaney Saturday night on the heels of his Michigan victory the week before. He led just three times for seven laps but was again in front of the field when it mattered most for his third win of the season and seventh career Cup victory.
Driver Rating: 89.4
Playoff Standings: 3rd
Previous Ranking: 3rd
Chase Elliott– A ninth-place finish for Elliott doesn't tell the whole story for the Hendrick Motorsports driver who was in the middle of an incident while blocking for position with Matt DiBenedetto. All things considered Elliott will take the Daytona top-10 as he enters the Playoffs to defend his Cup Series title.
Driver Rating: 100.7
Playoff Standings: 5th
Previous Ranking: 2nd
Denny Hamlin – He went through the regular season winless and lost the point championship in the process. Hamlin and company will regroup for the Playoffs after his frustrating 14th-place Daytona performance on Saturday night.
Driver Rating: 106.9
Playoff Standings: 7th
Previous Ranking: 4th
  William Byron – Last year's Daytona regular season finale winner had a much different and disappointing return to "The World Center of Racing" this season. Byron finished 38th after getting caught in an early race crash.
Driver Rating: 97.7
Playoff Standings: 8th
Previous Ranking: 5th
Kurt Busch – Shared the news of his plans to join 23XI Racing next season to start the weekend and ended up finishing 13th in his last Daytona start for Chip Ganassi Racing on Saturday night.
Driver Rating: 82.0
Playoff Standings: 11th
Previous Ranking: 7th
Kyle Busch – An eventful night for Busch and not in a good way. He had a good car but like many others, the Joe Gibbs Racing driver was a victim of an accident and he left Daytona credited with a 35th-place finish.
Driver Rating: 99.2
Playoff Standings: 4th
Previous Ranking: 6th
Tyler Reddick   – His car didn't look pretty but Reddick was able to steer the battered Richard Childress Racing Chevrolet home to a fifth-place finish to secure the 16th and final spot on the Playoff grid.
Driver Rating: 79.9
Playoff Standings: 16th
Previous Ranking: NR
Martin Truex Jr. – Not a great way to end the regular season as Truex Jr. was credited with a 30th-place finish on a night he was involved in an accident. The Joe Gibbs Racing driver will look for a much better opening round of the Playoffs.
Driver Rating: 96.9
Playoff Standings: 2nd
Previous Ranking: 8th
Alex Bowman – A better finish for Bowman at Daytona than in recent weeks and he did so after coming back from an early race incident. He finished eighth for his third Daytona top-10 and second in the last three races.
Driver Rating: 86.5
Playoff Standings: 6th
Previous Ranking: 10th
Dropped Out: Christopher Bell
---
---
---