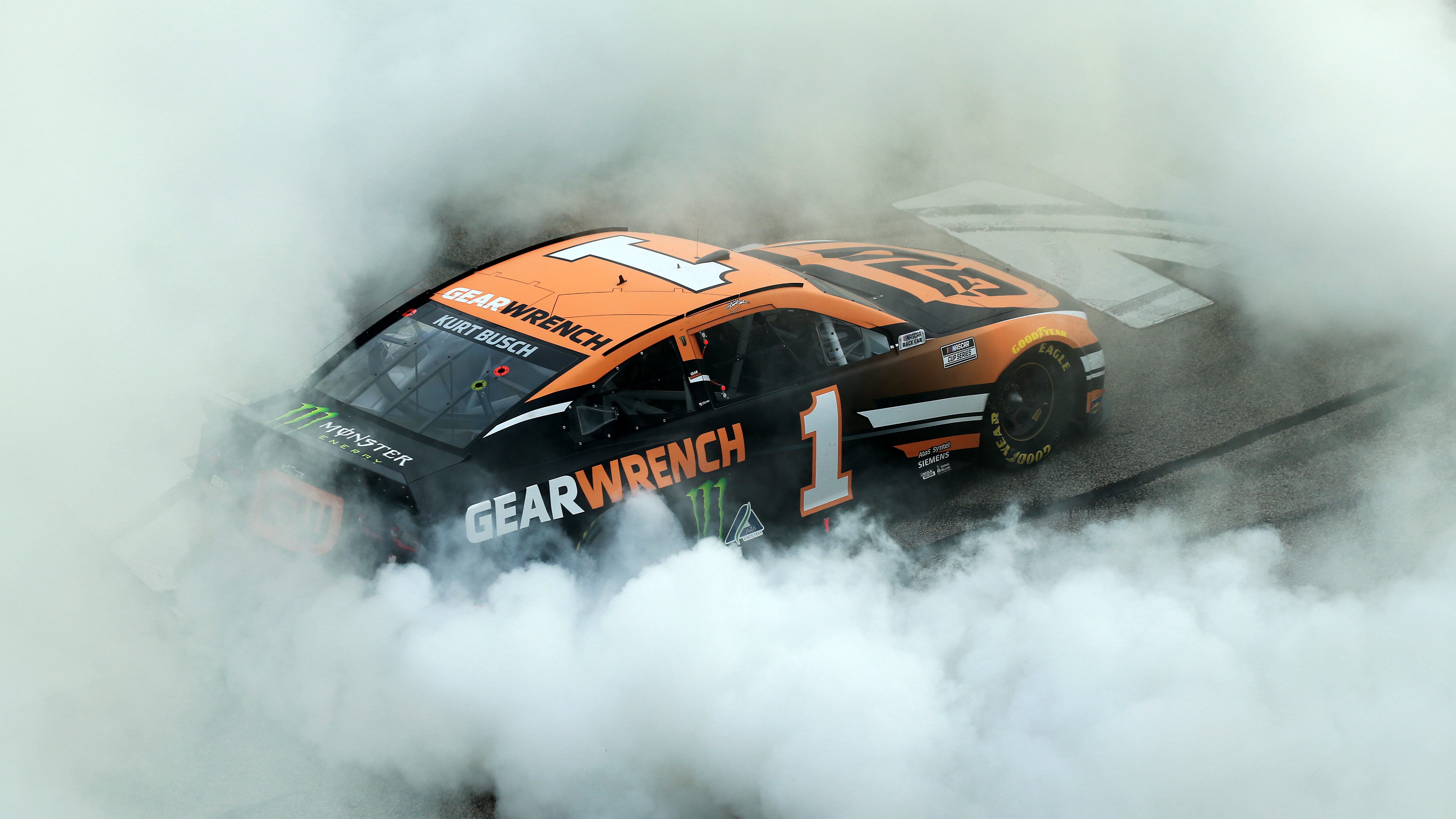 (Photo by Sean Gardner/Getty Images)
Pete Pistone will unveil Power Rankings each week of the NASCAR season. Check out this week's edition of NASCAR Power Rankings below, and listen to SiriusXM NASCAR Radio (Ch. 90) on the SXM App now.

Here's how Sunday's Quaker State 400 at Atlanta Motor Speedway impacted this week's Power Rankings:
1. Kyle Larson  – An 18th place finish in Atlanta coupled with a 16th the week before at Road America has thrown a curveball at the Larson Express of late. He ran better than the finishes might indicate, but still, it's been two weeks in a row for Larson to be a non-factor to win the race.
Driver Rating: 109.0
Point Standings: 2nd
Previous Ranking: 1st
2. Chase Elliott – The Georgia driver's home track has been good to Elliott in recent outings. He scored his fifth top-10 finish in seven Atlanta starts coming home seventh on Sunday.
Driver Rating: 98.8
Point Standings: 5th
Previous Ranking: 2nd
3. Kyle Busch– A frustrating second-place finish behind brother Kurt Sunday with the younger Busch critical of CGR teammate Ross Chastain running some interference for the race winner. It was the fourth time the Busch brothers finished 1-2, Kurt winning the last two. Atlanta was the fourth straight race of 2021 with Kyle finishing top-three.
Driver Rating: 102.0
Point Standings: 3rd
Previous Ranking: 3rd
4. Denny Hamlin–A non-descript day for Hamlin who was in the news more this weekend for his displeasure over the proposed Atlanta reconfiguration than what happened in Sunday's race. Hamlin finished 13th on Sunday.
Driver Rating: 107.7
Point Standings: 1st
Previous Ranking: 4th
5. Alex Bowman – Another strong 1.5-mile track outing in Atlanta for Bowman. The Hendrick Motorsports driver finished top-four in both Atlanta races in 2021, his only top-10 finishes at the track.
Driver Rating: 88.5
Point Standings: 11th
Previous Ranking: 6th
6. William Byron – It's been a sour summer stretch for Byron who finished 20th in Atlanta. He's finished outside the top-10 in the last three races and had only three finishes outside the top-10 in the prior 18 starts of 2021.
Driver Rating: 98.5
Point Standings: 4th
Previous Ranking: 5th
7. Martin Truex Jr.  – A third-place finish for Truex Jr. after starting from the year when his car failed pre-race inspection twice. He has finished top-10 in the last eight Atlanta races.
Driver Rating: 98.6
Point Standings: 7th
Previous Ranking: 7th
8. Tyler Reddick – A sixth-place performance for Reddick in Atlanta. It was his 11th top-10 finish of 2021, Reddick had only 10 in his career prior to this season.
Driver Rating: 79.1
Point Standings: 13th
Previous Ranking: 8th
9. Kurt Busch – Career win number 33 came Sunday for Busch who took the lead 25 laps from the finish and held off his brother Kyle for his first win of 2021. Busch led a total of 144 laps in Atlanta and locked himself into a playoff spot with his fourth career win at the track.
Driver Rating: 82.3
Point Standings: 14th
Previous Ranking: NR
10. Christopher Bell – The Joe Gibbs Racing driver followed up his second-place Road America run the week prior with an eighth-place Atlanta effort. It was Bell's first Atlanta top-10 in three starts.
Driver Rating: 83.2
Point Standings: 15th
Previous Ranking: 10th
Dropped Out: Joey Logano
---
---
---