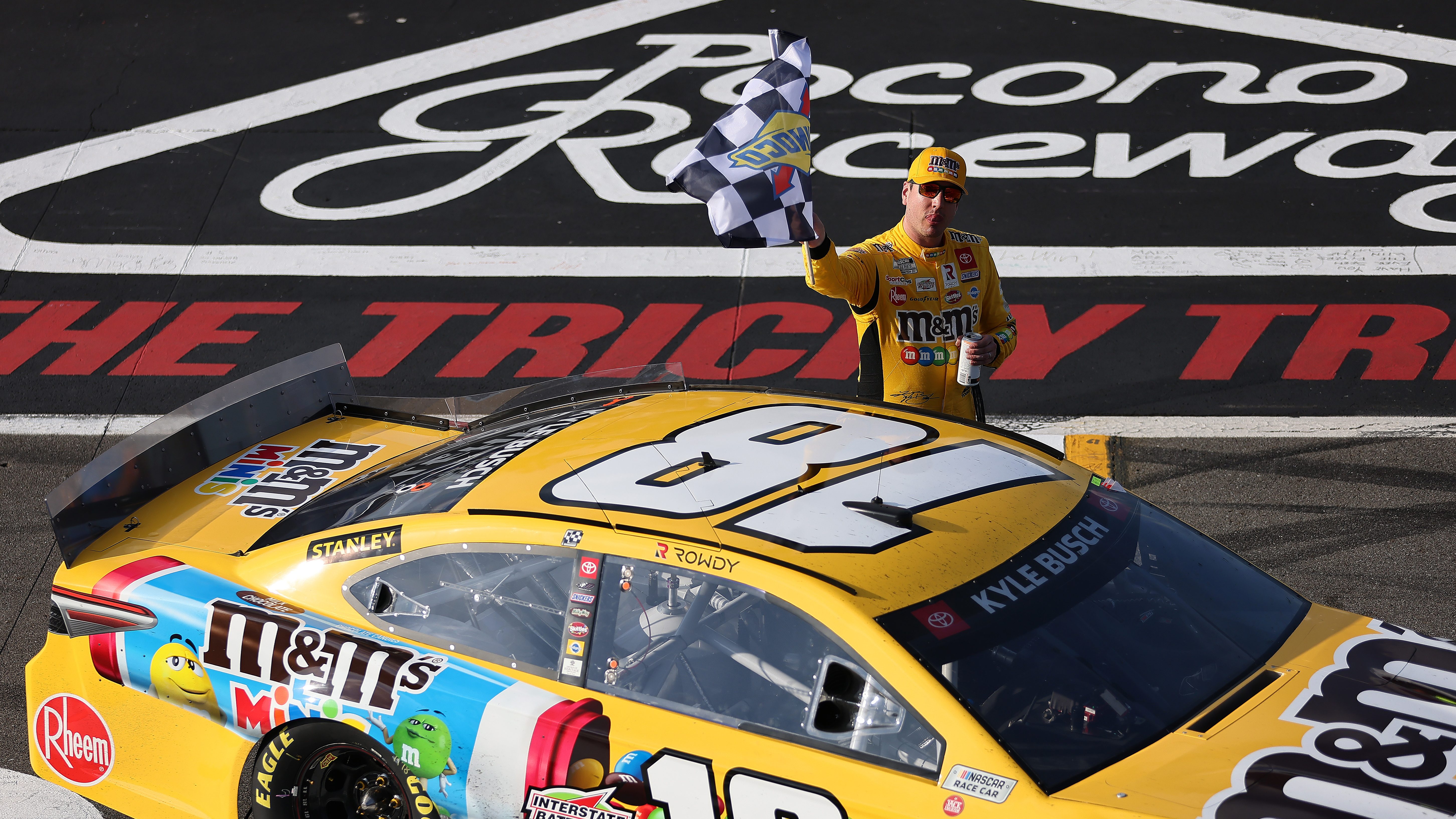 (Photo by James Gilbert/Getty Images)
Pete Pistone will unveil Power Rankings each week of the NASCAR season. Check out this week's edition of NASCAR Power Rankings below, and listen to SiriusXM NASCAR Radio (Ch. 90) on the SiriusXM app now.

Here's how the doubleheader weekend at Pocono Raceway impacted this week's Power Rankings:
1. Kyle Larson  – Came away winless from Pocono but was just a half a lap short of a fourth straight victory on Saturday before blowing a right front tire. Larson came back to somehow finish second on Sunday and closed the gap on the point lead to just two.
Driver Rating: 110.5
Point Standings: 2nd
Previous Ranking: 1st
2. Kyle Busch – A great weekend for Busch who, despite not having anything but fourth gear, won Sunday's fuel strategy contest for his second victory of the season. Busch started the weekend with a runner-up finish on Saturday afternoon.
Driver Rating: 99.5
Point Standings: 5th
Previous Ranking: 7th
3. Alex Bowman – Inherited the lead and subsequently the win on the last lap Saturday when teammate Kyle Larson blew a tire. Bowman stayed strong on Sunday to post a top-10 finish to go along with his third win of the season the day before.
Driver Rating: 87.3
Point Standings: 11th
Previous Ranking: 5th
4. William Byron– The Hendrick Motorsports driver kicked off the weekend with an impressive third-place finish in Saturday's weekend opening race. Byron was near the front on Sunday but the fuel mileage strategy game didn't work out for the No. 24 team and he ended up finishing 12th.
Driver Rating: 101.2
Point Standings: 3rd
Previous Ranking: 4th
5. Denny Hamlin –  He scored a top-five on Saturday and was in the middle of Sunday's fuel mileage race to the finish. It didn't pan out for Hamlin who was credited with a 14th-place finish and saw his lead in the point standings dwindle to just two.
Driver Rating: 108.4
Point Standings: 1st
Previous Ranking: 3rd
6. Chase Elliott – Pocono was a struggle both days for Elliott. He started last on Saturday after his Nashville DQ and was able to drive to a 12th place finish. Sunday the best Elliott could show for his efforts was a disappointing 27th place performance.
Driver Rating: 97.1
Point Standings: 6th
Previous Ranking: 2nd
7. Joey Logano  – He wasn't in the mix to compete for the win either day in Pocono but Logano turned in a consistent weekend. He had a pair of top-10 finishes to give him twelve so far in the 2021 season.
Driver Rating: 100.0
Point Standings: 4th
Previous Ranking: 6th
8. Kevin Harvick – Things are starting to look a little brighter for Harvick and company. The Stewart-Haas Racing driver followed up his strong Nashville outing the week before with runs of eighth and fourth in Pocono.
Driver Rating: 91.1
Point Standings: 9th
Previous Ranking: 9th
9. Ryan Blaney – A pair of solid outings for Blaney in Pocono prior to his crew chief Todd Gordon announcing he would step away from the crew chief role at the end of the season. The 12 team posted a couple of top-10 finishes over the weekend.
Driver Rating: 87.7
Point Standings: 8th
Previous Ranking: NR
10. Martin Truex Jr. – An uncompetitive weekend for Truex Jr. without a top-10 finish in either of the Pocono races. Truex Jr. started the weekend 18th on Saturday and rebounded to just coming home 11th Sunday afternoon.
Driver Rating: 98.9
Point Standings: 7th
Previous Ranking: 9th
Dropped Out: Austin Dillon
---
---
---