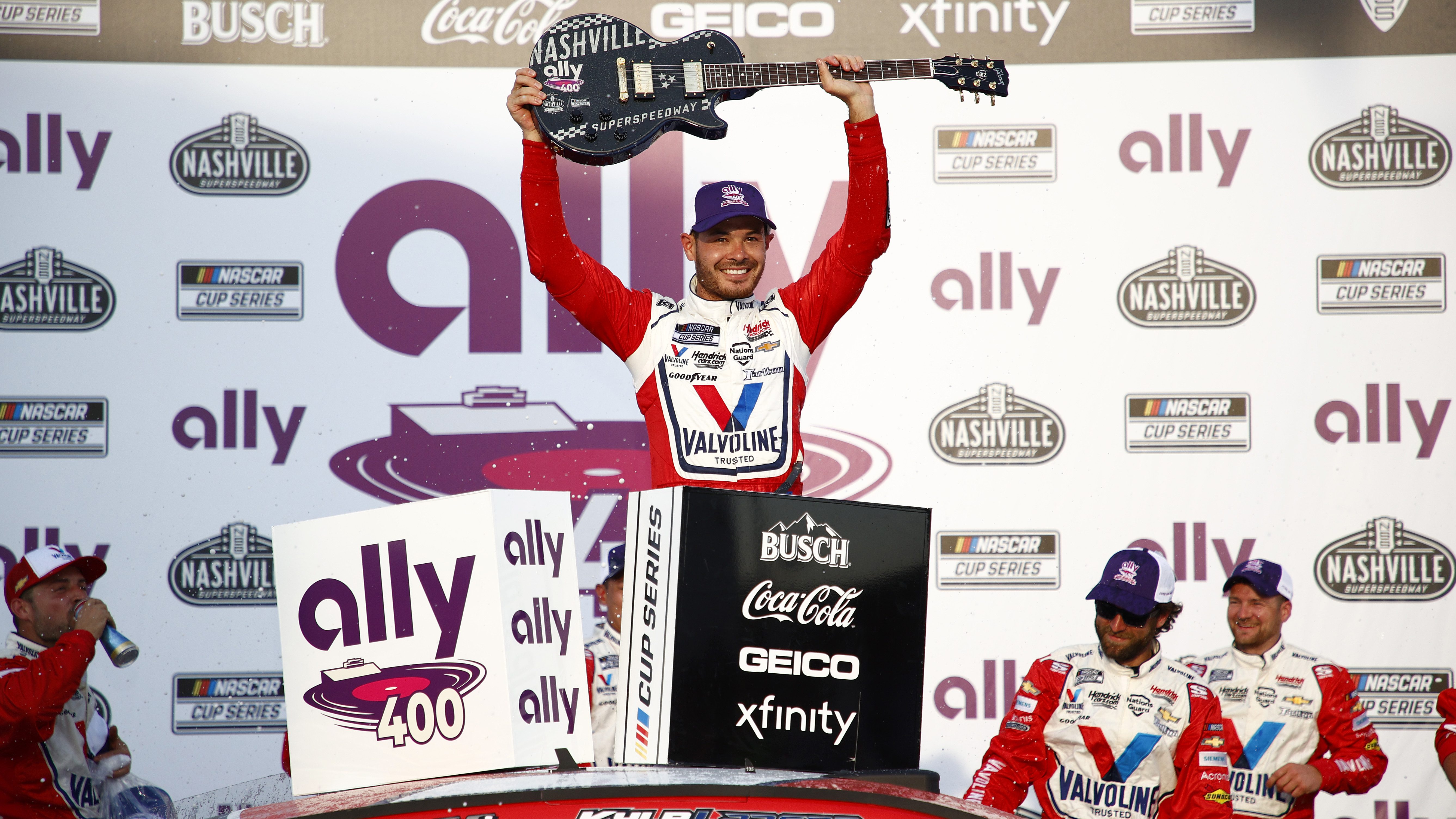 LEBANON, TENNESSEE – JUNE 20: Kyle Larson, driver of the #5 Valvoline Chevrolet,celebrates in victory lane after winning the NASCAR Cup Series Ally 400 at Nashville Superspeedway on June 20, 2021 in Lebanon, Tennessee. (Photo by Jared C. Tilton/Getty Images)
Pete Pistone will unveil Power Rankings each week of the NASCAR season. Check out this week's edition of NASCAR Power Rankings below, and listen to SiriusXM NASCAR Radio (Ch. 90) on the SiriusXM app now.

Here's how Sunday's All4 400 at Nashville Superspeedway impacted this week's Power Rankings:
1. Kyle Larson  – Win number four of the season and his third straight points-paying race victory came Sunday in Nashville. Larson is the first driver to win three straight since Brad Keselowski in 2018, and he has not finished worst than second place since early May.
Driver Rating: 111.3
Point Standings: 2nd
Previous Ranking: 1st
2. Chase Elliott – He took the checkered flag in 13th but that finish was wiped out when Elliott was DQ'd for having five loose lug nuts in post-race inspection. The defending series champion was credited with a last-place finish.
Driver Rating: 99.0
Point Standings: 4th
Previous Ranking: 2nd
3. Denny Hamlin – An uncompetitive day for Hamlin who finished 22nd in Nashville. His once commanding lead in the NASCAR Cup Series standings has shrunk to just 10 points with only nine races remaining in the regular season.
Driver Rating: 108.7
Point Standings: 1st
Previous Ranking: 3rd
4. William Byron – A steady day at the front of the field for Byron who came home third in Nashville. It was the Hendrick Motorsports driver's 13th top-10 finish of 2021, most of all drivers.
Driver Rating: 99.9
Point Standings: 3rd
Previous Ranking: 6th
5. Alex Bowman – Started the weekend off by announcing a contract extension at Hendrick Motorsports. But it was a tough day on track for Bowman who had a 15th-place finish to show for his Nashville efforts.
Driver Rating: 85.5
Point Standings: 12th
Previous Ranking: 4th
6. Joey Logano – He had been the best performer on 750 hp tracks coming into Nashville. Logano wasn't terrible but just didn't have the speed needed to compete for the win and left Music City with a 10th-place finish.
Driver Rating: 100.3
Point Standings: 5th
Previous Ranking: 8th
7. Kyle Busch – A day after celebrating his 100th career Xfinity Series win, Busch had his hands full in his Joe Gibbs Racing Cup ride. A pair of fifth-place finishes in the opening two stages gave way to a final finish of 11th.
Driver Rating: 96.1
Point Standings: 6th
Previous Ranking: 7th
8. Martin Truex Jr. – A bad qualifying spot of 35th coupled with a pair of pit road penalties added up to Truex Jr. being very uncompetitive in Nashville. He crossed the finish line with a disappointing 23rd place finish.
Driver Rating: 100.1
Point Standings: 7th
Previous Ranking: 5th
9. Kevin Harvick – If it seems like Harvick has been missing from not just Victory Lane but the front of the field for a while you're right. His fifth-place Nashville effort was Harvick's only top-five finish in the last six races.
Driver Rating: 90.8
Point Standings: 8th
Previous Ranking: NR
10. Austin Dillon – He looked good early in the race with stage finishes of sixth and second respectively but Dillon faded some in the final run to the checkered flag to end up with a 12th-place finish.
Driver Rating: 81.5
Point Standings: 11th
Previous Ranking: 9th
Dropped Out: Tyler Reddick
---
---
---