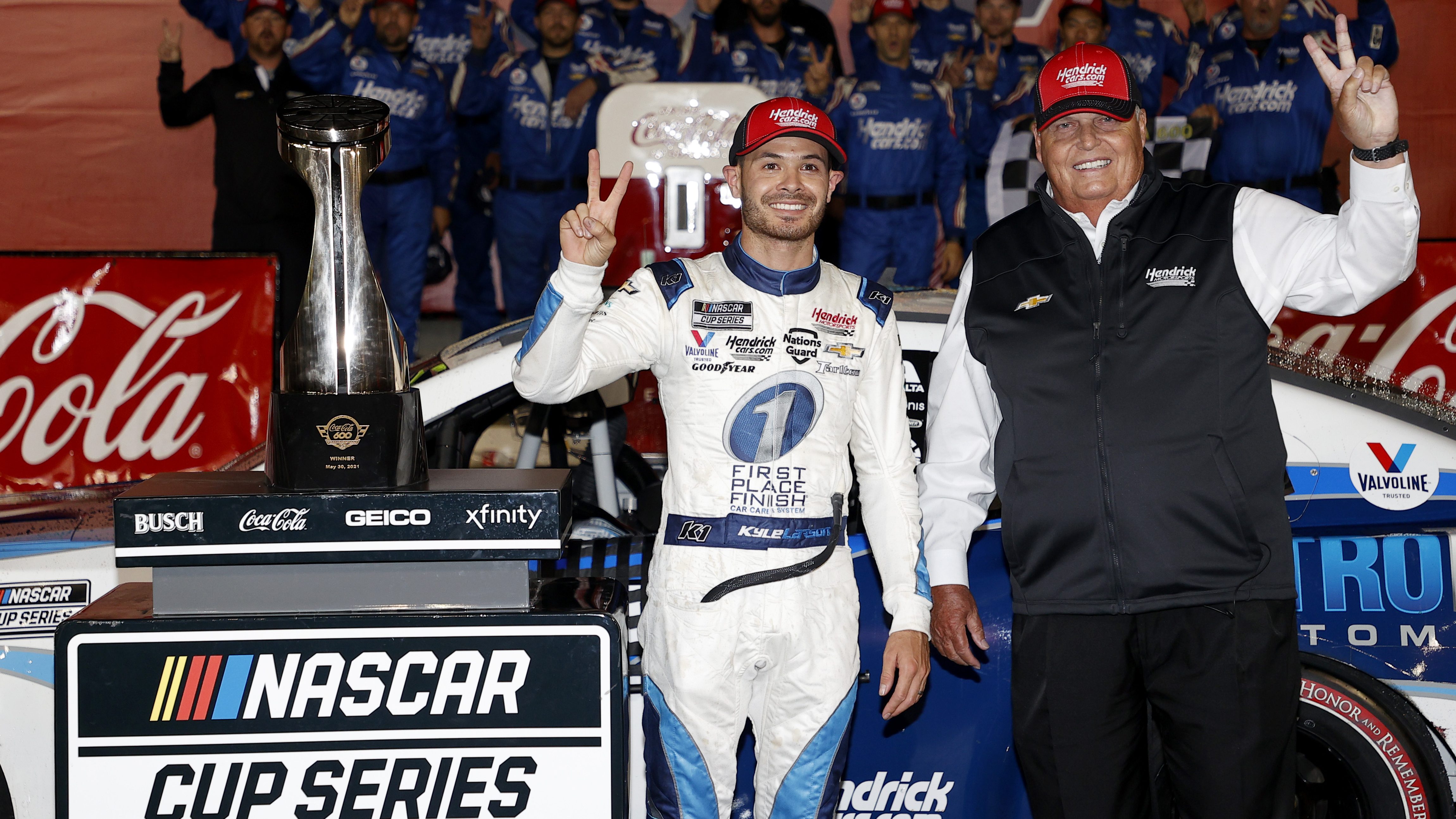 CONCORD, NORTH CAROLINA – MAY 30: Kyle Larson, driver of the #5 Metro Tech Chevrolet, and NASCAR Hall of Famer and team owner Rick Hendrick celebrate in victory lane after winning, the NASCAR Cup Series Coca-Cola 600, Hendrick Motorsports' 269th Cup Series win, the most in NASCAR at Charlotte Motor Speedway on May 30, 2021 in Concord, North Carolina. (Photo by Maddie Meyer/Getty Images)
Pete Pistone will unveil Power Rankings each week of the NASCAR season. Check out this week's edition of NASCAR Power Rankings below, and listen to SiriusXM NASCAR Radio (Ch. 90) on the SiriusXM app now.

Here's how Sunday's Coca-Cola 600 at Charlotte Motor Speedway impacted this week's Power Rankings:
1. Denny Hamlin  – He's still the point leader, but Hamlin continues to search for his first win of 2021. A seventh-place outing in Charlotte kept the Joe Gibbs Racing driver's consistent season going.
Driver Rating: 111.1
Point Standings: 1st
Previous Ranking: 1st
2. Kyle Larson – Win number two of the season came in dominating fashion as Larson swept the Coca-Cola 600 while leading 327 laps. It was his eighth career Cup Series win and the 269th overall for Hendrick Motorsports to make the organization the sport's all-time win leader.
Driver Rating: 106.2
Point Standings: 2nd
Previous Ranking: 7th
3. Alex Bowman– Stayed in the first ten in each of the opening three stages and eventually ended up with a fifth-place finish. Bowman scored his first top-5 finish at Charlotte.
Driver Rating: 85.5
Point Standings: 12th
Previous Ranking: 3rd
4. William Byron– His impressive season put another chapter in the book on Sunday as Byron crossed the finish line in fourth. It was his first top-5 finish at Charlotte and the Hendrick Motorsports driver has now finished top-10 in 12 of the last 13 races this season.
Driver Rating: 101.3
Point Standings: 3rd
Previous Ranking: 5th
5. Chase Elliott – Followed up his COTA win the week before with a strong outing Sunday night. Elliott has finished top two in the last three races at Charlotte on the oval and scored his fifth straight top-10 finish this season.
Driver Rating: 97.6
Point Standings: 4th
Previous Ranking: 6th
6. Martin Truex Jr. – A miserable night for Truex Jr. who was a non-factor in Charlotte and ended up with a 29th place finish that included losing nine laps on pit road for a tire issue.
Driver Rating: 101.5
Point Standings: 6th
Previous Ranking: 2nd
7. Kyle Busch  – A third-place run for Busch on Sunday who was the best driver of the Joe Gibbs Racing contingent. It was Busch's fourth straight top-5 finish in the Coca-Cola 600.
Driver Rating: 94.9
Point Standings: 8th
Previous Ranking: 8th
8. Kevin Harvick  – It was a battle for Harvick who also dealt with a tire issue late in the going. The Stewart-Haas Racing driver muscled his way home to a tenth-place finish.
Driver Rating: 90.8
Point Standings: 9th
Previous Ranking: 7th
9. Tyler Reddick – The other RCR driver also had a stellar night in Charlotte. Reddick notched his eighth top-10 finish of 2021 and had only nine all last year. It was his seventh top-10 in the last nine races of the season.
Driver Rating: 75.3
Point Standings: 13th
Previous Ranking: 10th
10. Austin Dillon – The Richard Childress Racing driver scored his sixth top-10 finish of 2021 after Dillon had only nine all last year.
Driver Rating: 83.0
Point Standings: 11th
Previous Ranking: NR
Dropped Out: Joey Logano
---
---
---