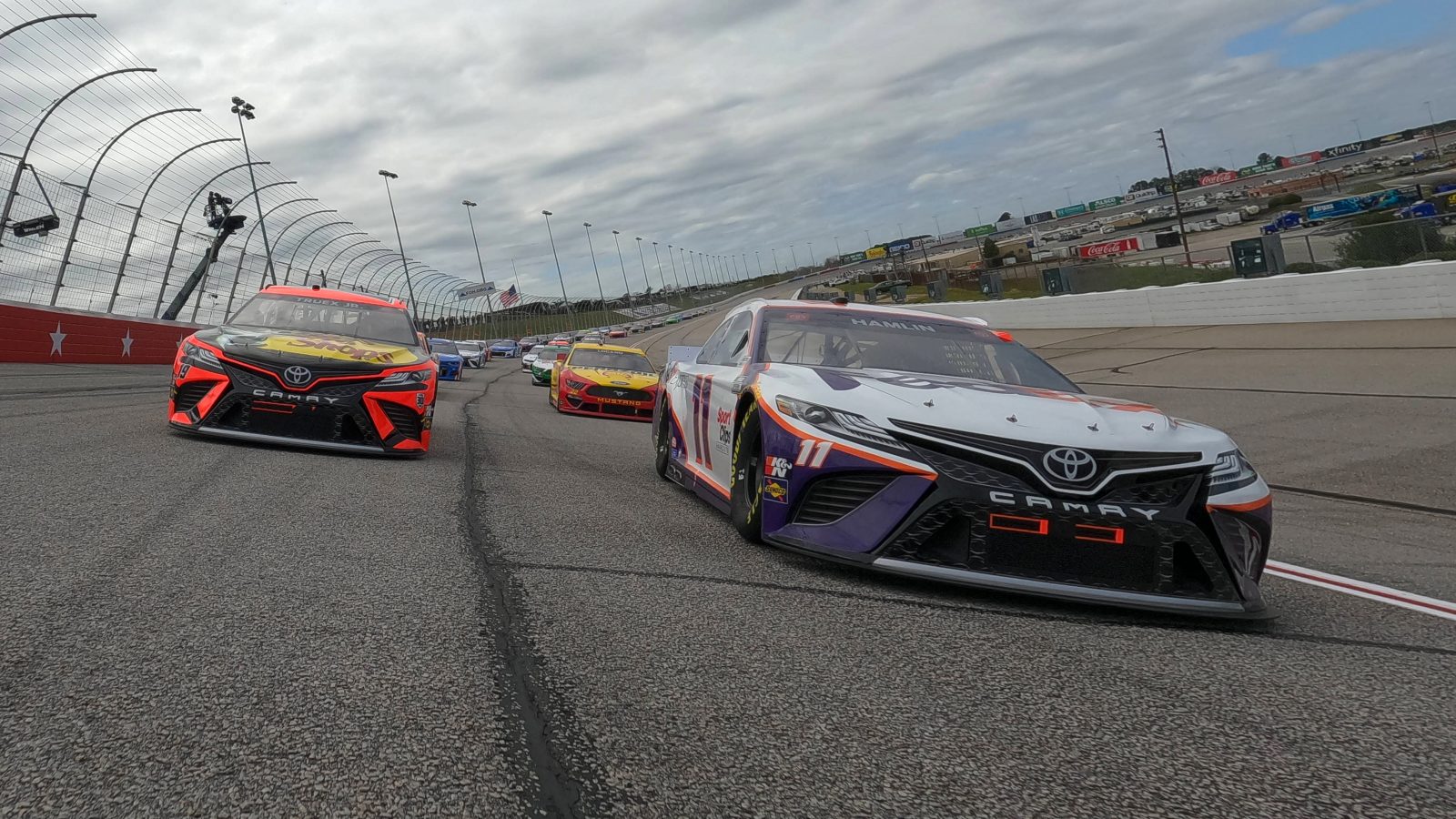 Denny Hamlin and Martin Truex Jr. lead the field on a pace lap prior to the NASCAR Cup Series Folds of Honor QuikTrip 500 at Atlanta Motor Speedway on March 21, 2021. (Photo by Sean Gardner/Getty Images)
Pete Pistone will unveil Power Rankings each week of the NASCAR season. Check out this week's edition of NASCAR Power Rankings below, and listen to SiriusXM NASCAR Radio (Channel 90) on the SiriusXM app now.

Six races, six different winners. The NASCAR season has produced some new faces in Victory Lane with Ryan Blaney the latest last Sunday at Atlanta Motor Speedway. Here's a look at this week's NASCAR Cup Series Power Rankings after the Folds of Honor/QuikTrip 500:
Denny Hamlin – Another strong outing for Hamlin who started the race from outside the front row. He scored his fifth top five in the six races this season, with Hamlin's worst finish an 11th.
Driver Rating: 113.5
Point Standings: 1st
Previous Ranking: 1st
Kyle Larson– The dominant car Sunday at Atlanta but not the race winner. Larson led 269 laps, his second-most ever in a race, but was forced to settle for his 10th career runner-up on a 1.5-mile track.
Driver Rating: 114.0
Point Standings: 2nd
Previous Ranking: 2nd
Ryan Blaney– His first win of the season was the fifth Cup victory for Blaney. He took the lead late from Kyle Larson and despite leading just 25 laps all day, pulled into Victory Lane as the sixth winner in six races this year. Blaney has made the pass for the win in the final 10 laps in all five career wins.
Driver Rating: 97.3
Point Standings: 7th
Previous Ranking: NR
Martin Truex Jr. – Followed up his Phoenix win a week ago with a ninth-place Atlanta effort. Truex Jr. has finished top-10 in the last seven 1.5 mile races, the longest current streak in the series.
Driver Rating: 100.7
Point Standings: 4th
Previous Ranking: 4th
William Byron– The No. 24 Hendrick Motorsports team keeps riding high in the early going of the 2021 season. Byron notched his fourth straight top-10 finish this season and scored his first top 15 finish at Atlanta.
Driver Rating: 95.1
Point Standings: 8th
Previous Ranking: 3rd
Kyle Busch– A fifth-place performance in Atlanta for Busch. He has finished top-10 in three of the last four races this season and notched his fourth straight top-10 finish at Atlanta.
Driver Rating: 91.9
Point Standings: 12th
Previous Ranking: NR
Chase Elliott– Sour homecoming for the defending Cup champion. Elliott started last after his car failed inspection twice and despite working his way to the front, a blown engine on lap 220 ended his day.
Driver Rating: 93.5
Point Standings: 10th
Previous Ranking: 6th
Kevin Harvick– Trouble struck early for Harvick and he was forced to fight back. He spent 151 laps off the lead lap after an early race flat tire but recovered for his seventh straight top-10 finish at Atlanta.
Driver Rating: 94.4
Point Standings: 6th
Previous Ranking: 9th
Joey Logano– A somewhat surprising mediocre day for Logano who finished 15th in Atlanta after posting finishes of 13th and 15th in the first two stages.
Driver Rating: 102.2
Point Standings: 3rd
Previous Ranking: 7th
Brad Keselowski– Suffered some damage to his car in the early part of Sunday's race and struggled the rest of the afternoon. Keselowski could only muster a 28th-place finish in Atlanta.
Driver Rating: 96.4
Point Standings: 5th
Previous Ranking: 8th
Dropped Out: Michael McDowell, Christopher Bell
---
---
---