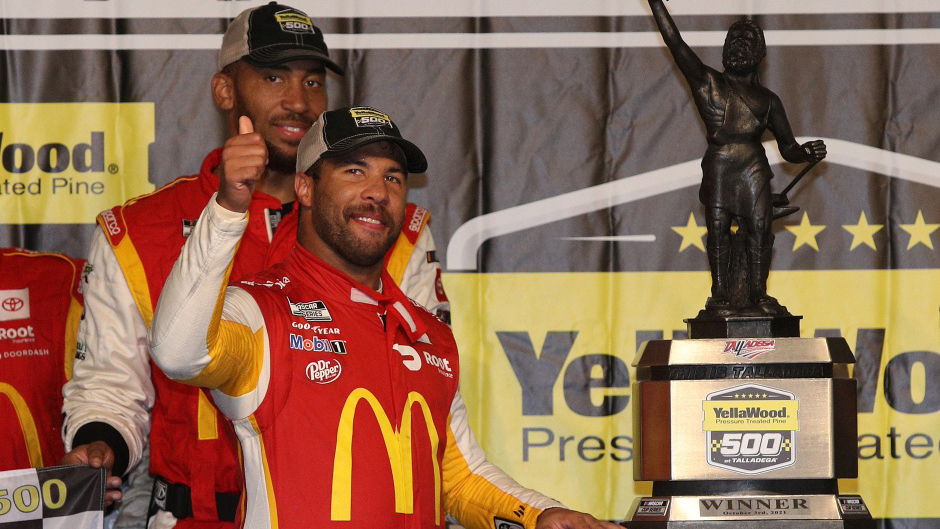 Pete Pistone will unveil Power Rankings each week of the NASCAR season. Check out this week's edition of NASCAR Power Rankings below, and listen to SiriusXM NASCAR Radio (Ch. 90) on the SXM App now.

Here's how Monday's Yellawood 500 at Talladega Superspeedway impacted this week's Power Rankings:
Denny Hamlin  – While the team co-owner of 23X1 Racing celebrated Bubba Wallace's first career Cup win, Hamlin the driver had a decent day of seventh at Talladega. But his Las Vegas win a week ago took all the pressure off Hamlin as he's already set for a spot in the next round.
Driver Rating: 109.7
Playoff Standings: 1st
Previous Ranking: 1st
2.   Kyle Larson – A victim of being in the wrong place at the wrong time. Larson got damage in an incident on the backstretch that led to more woes, a damaged race car, a blown tire and at the end of it all a disappointing to say the least 37th place finish.
Driver Rating: 110.0
Playoff Standings: 2nd
Previous Ranking: 2nd
3. Martin Truex Jr. – Nothing special at Talladega for Truex Jr., who was just outside the top-10 with a finish of 12th. But like a number of other drivers saw on Monday, it would have been a lot worse.
Driver Rating: 97.6
Playoff Standings: 5th
Previous Ranking: 3rd
4.   Brad Keselowski – He ended an eight race streak without a top-five finish and scored his seventh top-two finish at Talladega including both races there in 2021. Keselowski is staying very much alive in the Playoff picture.
Driver Rating: 88.1
Playoff Standings: 4th
Previous Ranking: 9th
5.   Joey Logano – A third place Talladega performance was Logano's best finish since he was third at COTA. It was the Team Penske driver's only top-five in the last five Talladega races.
Driver Rating: 95.6
Playoff Standings: 3rd
Previous Ranking: 6th
6.  Ryan Blaney – His Talladega magic ran out on Monday. Blaney wasn't terrible and finished sixth in the opening stage but ultimately faded back to come home 13th when the checkered flag waved.
Driver Rating: 91.1
Playoff Standings: 6th
Previous Ranking: 4th
7.  Kevin Harvick – He keeps putting up good finishes now that the Playoffs have arrived. Despite not having the suspended crew chief Rodney Childers on hand, Harvick was strong at Talladega and put up an eighth-place finish.
Driver Rating: 91.7
Playoff Standings: 9th
Previous Ranking: 8th
8.  Chase Elliott  – He was the best finishing Hendrick Motorsports driver, which gives you an indication how bad a day it was for the organization. Elliott left Talladega with a 19th-place finish.
Driver Rating: 100.7
Point Standings: 7th
Previous Ranking: 5th
9.  Kyle Busch – His Talladega luck continued Monday for Busch, which basically meant he had none again. Got caught in an accident and his damaged Toyota limped home to a 27th-place finish.
Driver Rating: 97.1
Playoff Standings: 8th
Previous Ranking: 7th
10. Christopher Bell – A fifth-place run for Bell at Talladega. It was the Joe Gibbs Racing driver's only second top-10 finish in the last eight races but came at a good time in the Playoff race.
Driver Rating: 81.0
Playoff Standings: 10th
Previous Ranking: NR
Dropped Out: William Byron
---
---
---