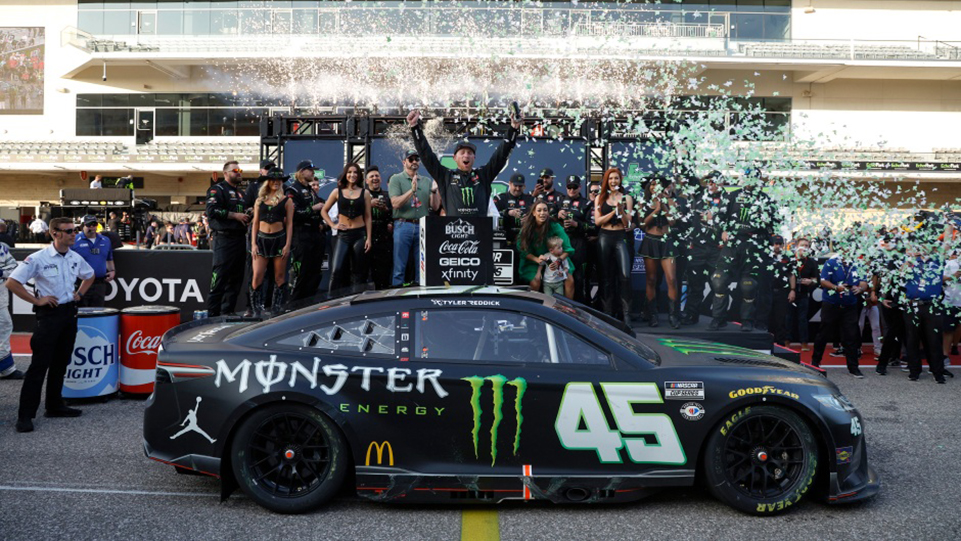 Pete Pistone will unveil Power Rankings each week of the NASCAR season. Check out this week's edition of NASCAR Power Rankings below, and listen to SiriusXM NASCAR Radio (Ch. 90) on the SXM App now.

The NASCAR Cup Series went road racing for the first time this season. Here's a look at the "Power Rankings" after a visit to the Circuit of the Americas:
William Byron
He had one of the fastest cars of the weekend winning the pole and leading 28 laps at COTA. Byron was involved in an epic battle with Tyler Reddick for the lead but eventually faded back in the craziness of the race's ending to post a top-five finish.
Point Standings: 22nd
Last Week: 2nd
2.  Tyler Reddick
In a short period of time Reddick has established himself as one of NASCAR's top road racers. His fourth career win came with his third Cup road racing victory Sunday at COTA. He dominated leading 41 laps but needed to work hard to keep the top spot and take the checkered flag after three overtimes.
Point Standings: 10th
Last Week: NR
3. Kyle Busch
A very solid effort for Busch in his first start for Richard Childress Racing at COTA. He had a chance late to perhaps get the lead by showing some physicality. He chose ro race respectfully and turned in a runner-up finish.
Point Standings: 2nd
Last Week: 4th
4. Ross Chastain
The defending race winner wasn't able to go back-to-back at COTA but still came home with a fourth-place finish. It wasn't easy as Chastain gave and received a lot of contact throughout the day on his way to the top-five performance.
Point Standings: 1st
Last Week: 8th
5. Alex Bowman
He hung around near the front of the field most of the day and took advantage of the chaos that broke out through multiple overtime finishes. Bowman's early season solid start rolled on with a third-place effort at COTA.
Point Standings: 16th
Last Week: 10th
6. Joey Logano
He had his hands full from the get go at COTA. A week after winning Atlanta, Logano was able to lead just one lap on Sunday and ended a disappointing afternoon in Texas finishing 28th.
Point Standings: 3rd
Last Week: 1st
7. Kevin Harvick
He started relatively deep in the field after a not great qualifying effort on Saturday. But after taking the green flag in 29th, Harvick persevered and brought home a 13th-place finish.
Point Standings: 4th
Last Week: 5th
8. Kyle Larson
It's been a rough stretch for Larson trying to finish races with a car that has been more than capable of allowing him to compete for Victory Lane. Early contact made that endeavor an uphill battle at COTA and Larson could only muster finishing 14th on Sunday.
Point Standings: 27th
Last Week: 6th
9. Christopher Bell
There was some speed in the No. 20 Toyota and Bell might have had a better finish had his day not been impacted by an accident. He only completed 73 laps and was credited with finishing 31st at COTA.
Point Standings: 5th
Last Week: 3rd
10. Denny Hamlin
A nondescript day for Hamlin who like many Sunday at COTA was the victim of contact and spinning out. The Joe Gibbs Racing driver collected himself and drove home to a 16th-place performance.
Point Standings: 11th
Last Week: 9th
Dropped Out: Brad Keselowski
---
---
---