SiriusXM Coffee House Presents: JOHNNYSWIM, Drew Holcomb & the Neighbors, and Penny & Sparrow
Their new collaborative EP, Goodbye Road, is due out May 4. 
JOHNNYSWIM, Drew Holcomb & the Neighbors and Penny & Sparrow are joining forces for The Goodbye Road Tour, presented by SiriusXM Coffee House. The three artists will perform a limited run of live dates together supporting their new collaborative EP, Goodbye Road, due out May 4. 
Kicking off on June 28 at Little Rock, AR's Robinson Center, the three artists will bring an evening of music through much of the southeast before wrapping in Orlando, FL on July 12. Full dates are below. General public on-sale begins this Friday, April 27. For tickets & more information, click here.
Goodbye Road was written and recorded in the wake of an emotionally-charged year that included the racial assaults in Charlottesville, the heartbreaking attack upon an audience of music fans at the Route 91 Harvest Festival in Las Vegas, and the loss of rock & roll icon Tom Petty. Rooted in a mix of acoustic guitars, classic songwriting, upright pianos, ringing reverb, and stacked harmonies, Goodbye Road is an album about endings and new beginnings.
The Goodbye Road Tour brings to life the EP's messages of hope and resilience in the face of adversity and loss. All three artists have built their careers on the road, where their best qualities shine the brightest: Drew Holcomb & The Neighbors' timeless storytelling through song, Penny & Sparrow's rich, immersive harmonies, and JOHNNYSWIM's rousing Americana and electrifying chemistry. Through a very limited run of dates, fans will delight in a musical journey mapped through each act's artistic lens, creating a rare experience they're sure to hold onto for years to come.
Click here to listen to the Coffee House (Ch. 14).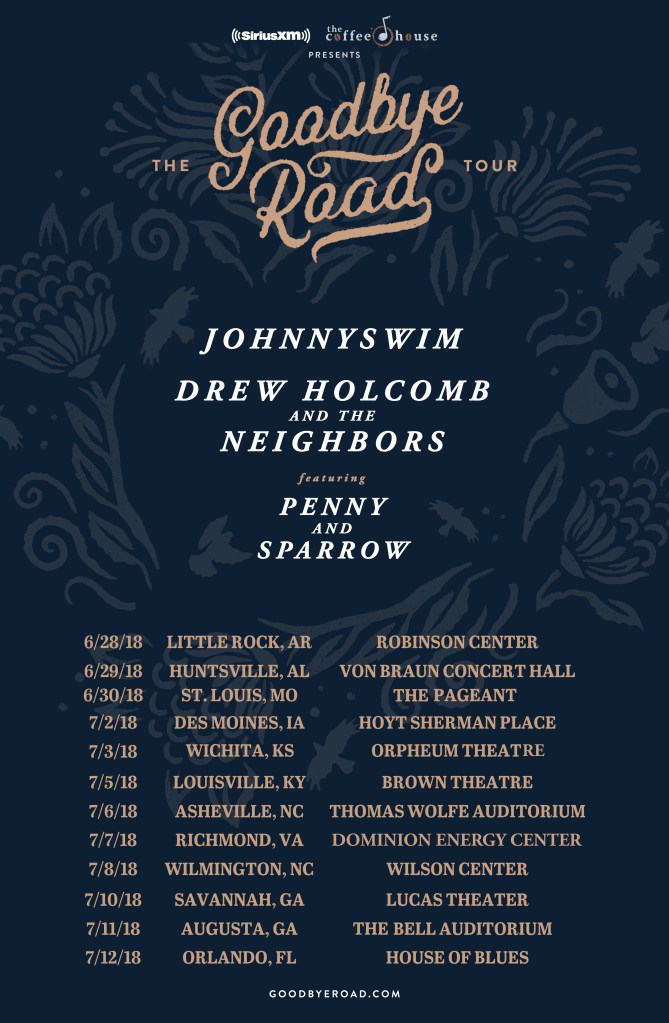 ---
---