SiriusXM Boxing host Barak Bess recounts his sparring session with Shawn Porter
SiriusXM's own Barak Bess got his first taste of sparring on Wednesday when he got in the ring with former IBF welterweight champion Shawn Porter. Ahead of his fight against Keith Thurman for the WBA welterweight title, Porter organized a … Continued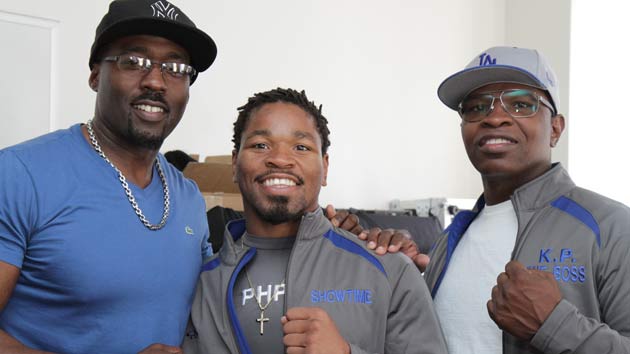 SiriusXM's own Barak Bess got his first taste of sparring on Wednesday when he got in the ring with former IBF welterweight champion Shawn Porter. Ahead of his fight against Keith Thurman for the WBA welterweight title, Porter organized a celebrity sparring session at Gleason's Gym in Brooklyn, NY where he gave boxing-media personalities a taste of what he plans to do on June 25 at the Barclays Center.
Bess, who has a background in martial arts and has trained at Gleason's for almost 10 years, had never actually sparred before. Despite his inexperience, his knowledge of boxing allowed him to surprise Porter a little.
"After about 20 seconds or so, I said OK, he got a little bit of skill because the jab was coming and the jab to the body was coming," Porter said. "Then, my man Barak started throwing some faints and started to come around my guard, and I was impressed with that."
Bess claims things might've been different had there been less people around.
"I didn't really go all out because I know maybe if I hit you too hard then I'm gonna get hit too hard," Bess said. "So I said if this was a private gym, I wouldn't mind that, but because everybody was there, I won't go that route."
Check out our own Barak sparring with @ShowtimeShawnP at @Gleasonsboxing today! #boxing #ThurmanPorter pic.twitter.com/keRqPCNeMn

— SiriusXM Boxing (@SiriusXMBoxing) May 12, 2016
Be sure to tune in to At The Fights on SiriusXM Rush (Ch. 93) on Friday at 7:15 pm ET to hear the full interview with Shawn Porter and his father and trainer Kenny Porter! And check out the video of the sparring session below to see how Bess really fared against "Showtime."
---
---
---