SiriusXM Big Ten Radio's Football Power Rankings – Week 4
Here's how the SiriusXM Big Ten Radio team voted after Week Four to determine this week's "Power Rankings."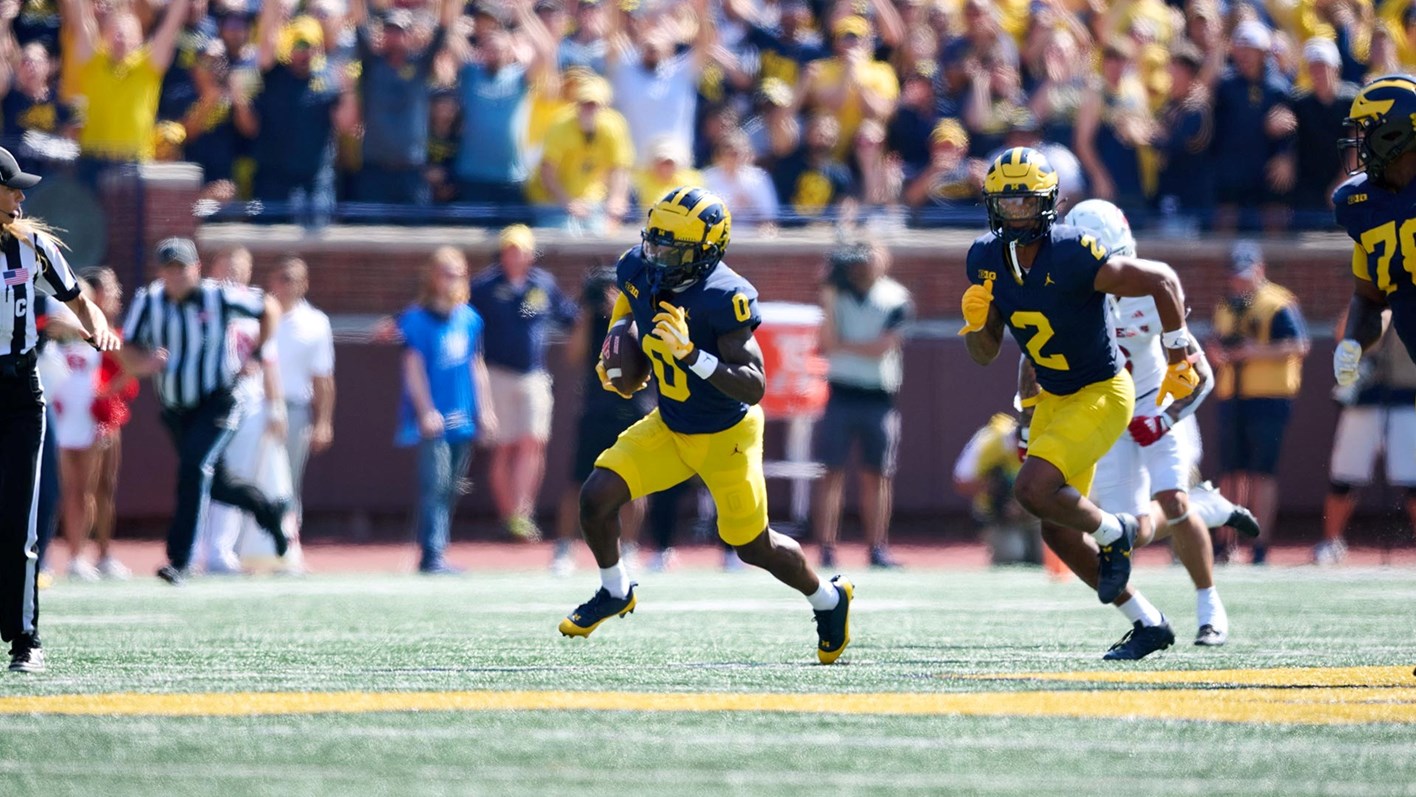 Pete Pistone and the rest of the SiriusXM Big Ten Radio team will unveil "Power Rankings" each week of the college football season. Check out this week's "Power Rankings" below, and start listening to SiriusXM Big Ten Radio (Ch. 372) on the SiriusXM app now.

Here's how the SiriusXM Big Ten Radio team voted after Week Four to determine this week's "Power Rankings:"
J.J. McCarthy threw a tiebreaking, 18-yard touchdown pass to Semaj Morgan late in the first half and No. 2 Michigan went on to beat Rutgers 31-7 on Saturday with coach Jim Harbaugh on the sideline. The Wolverines (4-0, 1-0 Big Ten) went ahead by 17 points on Mike Sainristil's 71-yard interception return with 4:31 left in the third quarter. Blake Corum's second rushing touchdown of the game — his eighth score of the season — put Michigan up 31-7 early in the fourth.
2.    PENN STATE 
Drew Allar threw four touchdown passes and Penn State's defense forced four turnovers to lead the seventh-ranked Nittany Lions past No. 24 Iowa 31-0 on Saturday. Tyler Warren caught two touchdowns and Khalil Dinkins and KeAndre Lambert-Smith each caught one for the Nittany Lions (4-0, 2-0 Big Ten), who possessed the ball for more than 42 minutes.
3.   OHIO STATE 
Chip Trayanum plunged across the goal line from a yard out with 1 second left and No. 6 Ohio State beat No. 9 Notre Dame 17-14 on Saturday night. Trayanum's score capped a gutty game-winning drive by Kyle McCord and the Buckeyes that included a fourth-down conversion and a third-and-19 completion that got Ohio State to the Notre Dame 1 with time for two plays.
4.   MARYLAND 
Taulia Tagovailoa threw for three touchdowns and ran for another and Maryland's defense forced five turnovers Saturday as the Terrapins beat Michigan State 31-9. Tagovailoa, who completed 21 of 36 passes for 223 yards, led the Terrapins (4-0, 1-0 Big Ten) to touchdowns on three of their four first-half drives and a 21-3 halftime lead.
5.   WISCONSIN
Tanner Mordecai ran for two scores and Braelon Allen rushed for 116 yards and two more scores Friday to lead Wisconsin to a 38-17 victory at Purdue. The Badgers' second straight victory extended their winning streak in this series to 17. Wisconsin quickly built a 14-0 lead thanks to Mordecai's TD runs of 14 and 6 yards on the Badgers first two possessions. Allen made it 21-3 with a 14-yard run in the second quarter.
6.   IOWA
The Hawkeyes lost to Penn State 31-0 on Saturday.
7.   RUTGERS 
The Scarlet Knights lost to Michigan 31-7 on Saturday.
8.   MINNESOTA
The Golden Gophers lost to Northwestern 37-34 on Saturday.
9.   INDIANA 
Indiana quarterback Tayven Jackson turned a trick play on a mandatory two-point conversion in the fourth overtime into a scoring pass to DeQuece Carter, and Akron's conversion pass on the ensuing possession fell incomplete as the Hoosiers held on for a 29-27 victory Saturday night. Cam Camper caught four passes for 103 yards and a touchdown, and Christian Turner ran 13 times for 67 yards and a TD as the Hoosiers (2-2) recovered from blowing a 17-10 lead in the final minutes of the fourth quarter.
10. PURDUE
The Boilermakers lost to Wisconsin 38-17 on Saturday.
11. ILLINOIS
Luke Altmyer threw a touchdown pass and ran for another and Isaiah Williams caught eight passes for 120 yards to lead Illinois to a 23-17 win over Florida Atlantic in a non-conference game Saturday. It was a bounce-back game for Altmyer, who threw four interceptions in the 30-13 loss to Penn State last week and was benched in the fourth quarter. He completed 25 of 36 passes for 303 yards and wasn't picked off.
12.  NORTHWESTERN
Ben Bryant threw a 25-yard touchdown to Charlie Mangieri in overtime, Bryce Kirtz set a career high with 215 yards receiving and caught two TDs, and Northwestern rallied from 21 down to beat Minnesota 37-34 on Saturday night. Bryant found Mangieri in the left side of the end zone for the winning score on the first play after Minnesota's Dragan Kesich kicked a 20-yard field goal.
13.  NEBRASKA 
Heinrich Haarberg ran for 157 yards and a touchdown and Anthony Grant for 135 yards and a score to lead Nebraska past Louisiana Tech 28-14 on Saturday. The Cornhuskers (2-2) had four runs of at least 30 yards and finished with 312 yards on the ground and 419 total yards.
14.  MICHIGAN STATE 
The Spartans lost to Maryland 31-9 on Saturday.
---
---