SiriusXM Big Ten Radio's Football Power Rankings – Week 11
Here's how the SXM Big Ten Radio team voted to shape this week's edition of the "Power Rankings" after week 11 of the 2022 season.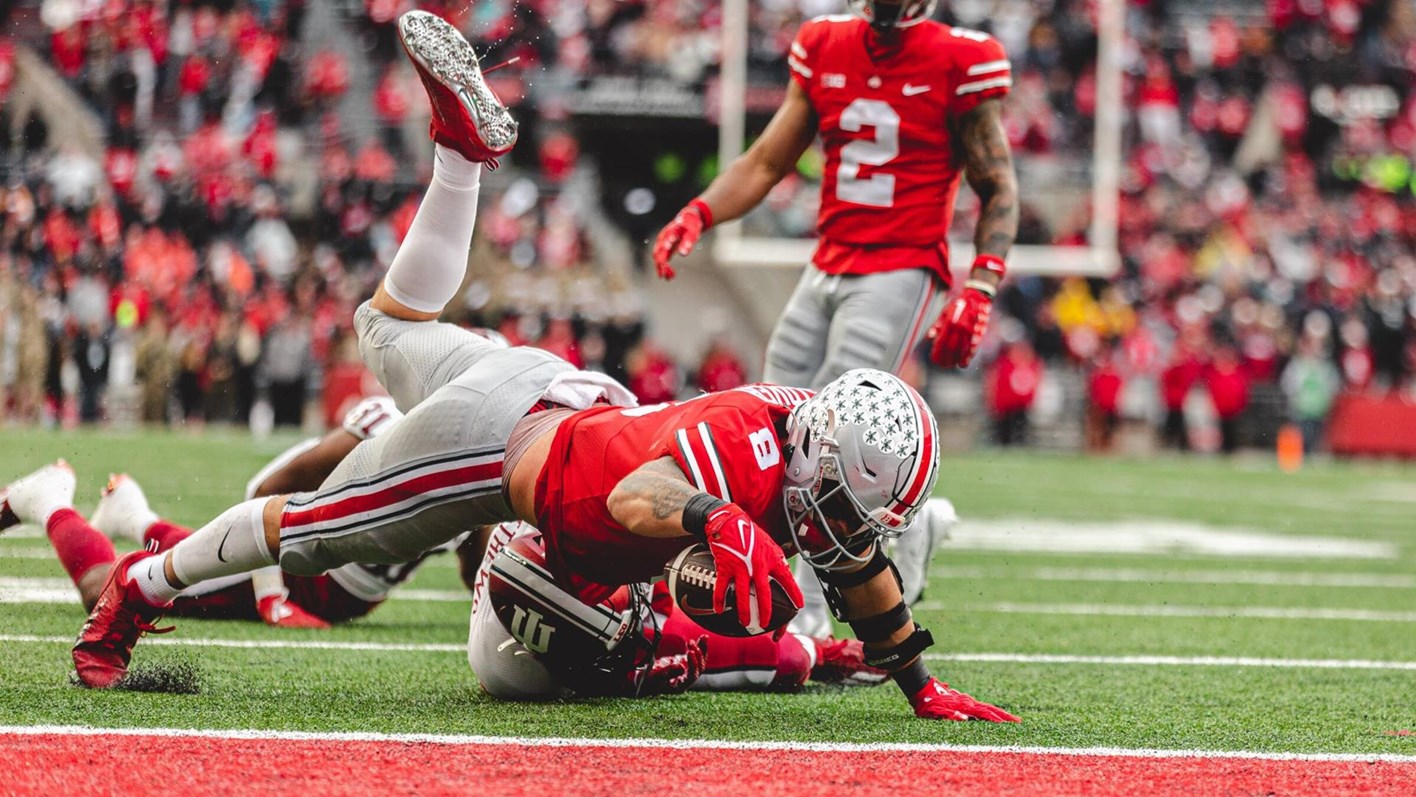 Ohio State rolled over Indiana (Photo: Big Ten)
Pete Pistone and the rest of the SiriusXM Big Ten Radio team will unveil "Power Rankings" each week of the college football season. Check out their Week 11 "Power Rankings" below, and start listening to SiriusXM Big Ten Radio (Ch. 372) on the SiriusXM app now.

Here's how the SXM Big Ten Radio team voted to shape this week's edition of the "Power Rankings" after week 11 of the 2022 season.
Blake Corum ran for 162 yards and a touchdown, helping No. 3 Michigan stay undefeated with a 34-3 win over Nebraska on Saturday. The Wolverines (10-0, 7-0 Big Ten, No. 3 CFP) have won their first 10 games for the first time since 2006, when they closed the regular season as the second-ranked team with a loss to rival and top-ranked Ohio State.
NEXT: Home versus Illinois on Saturday
Miyan Williams rushed for 147 yards and a touchdown before leaving with an injury late in the first half, C.J Stroud threw five TD passes and No. 2 Ohio State buried Indiana 56-14 on Saturday. The Buckeyes (10-0, 7-0 Big Ten, No. 2 CFP) had piled up 377 yards by the time Williams left the game and seemed to be back on track after struggling to beat Northwestern on a windy day the previous week. They finished with 662.
NEXT: At Maryland on Saturday
Nick Singleton scored two touchdowns and ran for 113 of his 122 yards in the first half and the defense of No. 14 Penn State smothered Maryland in a 30-0 win on Saturday. Tight end Brenton Strange caught a touchdown pass and Jake Pinegar kicked three field goals for the Nittany Lions (8-2, 5-2 Big Ten, No. 14 CFP), who beat Maryland for the seventh time in nine games since the Terps (6-4, 3-4) joined the Big Ten in 2014
NEXT: At Rutgers on Saturday
Cooper DeJean returned an interception for a touchdown and set up another score with a 41-yard punt return as Iowa defeated Wisconsin 24-10 on Saturday. The Hawkeyes (6-4, 4-3 Big Ten) moved into a tie for the Big Ten West lead with their third consecutive win. Iowa, ranked 129th nationally in total offense, had just 142 yards and averaged 2.1 yards per play, but took advantage of plays made by its defense and special teams.
NEXT:AT Minnesota on Saturday
Aidan O'Connell passed for 237 yards and three scores, two to Payne Durham, and Purdue beat No. 21 Illinois 31-24 on Saturday to turn the Big Ten West race into a muddled mess. The win gives the Boilermakers (6-4, 4-3 Big Ten) a crucial head-to-head tiebreaker over the Illini (7-3, 4-3 Big Ten), who were firmly in control until losing their last two games.
NEXT: Home versus Northwestern on Saturday
The Fighting Illini lost at home to Purdue 31-24.
NEXT: At Michigan in Saturday
7.   MINNESOTA
Mohamed Ibrahim rushed for 178 yards and three touchdowns and Minnesota's defense continued its dominance on Saturday as the Golden Gophers defeated Northwestern 31-3. Ibrahim, who carried the ball 36 times, extended his streak of consecutive 100-yard rushing games to 18, the longest in FBS since 2000. He also became the seventh player in Big Ten history with 50 career rushing touchdowns.
NEXT: Home versus Iowa on Saturday
8.   WISCONSIN
The Badgers lost at Iowa by a score of 24-10.
NEXT: At Nebraska on Saturday
Payton Thorne threw for 256 yards and two touchdowns and Ben Patton hit two fourth-quarter field goals to lift Michigan State to a 27-21 victory Saturday over Rutgers and keep the Spartans' bowl hopes alive. The Spartans built a 21-7 lead early in the third quarter on Thorne's 25-yard touchdown pass to Jayden Reed.
NEXT: Home versus Indiana on Saturday
The Terrapins were shut out by Penn State 30-0.
NEXT: Home versus Ohio State on Saturday
The Huskers lost at Michigan 34-3.
NEXT: Home versus Wisconsin on Saturday
The Scarlet Knights lost to Michigan State by a score of 27-21.
NEXT: Home versus Penn State on Saturday
13.  INDIANA 
The Hoosiers lost at Ohio State 56-14.
NEXT: At Michigan State on Saturday
14. NORTHWESTERN
The Wildcats lost at Minnesota by a score of 31-3.
NEXT: Wisconsin at home on Saturday
---
---