SiriusXM Big Ten Radio's Football Power Rankings – Final Edition
Here's how the SXM Big Ten Radio team voted to shape this week's final 2022 season edition of the "Power Rankings."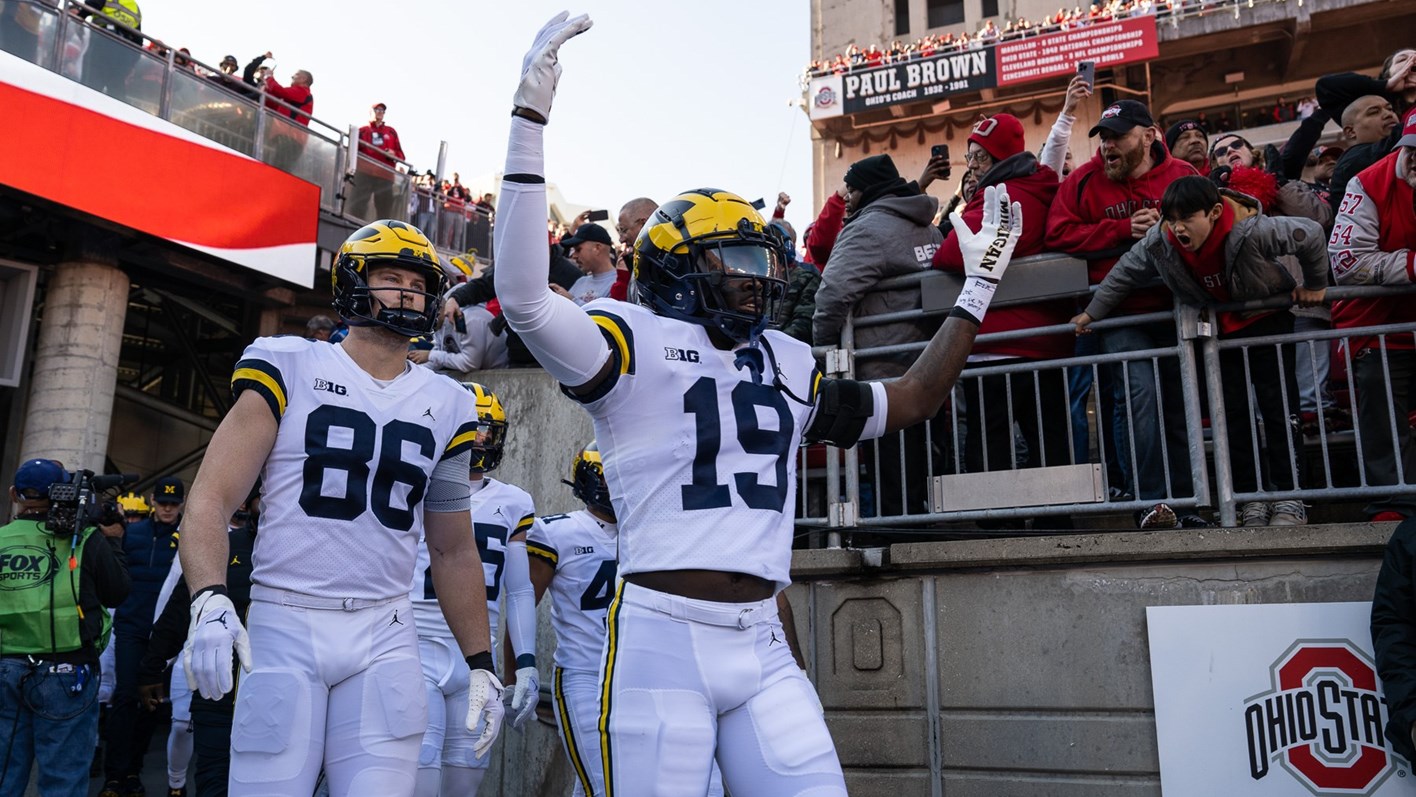 Michigan beat Ohio State for a second straight season. (Photo: Big Ten)
Pete Pistone and the rest of the SiriusXM Big Ten Radio team will unveil "Power Rankings" each week of the college football season. Check out their final "Power Rankings" of the 2022 season below, and start listening to SiriusXM Big Ten Radio (Ch. 372) on the SiriusXM app now.

Here's how the SXM Big Ten Radio team voted to shape this week's final 2022 season edition of the "Power Rankings:"
J.J. McCarthy threw three touchdown passes and ran for a score, Donovan Edwards busted the game open with two long fourth-quarter TD runs and No. 3 Michigan beat No. 2 Ohio State 45-23 Saturday, taking down the Buckeyes with stunning ease for the second straight season. The Wolverines advance to the Big Ten championship next Saturday, with hopes for a second straight playoff appearance firmly in their control.
The Buckeyes ended the regular season with a 45-23 loss to Michigan
Sean Clifford threw four touchdown passes and No. 11 Penn State's defense tightened up late to beat Michigan State 35-16 in the regular-season finale on Saturday. Tight end Theo Johnson caught two touchdown passes, Tyler Warren and running back Nick Singleton each caught one, and KeAndre Lambert-Smith threw a touchdown pass and caught another for the Nittany Lions (10-2, 6-2 Big Ten, No. 11 CFP)
Aidan O'Connell threw two touchdown passes and Devin Mockobee ran for another to help the Purdue Boilermakers clinch their first Big Ten West Division title with a 30-16 victory Saturday at Indiana. The Boilermakers face No. 3 Michigan next weekend in Indianapolis with a chance to win their first conference title since 2000. Purdue also won its fourth Old Oaken Bucket in five games and produced its first back-to-back eight-win seasons since 1997-98.
Athan Kaliakmanis connected with Le'Meke Brockington on a tiebreaking 45-yard touchdown with 3:40 remaining and Minnesota barely hung on in the final minute to beat Wisconsin 23-16 on Saturday. Minnesota (8-4, 5-4 Big Ten) retained possession of Paul Bunyan's Axe, which goes to the winner of this annual matchup. The Gophers also tied the most-played Football Bowl Subdivision rivalry — these two Big Ten foes have been facing each other since 1890 — at 62-62-8.
Safety Sydney Brown returned a touchdown and an interception for scores and Illinois snapped a three-game losing streak with a 41-3 rout of Northwestern on Saturday. Brown raced 53 yards for a touchdown after Northwestern quarterback Cole Freeman fumbled, then sprinted in for a 39-yard score off an interception, both in the third quarter.
7.  MARYLAND 
Taulia Tagovailoa threw for 342 yards and a touchdown, Roman Hemby ran for three TDs, and the Maryland defense allowed just two first downs through the first 2 1/2 quarters of a 37-0 victory over Rutgers on Saturday. Jeshaun Jones had nine catches for 152 yards and a touchdown for the Terrapins, who snapped a three-game losing streak and completed their first seven-win regular season since 2014.
8. WISCONSIN
The Badgers lost to Minnesota 23-16 on Saturday.
9. NEBRASKA 
Casey Thompson threw for three touchdowns, and Nebraska ruined Iowa's chance to clinch the Big Ten West Division title outright with a 24-17 win on Friday. Thompson threw touchdown passes of 87 and 18 yards to Trey Palmer in the first half and a 14-yarder to Marcus Washington in the third quarter as Nebraska built a 24-0 lead. Thompson completed 20 of 30 passes for 278 yards. Palmer had nine catches for 165 yards.
The Hawkeyes lost to Nebraska 24-17 on Friday.
The Hoosiers lost to Purdue 30-16 on Saturday.
The Spartans lost to 35-16 on Saturday.
13.  RUTGERS 
The Scarlet Knights lost 37-0 to Maryland on Saturday.
14. NORTHWESTERN
The Wildcats lost 41-3 to Illinois on Saturday.
---
---