SiriusXM Big Ten Radio's final football power rankings
Catch where your team landed among the Big Ten Radio team's final college football 'Power Rankings' of the season.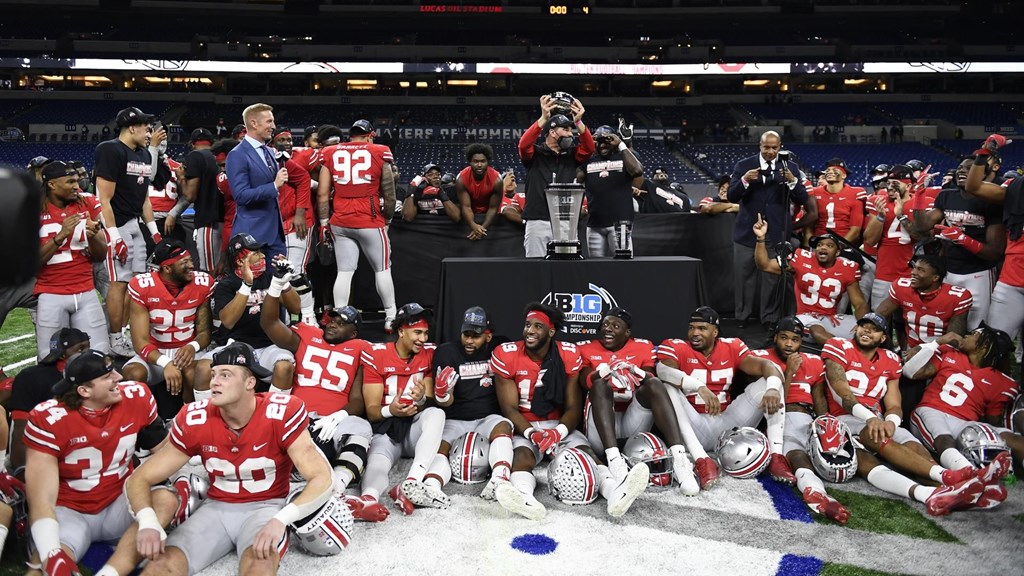 Ohio State won the Big Ten Football title (Photo: Big Ten)
Pete Pistone and the rest of the SiriusXM Big Ten Radio team will unveil Power Rankings each week of the college football season. Check out their final edition of this year's football Power Rankings below, and start listening to SiriusXM Big Ten Radio (Ch. 372) on the SiriusXM app now.

Northwestern put up a fight but in the end it wasn't enough to hold off Ohio State as the Buckeyes won this year's Big Ten Football Championship. The victory was good enough to move OSU into the College Football Playoff, and they'll take on Clemson on New Year's Day in the Sugar Bowl.
There were other games played on Championship Weekend while COVID-19 forced more cancellations. While it was certainly far from perfect and provided a roller coaster ride from mid-August until mid-December, the Big Ten did manage to get a football season in the books.
Here's how the SiriusXM Big Ten Radio team voted to put together this year's final edition:
1. OHIO STATE (6-0)
The Buckeyes turned things on in the second half against Northwestern to prevail in the Big Ten Championship game and bring yet another title to Columbus. There are surrounded by controversy as a team that played just six games moving on to the College Football Playoff, but Ryan Day and company won't lose any sleep over it.
NEXT: Clemson/Sugar Bowl, January 1
2. INDIANA (6-1)
Tom Allen was named Big Ten Coach of the Year. That takes some of the sting out of an Indiana season that will go down as one of the best in school history but also one of "what might have been."
NEXT: Ole Miss/Outback Bowl, January 2
3. NORTHWESTERN (6-2)           
The Wildcats gave Ohio State everything they had in the Big Ten Championship game but ultimately it wasn't enough. However, Northwestern more than turned things around this season after a 3-9 campaign the year before.
NEXT: Auburn/Citrus Bowl, January 1
4. IOWA  (6-2)
The Hawkeyes were forced to sit idle when their scheduled game against Michigan was cancelled by a virus outbreak in Ann Arbor. Iowa takes its six-game winning streak into a bowl match-up against Missouri.
NEXT: Missouri/Music City Bowl, December 30
5. PENN STATE (4-5)
The 56-21 win over Illinois was the fourth consecutive victory for Penn State. After a terrible start, things trended in the right direction in the second half of 2020 for James Franklin's squad.
6. WISCONSIN (3-3)            
A .500 season was not what Wisconsin had in mind especially after opening up the year with what looked to be a high-powered offense. The Badgers' overtime win against Minnesota did bring Paul Bunyan's Axe back to Madison for the year.
NEXT: Wake Forest/Duke's Mayo Bowl, December 30
7. RUTGERS (3-6)
The year ended with a tough loss to Nebraska, but Rutgers was one of the best stories in the conference this year. Greg Schiano's return in year one appeared to lay down a foundation for what has a very good chance to be a successful run in the coming years.
8. MARYLAND (2-3)
Maryland was hit the hardest in terms of games lost to COVID-19 in the Big Ten. The Terrapins had four games scrubbed, including last week's contest versus Michigan.
9. NEBRASKA (3-5)
The season at least ended on a positive note with a comeback victory over Rutgers. But there are a myriad of questions that need to be answered during the off-season for Scott Frost and the Huskers.
10. MINNESOTA (3-4)        
Quote the reversal of fortune for Minnesota after the team's stellar season in 2019. COVID, players opting out and a general sense of upheaval permeated PJ Fleck's team this year setting up an interesting next few months in preparation for 2021.
11. MICHIGAN (2-4)
No games to end the year against either Ohio State or Iowa sends Michigan into the off-season on a decidedly down note. The next several months will be spent trying to find answers for a year that was not one many in Ann Arbor will want to remember.
12. MICHIGAN STATE (2-5)           
There were times to remember from Mel Tucker's first year at the helm in East Lansing. But there was also plenty to forget. Beating arch-rival Michigan definitely will warm some cold nights ahead as the team identifies how to improve in 2021.
13. PURDUE (2-4)       
The Old Oaken Bucket game against Indiana was cancelled for two straight weeks and Purdue's season ended on a four-game losing streak. Jeff Brohm will have to replace defensive coordinator Bob Diaco as well as find some other answers in the coming months.
14. ILLINOIS (2-6)
Lovie Smith's departure was followed by a 56-21 blowout to Penn State. Now, the rebuild begins with new head coach Bret Bielema in charge of trying to turn things around in Champaign.
---
---
---