SiriusXM Big Ten Radio Power Rankings: Week Three
With three weeks in the books, see how Pete Pistone and the SiriusXM Big Ten Radio team rank the 14 schools in Big Ten football.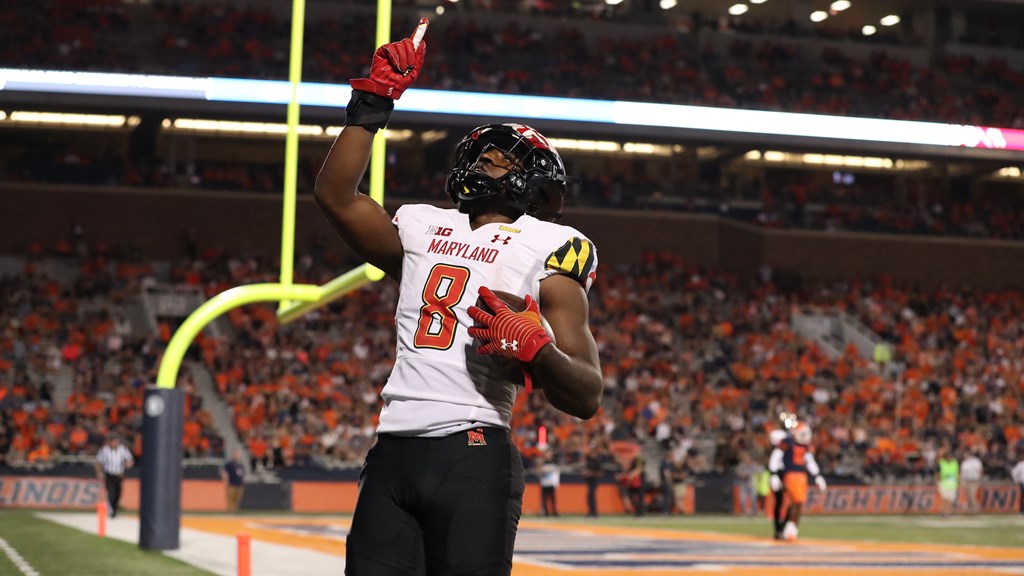 Maryland continued its early season roll. (Photo: Big Ten)
Pete Pistone and the rest of the SiriusXM Big Ten Radio team will unveil power rankings each week of the college football season. Check out their 2021 preseason power rankings below, and start listening to SiriusXM Big Ten Radio (Ch. 372) on the SiriusXM app now.

Are we beginning to see the pretenders and the contenders identified in Big Ten football? There are some teams beginning to flex their muscles while others are off to a less than stellar start. Here's how the SiriusXM Big Ten Radio team rank the schools with three weeks in the book:
1. PENN STATE
Penn State celebrated the annual Penn State White Out game with a 28-20 win over No. 22/20 Auburn on Saturday night. The Nittany Lions have defeated two ranked opponents in their first three games of the season for the first time in program history. The win is Penn State's first regular-season victory over an SEC opponent since the Nittany Lions defeated Alabama 9-0 in 1990.
NEXT: Villanova (September 25)
2. IOWA
Junior Tyler Goodson ran for a career-high 153 yards and three touchdowns to lead the fifth-ranked University of Iowa football team to a 30-7 victory over Kent State on Saturday afternoon on Duke Slate Field inside Kinnick Stadium. The win is the Hawkeyes' 300th in Kinnick Stadium, moves Iowa to 3-0 on the season, and is the team's ninth straight victory dating back to the 2020 campaign.
NEXT: Colorado State (September 25)
3. OHIO STATE
After a slow start in the first half, No. 9 ranked Ohio State rode the coattails of freshman running back TreVeyon Henderson – who broke Archie Griffin's freshman single-game rushing record – en route to a 41-20 victory over Tulsa Saturday in Ohio Stadium.
NEXT: Akron (September 25)
4. MICHIGAN
Michigan scored a touchdown on each of its nine first drives and led by as many as 60 points, remaining perfect on the season in a 63-10 victory over Northern Illinois at Michigan Stadium on Saturday. The Wolverines (3-0) once again dominated on the ground, rushing for 373 yards and eight touchdowns.
NEXT: Rutgers (September 25)
Payton Thorne passed for 261 yards and four touchdowns, two of those scoring throws going to Jalen Nailor, and Michigan State extended its unbeaten start by topping No. 24 Miami 38-17 on Saturday. Kenneth Walker III rushed for 172 yards and caught a touchdown pass for the Spartans (3-0), who are off to their best start since 2015.
NEXT: Nebraska (September 25)
6. WISCONSIN
The Badgers were idle last weekend and get set for a Saturday marquee game against Notre Dame in Chicago's Soldier Field.
NEXT: Notre Dame – Soldier Field/Chicago (September 25)
7. MARYLAND
Down 17-10 with less than five minutes to go in the fourth quarter, Maryland rallied for a dramatic 20-17 victory over Illinois to stay perfect at 3-0. The Terps scored twice in the final 2:13 to continue its best start to a season since 2016, when they started 4-0.
NEXT: Kent State (September 25)
8. RUTGERS
Rutgers football (3-0) defeated Delaware (2-1) by a score of 45-13 on Saturday afternoon at SHI Stadium. The Scarlet Knights cruised to their first 3-0 start since 2012. Quarterback Noah Vedral went 21-for-25, including a 62-yard touchdown pass to wide receiver Brandon Sanders and a 28-yard TD toss to wide receiver Bo Melton.
NEXT: @Michigan (September 25)
9. INDIANA
Desmond Ridder threw the go-ahead touchdown pass early in the fourth quarter, then scored on a 7-yard TD run to help No. 8 Cincinnati seal a come-from-behind 38-24 victory Saturday at Indiana.
NEXT: @Western Kentucky (September 25)
10. MINNESOTA
Trey Potts ran for three touchdowns, Minnesota's swarming defense held Colorado to just 63 total yards and the Gophers won their 21st straight nonconference game by beating the Buffaloes 30-0 on Saturday. This marked the first time Colorado (1-2) has been shut out at Folsom Field since Nov. 3, 2012, against Stanford.
NEXT: Bowling Green (September 25)
11. PURDUE
Playing in South Bend for the first time since 2012, the Purdue football team fell to No. 12 Notre Dame on Saturday 27-13. The Boilermakers (2-1) pulled within four points midway through the third quarter, only for the Fighting Irish (3-0) to score 10 unanswered in the fourth to pull away for the win.
NEXT: Illinois (September 25)
12. NEBRASKA
Spencer Rattler passed for a touchdown and ran for another, and No. 3 Oklahoma held on to beat Nebraska 23-16 on Saturday. Celebrating the 50-year anniversary of the "Game of the Century" — No. 1 Nebraska's 35-31 win over No. 2 Oklahoma in 1971 — the teams rewarded their nostalgic fans with a competitive contest.
NEXT: @Michigan State (September 25)
13. ILLINOIS
The Fighting Illini have now lost three straight games after dropping last Friday night's heartbreaking 20-17 affair to Maryland.
NEXT: @Purdue (September 25)
14. NORTHWESTERN
Despite a valiant comeback effort mounted by senior quarterback Andrew Marty, Northwestern fell 30-23 at Duke on the road on Saturday. Marty recorded career-highs in passing yards (151), passing touchdowns (2), completions (11) and attempts (16). He rushed for another score on the ground and added 44 yards overall with his legs. He took over with Northwestern trailing 27-0 in the second quarter and in less than seven minutes of game time, reduced the deficit to 30-20.
NEXT: Ohio (September 25)
---
---
---