Week 8 Power Rankings on SiriusXM Big Ten Radio: Who's on Top?
Here's how the SiriusXM Big Ten Radio team voted after Week 8 for this edition of the Power Rankings.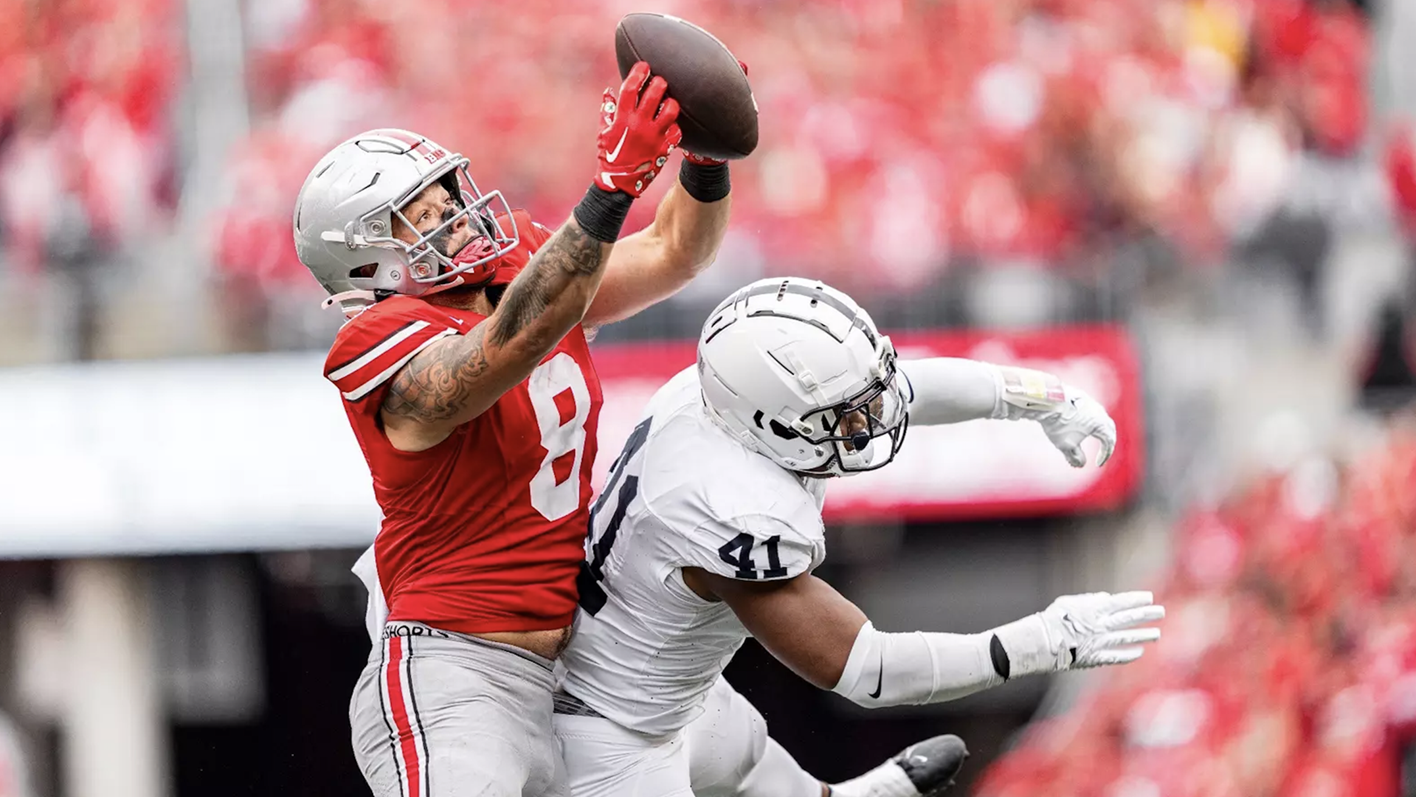 Pete Pistone and the rest of the SiriusXM Big Ten Radio team will unveil Power Rankings each week of the college football season. Check out this week's Power Rankings below, and start listening to SiriusXM Big Ten Radio (Ch. 372) on the SiriusXM App now.

Here's how the SiriusXM Big Ten Radio team voted after Week 8 for this edition of the Power Rankings:
1. MICHIGAN
J.J. McCarthy threw three of his career-high four touchdown passes in the first half and No. 2 Michigan routed Michigan State 49-0 on Saturday night. The Wolverines were dominant from the start and didn't let up, predictably a year after the Spartans roughed up some of their rivals in the Michigan Stadium tunnel. The Wolverines led 28-0 after two quarters, their largest lead in the series at halftime since going ahead by the same score in 1947.
---
2. OHIO STATE 
All-American Marvin Harrison made all the difference for No. 3 Ohio State in a pivotal Big Ten match-up, making 11 catches for 162 yards and late touchdown as the Buckeyes beat No. 7 Penn State 20-12 on Saturday. The Buckeyes' defense smothered Drew Allar and the Nittany Lions, extending Ohio State's winning streak in the series to seven games. Kyle McCord was 22 for 35 for 286 yards and the Buckeyes put up 367 total yards, a season-high against Penn State's stingy defense.
---
3. PENN STATE 
The Nittany Lions lost to Penn State 20-12 last Saturday.
---
4. RUTGERS 
Gavin Wimsatt ran for three touchdowns and 143 yards as Rutgers became bowl eligible with a 31-14 road victory over Indiana on Saturday. The Scarlet Knights equaled their best start since 2012 and tied a program record for conference wins. Wimsatt scored twice on 1-yard sneaks in the first half, then the junior quarterback broke free on an 80-yard TD run for the game's final points early in the fourth quarter. Rutgers wore down Indiana's defense with relentless rushing in amassing 276 yards.
---
5. MARYLAND 
The Terms were idle last weekend.
---
6. IOWA
The Hawkeyes lost to Minnesota last Saturday 12-10.
---
7. WISCONSIN
Braedyn Locke threw a 3-yard touchdown pass to lineman Isaac Townsend with 27 seconds left Saturday, capping an 18-point fourth-quarter explosion that gave the Wisconsin a stunning 25-21 come-from-behind win over Illinois Saturday. Illinois build a 14-7 lead in the first half at halftime, then added a 12-yard touchdown run in the third quarter by Kaden Feagin for a 21-7 lead going into the fourth quarter. Locke was 21-of-41 passing for 240 yards and two touchdowns in his first start since taking over for the injured Tanner Mordecai. Braelon Allen, the Big Ten's leading rusher, ran for 145 yards for the Badgers.
---
8. NEBRASKA 
Heinrich Haarberg ran for a touchdown and threw for another, Nebraska sacked Brendan Sullivan eight times, and the Cornhuskers beat Northwestern 17-9 on Saturday. The Huskers have won four of their last five games under first-year coach Matt Rhule and matched their 2022 win total. Haarberg scored the go-ahead touchdown on a short run late just before halftime and put the Huskers up 17-6 with a long pass to Malachi Coleman early in the fourth quarter.
---
9. MINNESOTA
Dragan Kesich made four field goals and Minnesota won at Iowa for the first time since 1999 to snap an eight-game losing streak in the series, holding the No. 24 Hawkeyes to 12 yards in the second half in a 12-10 victory Saturday. With the Floyd of Rosedale bronze hog statue at stake in the cross-border rivalry, Iowa appeared to take the lead with 1:21 left when Cooper DeJean fielded a punt that had bounced near the Minnesota sideline and returned it 54 yards for a touchdown. But after a replay review, DeJean was ruled to have made a fair-catch signal before fielding the punt, disallowing the return.
---
10. ILLINOIS
The Fighting Illini lost to Wisconsin 25-21 last Saturday.
---
11. PURDUE
The Boilermakers were idle last weekend.
---
12. NORTHWESTERN
The Wildcats lost to Nebraska 17-9 last Saturday.
---
13. INDIANA 
The Hoosiers lost to Rutgers 31-14 last Saturday.
---
14. MICHIGAN STATE 
The Spartans lost to Michigan 49-0 last Saturday night.
---
---
---
---