SiriusXM Big Ten Radio Football Power Rankings: Week One
See how the SiriusXM Big Ten Radio (Ch. 372) team voted to rank the teams after the opening weekend of the 2021 Big Ten Football season.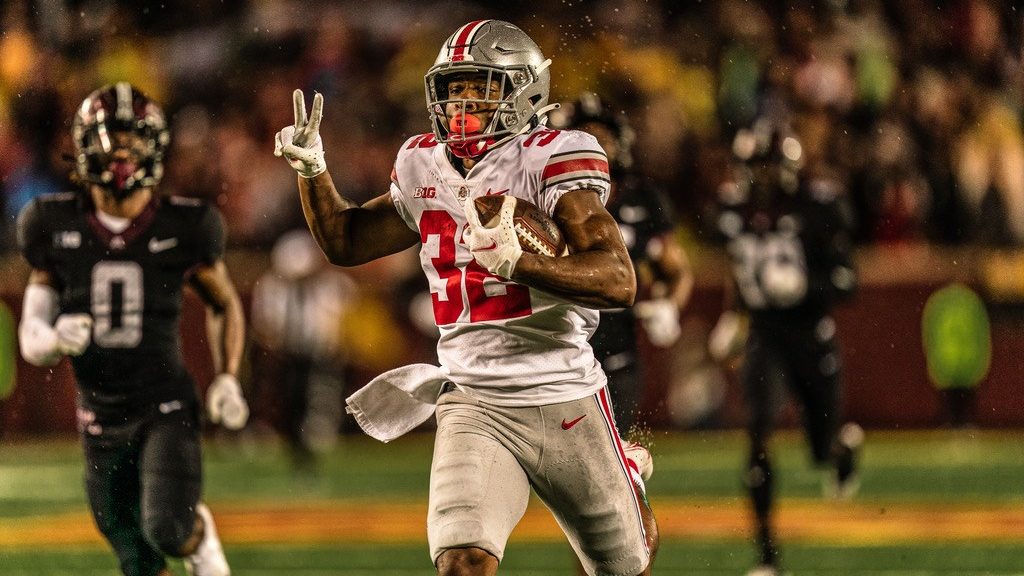 Ohio State is off and running in 2021. (Photo: Big Ten)
Pete Pistone and the rest of the SiriusXM Big Ten Radio team will unveil power rankings each week of the college football season. Check out their 2021 pre-season power rankings below, and start listening to SiriusXM Big Ten Radio (Ch. 372) on the SiriusXM app now.

The Big Ten Football campaign is off and running after a slate of early games that featured upsets, great performances, and even some controversy. Here's how the SXM Big Ten Radio team voted to rank the teams after the opening weekend of the 2021 Big Ten Football season:
1. OHIO STATE
The Buckeyes had to fend off a feisty Minnesota Golden Gophers squad in the season opener but did so thanks in no small part to an impressive debut for quarterback CJ Stroud.
NEXT: Oregon (September 11)
2. PENNSTATE
On the road at Wisconsin to open the season was a tough task, but Penn State was ready for the challenge and came away with a big win.
NEXT: Ball State (September 11)
3. IOWA
The Hawkeyes ended last season with six straight wins and had that momentum carry over to a huge opening weekend victory against Indiana.
NEXT: @Iowa State (September 11)
4. MICHIGAN
A much-needed opening day victory for the Wolverines who showed some offensive firepower against Western Michigan.
NEXT: Washington (September 11)
5. WISCONSIN
The Badgers got off to a rocky start at home losing to Penn State but Wisconsin showed some promising signs despite the disappointing beginning to the season.
NEXT: Eastern Michigan
6. INDIANA
Not the start Tom Allen was looking for, for his team that came into 2021 with a lot of expectation. A hard loss on the road at Iowa was a punch in the gut to Hoosier fans hoping to keep the ride going.
NEXT: Idaho (September 11)
A very impressive road victory against defending West Division champions Northwestern for Mel Tucker's squad. Could this be the most improved team from a year ago?
NEXT: Youngstown State (September 11)
8. MARYLAND
Big plays helped the Terrapins fend off West Virginia for an opening day win, bringing a smile to Maryland fans at The Shell.
NEXT: Howard (September 11)
9. MINNESOTA
PJ Fleck's team looked a lot more like the 2019 squad than last year's Golden Gophers unit even in a loss at home to Ohio State.
NEXT: Miami (Ohio) September 11
10. PURDUE
David Bell and Payne Durham teamed up for 254 receiving yards and the defense delivered a pair of fourth-down stops to carry Purdue football to a 30-21 victory vs. Oregon State on Saturday in the season opener at Ross-Ade Stadium.
NEXT: @UConn (September 11)
11. RUTGERS
Rutgers football opened its 2021 season with a dominant 64-14 victory over Temple on Saturday afternoon in front of 52,519 fans at SHI Stadium. Quarterback Noah Vedral went 15-for-27, including a 40-yard touchdown pass.
NEXT: @Syracue (September 11)
12. NORTHWESTERN
Not the start Pat Fitzgerald was hoping for with Michigan State coming into Ryan Field and knocking off the Wildcats in impressive fashion.
NEXT: Indiana State (September 11)
13. ILLINOIS
The Fighting Illini's bid to open up the year 2-0 came up short with a home loss to UTSA.
NEXT: @Virginia (September 11)
14. NEBRASKA
Despite a dominant win against Fordham there are still a lot of questions for the Huskers going forward.
NEXT: Buffalo (September 11)
---
---
---