SiriusXM Big Ten Radio Football Power Rankings – Week 12
Pete Pistone and the rest of the SiriusXM Big Ten Radio team will unveil "Power Rankings" each week of the college football season. Check out their Week 12 "Power Rankings" below, and start listening to SiriusXM Big Ten Radio (Ch. … Continued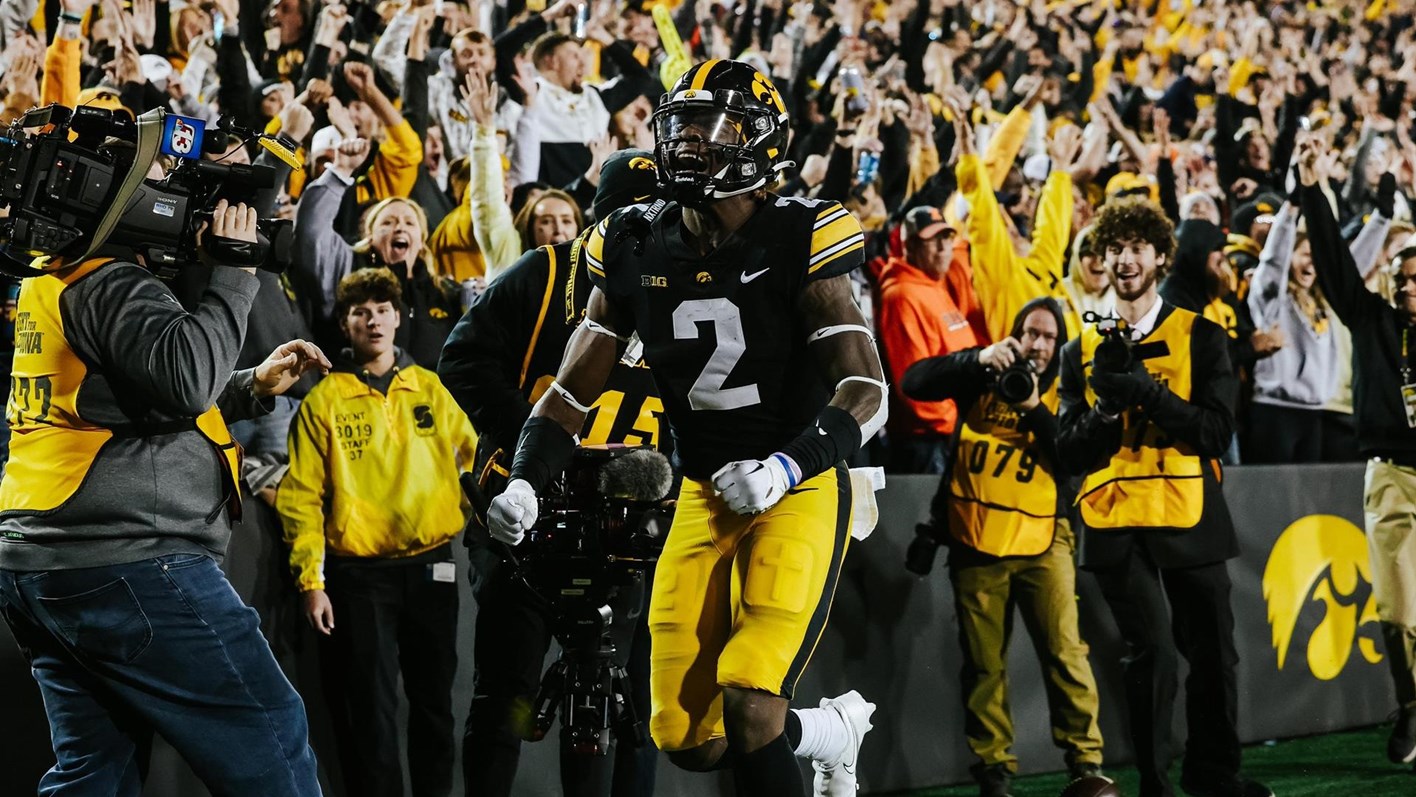 Pete Pistone and the rest of the SiriusXM Big Ten Radio team will unveil "Power Rankings" each week of the college football season. Check out their Week 12 "Power Rankings" below, and start listening to SiriusXM Big Ten Radio (Ch. 372) on the SiriusXM app now.

Here's how the SXM Big Ten Radio team voted to shape this week's edition of the "Power Rankings" with one weekend left in the regular season:
Blake Corum scored twice in the first half, Mike Sainristil intercepted two passes, and No. 2 Michigan —- playing again without suspended coach Jim Harbaugh — became the first college football program to win 1,000 games, beating Maryland 31-24 on Saturday. The Wolverines remained unbeaten in their final tune-up before next weekend's showdown against No. 3 Ohio State, but it wasn't easy. Maryland (6-5, 3-5) rallied from a 23-3 second-quarter deficit and had the ball down five on multiple occasions in the fourth quarter.
TreVeyon Henderson rushed for 146 yards and two touchdowns and Kyle McCord passed for 212 yards and two scores, leading No. 3 Ohio State to a 37-3 win over Minnesota on Saturday. Henderson turned a 13-point halftime into a 20-point lead 12 seconds into the third quarter, scoring on a career-best 75-yard run on the opening play of the half. After a Minnesota turnover, the Buckeyes scored again — 55 seconds later — when Marvin Harrison Jr. grabbed a 4-yard TD pass to extend the lead to 27-0.
Kaytron Allen ran for two touchdowns, Alex Felkins kicked a pair of field goals and No. 12 Penn State pulled away from Rutgers after quarterback Drew Allar left with an apparent injury for a 27-6 victory on Saturday. Allen finished a 15-play, scoring drive with a 2-yard touchdown run early in the second quarter and added another short, bruising scoring run up the middle early in the fourth to seal Penn State's 17th-straight win over Rutgers.
Kaleb Johnson's 30-yard touchdown run with 4:43 to play gave Iowa a 15-13 win over Illinois on Saturday, clinching the Big Ten West Division title for the Hawkeyes. Iowa won its third division title, and its second in three years, earning a trip to the Big Ten championship game on Dec. 2 in Indianapolis. Johnson had just four carries for 6 yards before breaking loose down the right side for the go-ahead score.
Cam Porter scored a pair of rushing touchdowns to help Northwestern become bowl-eligible with a 23-15 win over visiting Purdue on Saturday. David Braun got his first win as head coach The school promoted him Thursday. Ben Bryant (13-of-24 passing, 230 yards) hit Cam Johnson in stride for a 52-yard touchdown late in the third quarter to retake the momentum after Purdue (3-8, 2-6) scored to cut the lead to 9-6.
The Scarlet Knights lost to Penn State last Saturday 27-6.
7.    ILLINOIS 
The Fighting Illini lost to Iowa last week 15-13.
8.   WISCONSIN
Braelon Allen scored the game-winning touchdown on a 3-yard run in overtime to lift Wisconsin to a 24-17 win against Nebraska on Saturday night. Nebraska's Chubba Purdy threw an interception to Preston Zachman to end the game. Allen ran for two touchdowns and Tanner Mordecai threw a touchdown pass for the Badgers (6-5, 4-4 Big Ten), who snapped a three-game losing streak and are bowl eligible for the 22nd straight season.
9.   MARYLAND 
The Terrapins lost to Michigan last week 31-24.
Michigan State tight end Maliq Carr spent four seasons envisioning the perfect ending. It finally arrived Saturday at Indiana. Carr caught eight passes for 88 yards, using his 6-foot-6, 260-pound body to bounce off defenders for his second score of the game — a 36-yard catch-and-run with 1:19 left — to rally the Spartans past the Hoosiers 24-21.
The Hoosiers lost to Michigan State last Saturday 24-21.
The Boilermakers lost to Northwestern last week 24-15.
13.  MINNESOTA
The Golden Gophers lost to Ohio State last week 37-3.
14.   NEBRASKA 
The Corn Huskers lost to Wisconsin last Saturday 24-17 in overtime.
---
---