SiriusXM Backspin Presents The Art of Rap: Legendary rappers + hip-hop artists to embark on nationwide tour
Last year, hip-hop veteran Ice-T put together the inaugural Art of Rap Festival — billed as "the post prolific and essential hip-hop festival ever" — to massive crowds in Orange County, California and the Bay Area. Taking its name from … Continued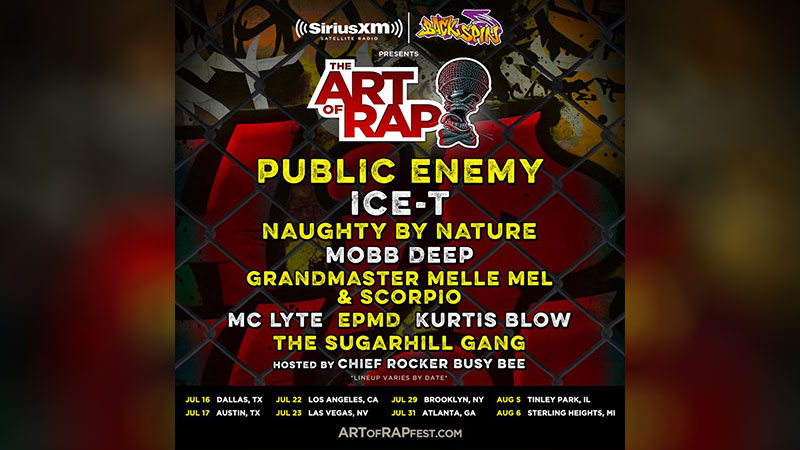 Last year, hip-hop veteran Ice-T put together the inaugural Art of Rap Festival — billed as "the post prolific and essential hip-hop festival ever" — to massive crowds in Orange County, California and the Bay Area. Taking its name from Ice-T's 2012 documentary Something From Nothing: The Art of Rap, the fest celebrated hip-hop culture with spray-painted murals, car shows, and freestyle battles in addition to epic sets from some of the genre's founding fathers.
Thanks to last year's success, the festival returns for its second year. Ice-T and Mickey Bentson have announced the SiriusXM Backspin Presents The Art of Rap festival, featuring an impressive lineup of legendary rappers and hip-hop artists who will tour nationwide starting Saturday, July 16 in Dallas, Texas.
True to the documentary and the 2015 festival, this year's lineup is scheduled to include performances by Public Enemy, Ice-T, Naughty by Nature, Mobb Deep, Grandmaster Melle Mel and Scorpio, EPMD, The Sugarhill Gang and Kurtis Blow, among others.
"Hip-hop is the most powerful and influential cultural movement since rock and roll.  A true art form that deserves respect," said Ice-T in a statement.
The SiriusXM Backspin Presents The Art of Rap Festival pre-sale will start on Thursday, May 12 at 10 am local time for each venue and end Thursday, May 12 at 10 pm local time for each venue.
Beginning May 13 at 4 pm ET, SiriusXM subscribers as of April 28 can enter for the chance to win a trip to New York, including round-trip airfare, two nights' hotel stay, a pair of VIP tickets to the SiriusXM Backspin Presents The Art of Rap Festival on July 29 at Coney Island Amphitheater, and the opportunity to meet select artists. Stay tuned for more information.
2016 TOUR DATES
JULY 16: GEXA PAVILION in DALLAS, TX
JULY 17: AUSTIN 360 AMPHITHEATER in AUSTIN, TX
JULY 22: PALLADIUM in HOLLYWOOD, CA
JULY 23: DOWNTOWN LAS VEGAS in LAS VEGAS, NV
JULY 29: CONEY ISLAND AMPHITHEATER in BROOKLYN, NY
JULY 31: AARON'S AMPHITHEATRE AT LAKEWOOD in ATLANTA, GA
AUGUST 5: HOLLYWOOD CASINO AMPHITHEATRE in CHICAGO, IL
AUGUST 6: FREEDOM HILL AMPHITHEATRE in DETROIT, MI
The Art of Rap Festival is the brainchild of Ice-T and Mickey Bentson (Hip Hop Entrepreneur) and produced by festival producer John Reese and his company Synergy Global Entertainment. *LINEUPS VARY BY CITY, CHECK WWW.ARTOFRAPFEST.COM FOR ALL INFORMATION.
For a free 30-day trial, check out http://www.siriusxm.com/freeTrial.
---
---
---