Seth Rogen on Katherine Heigl's 'Knocked Up' Apology & the North Korea hack
Rogen said there's no hard feelings, explaining he was more confused than angry about Heigl's criticism of the film after its release.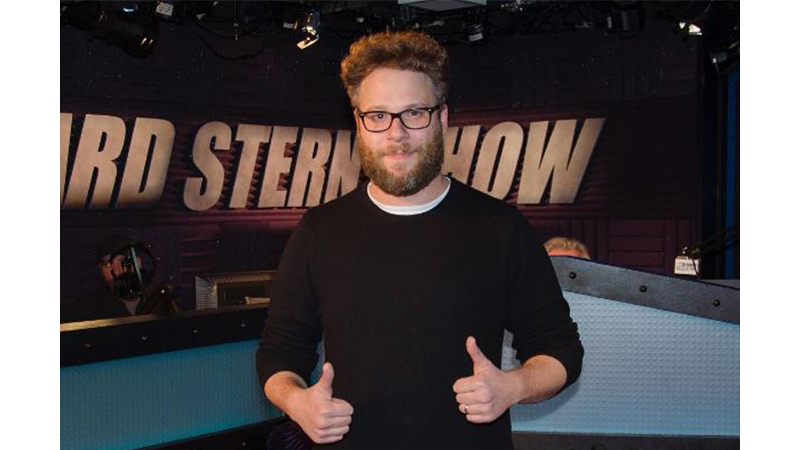 Despite Katherine Heigl expressing remorse for publicly knocking Knocked Up — the 2007 Judd Apatow movie that arguably launched her as a rom-com leading lady — on The Howard Stern Show in April, her costar Seth Rogen told the king of all media they still haven't spoken since an awkward restaurant encounter years ago.
Would he take the actress's call?
"I would of course!" Rogen told Stern on Monday. "The funny thing is I saw Judd after [her interview] and the conversation we had was like, 'Yes it's great, it's wonderful that she's apologizing.' And Judd was like, 'Has she called you?' and I was like, 'No, has she called you?' He was like 'No.'"
"So that's another thing. When I apologize to people, generally I don't take a public forum to do it," he added with a laugh. "I actually usually do the exact opposite. I want as few people as possible to know I'm apologizing to someone."
All jokes aside, Rogen said there's no hard feelings, explaining he was more confused than angry about her criticizing the film as "a little bit sexist" after its release.
"I thought she hated us. We made a movie, I was very proud of it, it was critically very well received, it financially was probably still my most successful movie I think, and then we just heard that she didn't like it and that it seemed like she didn't have a good experience making it and that she didn't feel as though the product was reflective of how she thought she should be portrayed," he said. "When that happens, as someone who's an egomaniac, I just get hurt by that, so I just thought, 'Oh, she must f***ing hate me.'"
Rogen does regret that the backlash to that drama and Heigl's similar squabbles on Grey's Anatomy gave her a bad rap in Hollywood. (She returned to prime time last year for her comeback vehicle, State of Affairs, but NBC axed the show after one season. Take two is CBS's upcoming drama Doubt.)
"I respect the fact that perhaps she realizes that it has hurt her career, and I don't want that to have happened to her at all, because I've said a thousand stupid things and I really like her. Especially if she's being honest," he said. "The only people in this situation who should in any way take something from it is me and Judd, because we're the ones she was talking about, and for other people to not work with her because she didn't like her experience with us I think is crazy."
And in the end, Rogen can't deny their chemistry on-screen after recently catching Knocked Up on TV in a hotel: "As I was watching it I was like f*** we're so funny together, me and Katherine, and as we were making the movie. Honestly, I was like I would make a dozen movies with her. It would be like whatever the shitty version of Tom Hanks and Meg Ryan is. I thought oh we have a great dynamic, people seem to like it, we were funny together, I was having a very good time."
In other news, Stern ribbed Rogen about how relieved he must feel that his adult animated movie Sausage Party hasn't caused any international incidents yet, cracking, "ISIS is threatening to bomb the country with hot dogs."
Hackers believed to be from North Korea infamously released sensitive correspondences among Sony execs in retaliation for Rogen and James Franco's The Interview, a 2014 satire imagining TV personalities hired to assassinate dictator Kim Jong-un.
The studio pulled the movie from theaters due to safety concerns but made it available on streaming services.
Rogen connected that fiasco to the recent Democratic National Committee data breach allegedly conducted by Russia.
"When I look back at it, to me the North Korea element is not the most interesting part of it," he explained. "It's really the reaction, the information that came out, how the media dealt with that information, how the world dealt with that information, how I think even today people whose job it was was to report on that probably are not sure how it was supposed to be handled and if it was handled properly."
As for Sausage Party, "We removed the kimchi section," he quipped.
For more coverage of The Howard Stern Show, follow @sternshow on Twitter. Hear more Howard on SiriusXM Ch. 100 and 101.
For a free 30-day trial, check out http://www.siriusxm.com/freetrial/blog. 
---
---
---