Sen. Tim Kaine shares his top 5 favorite bands on Rolling Stone's Music Now
Can you guess how many harmonicas Kaine carries?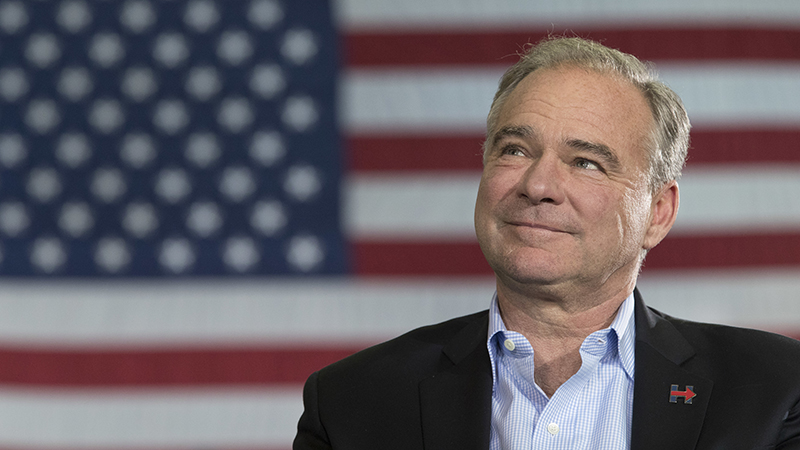 Democratic vice presidential candidate Sen. Tim Kaine, D-Va., listens as Democratic presidential candidate Hillary Clinton speaks during a campaign event at the Taylor Allderdice High School, Saturday, Oct. 22, 2016, in Pittsburgh, Pa. (AP Photo/Mary Altaffer)
Democratic vice presidential candidate Sen. Tim Kaine took a break from talking politics and policy to discuss an issue near and dear to his heart: music.
"Music is one of my two, or one of my three, great sources of relaxation," Kaine told Andy Greene, Associate Editor at Rolling Stone magazine. "I listen to music a lot. I've got all my songs downloaded on my smart phone."
Their interview aired on SiriusXM VOLUME's Rolling Stone Music Now. Kaine's top five favorite artists are an eclectic mix from across the musical spectrum: The Replacements, The Carter Family, Dave Matthews Band, Cornershop and Charlie Parker.
He added, "I also really enjoy playing music. I play the harmonica and carry six harmonicas with me in my briefcase. I end up playing a lot of music — as a statewide candidate when I was running for governor, I started to play with bluegrass bands around Virginia because we have so many music festivals, and then once people saw that I would do it, even though I'm not great, they were like, 'Well, yeah come on up for a song.'"
And after months on the road campaigning to be the next veep, Kaine's team developed a particularly musical nightly ritual.
"The part of the day that I look forward to the most is usually when we're heading home from our last event. … We get on the campaign plane and plug in a speaker and then everybody takes turns trying to impress each other with some song that we want everybody to hear."
New episodes of Rolling Stone Music Now air Fridays at 1 p.m. ET on SiriusXM Volume (Ch. 106)
For a free 30-day trial, check out siriusxm.com/freetrial/blog
Photo Credit: AP Photo/Mary Altaffer
---
---
---