Sen. Murphy on combating the NRA: it's remarkable the amount of progress we've made in 4 years
"We're at a pivotal moment right now, and I think that's why you've seen more Republicans than ever breaking with the gun lobby," Senator Chris Murphy told Ari Rabin-Havt during a special SiriusXM Progress forum on gun violence in Washington, … Continued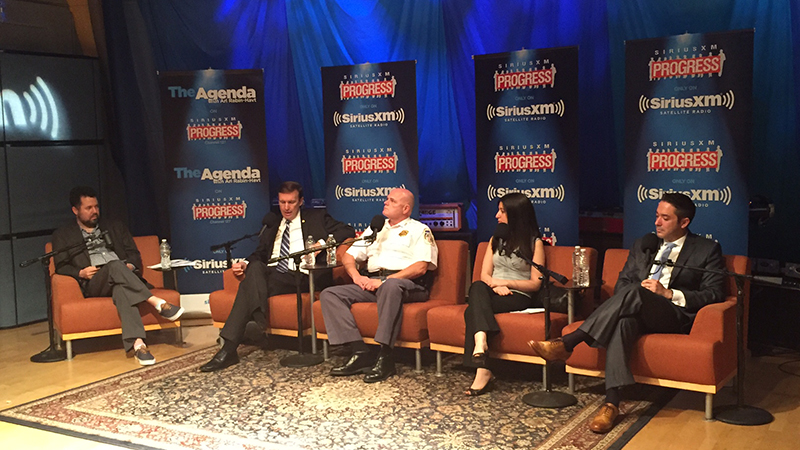 "We're at a pivotal moment right now, and I think that's why you've seen more Republicans than ever breaking with the gun lobby," Senator Chris Murphy told Ari Rabin-Havt during a special SiriusXM Progress forum on gun violence in Washington, D.C.
New Republic senior editor Brian Beutler shared his story of survival after having been shot three times during a robbery on the streets of Adams Morgan neighborhood in Washington, D.C. He urged his fellow journalists to help lead the charge in changing the way the public perceives gun violence.
"One thing the media can do better is not sanitizing gun violence," Beutler said. "The media in general steers clear of showing the damage guns can do to a human body, they'll sensor images for the sake of, I guess, people watching at home and their sensibilities, and I think that's a mistake. I think society needs to see what guns can do to a person. And if we don't show them that, then it aids the sense that guns don't kill people, people kill people. No, it really is the guns."
Baltimore County Police Chief Jim Johnson emphasized his support for national background checks using his years of experience to believe that they "will make our society a safer place." Johnson also stressed the importance of discussing and reporting mental health issues, adding that "a background check is only as good as the data in the NICS system."
"I think this is now becoming an issue that more voters are actually going to come to the polls thinking about, in a way that they frankly have not prior to Dallas and Orlando," Murphy added.
"The challenge is making sure we're not just talking about this issue in the days after a mass shooting that's dominating the headlines," Murphy concluded. "The key is to build a long term political infrastructure that makes this an issue that's topical every day."
Miya Rahamim Tandon whose father was shot and killed in a mass shooting carried out by a disgruntled employee also participated in the panel. The audience for this event was composed of people affiliated with Everytown for Gun Safety and affected personally by gun violence — they had the opportunity to the panelists questions.
The Agenda with Ari Rabin-Havt airs weekdays at 6 am ET on SiriusXM Progress (Ch. 127)
---
---
---