Sen. Gillibrand: 'Era of Trump is inspiring enormous activism'
So many women across this country are willing to fight.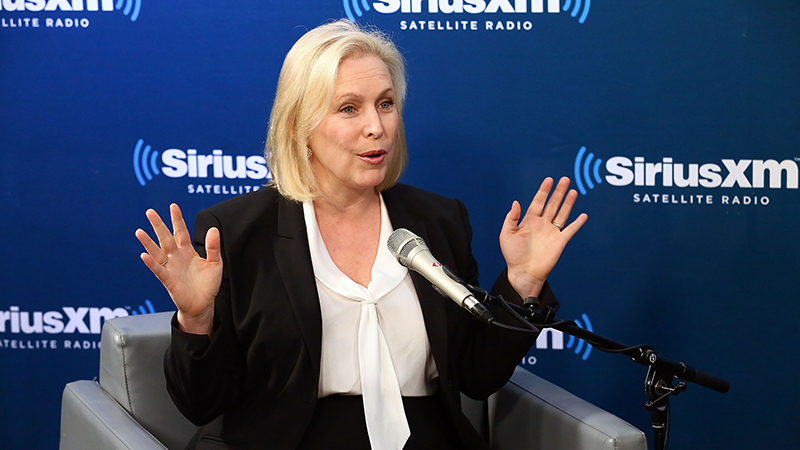 NEW YORK, NY – OCTOBER 30: Senator Kirsten Gillibrand speaks during a SiriusXM "Town Hall" event with host Zerlina Maxwell at the SiriusXM studios on October 30, 2017 in New York City. (Photo by Astrid Stawiarz/Getty Images for SiriusXM)
The women's movement is making a comeback.
"Six years ago, I thought it was dead," Sen. Kirsten Gillibrand admitted to Zerlina Maxwell during a SiriusXM Town Hall Monday. "You could never have guessed that the only silver lining of the Trump presidency, in my opinion, is that women responded so much."
Speaking on the heels of the first women's convention in recent memory, Gillibrand said Trump's election — and specifically the idea of "someone being in the Oval Office who had been accused of sexual assault" — "angered so many women across this country that they were willing to fight."
And with that in mind, Gillibrand said "this era of Trump is inspiring enormous activism."
"EMILY's List said normally we'd be working with 1,000 candidates — over 19,000 right now," Gillibrand said of the number of women wanting to run for office in 2018. "It's unbelievable. It's exciting."
"When things do get so bad and people are so worried and people are troubled about the direction of the country, women become very courageous," Gillibrand added. "They become very determined to protect their family or their community or that value that's so important. And they'll go through fire for it."
Singal Boost with Zerlina Maxwell airs Saturdays at 10 am ET on SiriusXM Progress (Ch. 127)
---
---
---