Russell Simmons hopes former friend Donald Trump isn't influenced by 'scary' Mike Pence
"I cannot believe that women didn't come together and didn't see that Hillary had been a champion for women for all of her life," Russell Simmons told Maria Menounos.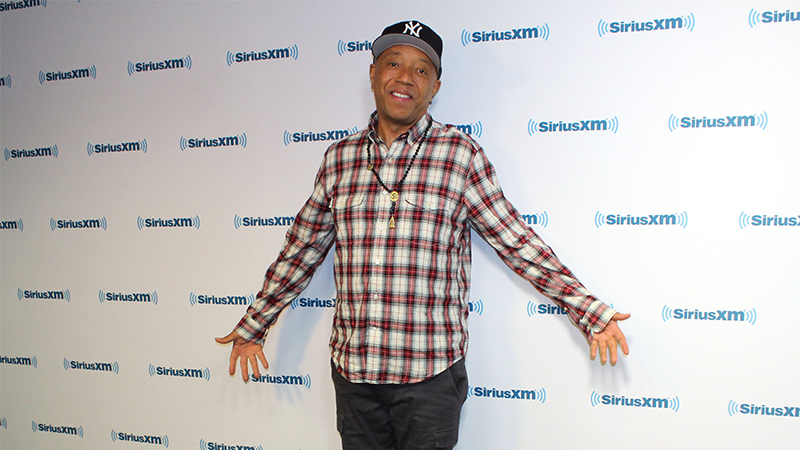 Russell Simmons put a personal relationship aside to fight for Hillary Clinton in the 2016 election. And after Donald Trump's surprise victory, he's hoping his former friend doesn't actually enact his radically conservative campaign promises.
"I'm a New York progressive, and I've been his friend for 30 years, and I'm not his friend now," Simmons said Thursday on Conversations with Maria Menounos. "He wrote the forward to two of my books, but I was on the campaign trail, I said some really tough things about him that I pray he forgets because look, to me it's very important that we don't let him get into the hands of what I think is a fascist part of the Republican Party and the Alt Right that really supported him early, because he ran on a platform that encouraged them."
Simmons is particularly troubled by Trump's threats to women's reproductive rights and denial of climate change. Still, he pointed out that the real estate mogul hasn't always espoused right-wing values.
"He won. A lot of angry people supported him. What he has to do now to unify the country is show that he's — which is true — the only independent president in the history of this country," the hip-hop producer and entrepreneur said. "Republican Party doesn't really love him, right? And he's been a Democrat most of his life."
"There's many, many things on the platform that he ran on that would even further divide our country, and we want him to be around other friends besides Mike Pence, who's a little bit of a religious fanatic," he added."
Like many liberals, Simmons fears vice president-elect Mike Pence more than his running mate.
"Do you know how much Mike Pence, what he thinks of women, what he thinks of gays, what Mike Pence thinks of Muslims? It's not good. Mike Pence is scary. It's not Trump, it's Mike Pence," he said. "You can't have Mike Pence in office, and you gotta pray that Trump is open to see his old friends and listen to why his good friends would be so vocal and campaign against the campaign that he ran."
Of Trump's supporters, who are seen by pundits as casting their ballots in rejection of the Washington establishment, Simmons said, "They're frustrated, and I like to believe that they're more frustrated than they are racist. There is a certain amount of this that, you know, 'You just had a n*****, you gonna let a bitch run it?' There's a little bit of that. 'You just had a black man, now a woman,' a lot of sexism."
As for Clinton's loss — heartbreaking to those who hoped she'd become the first female president in American history — Simmons expressed astonishment at polling numbers showing Trump getting 53 percent of white women's votes.
"I don't want this to come across wrong, but I cannot believe the number of uneducated white women who believe his rhetoric [was] okay, that voted for him," he said. "I cannot believe that women didn't come together and didn't see that Hillary had been a champion for women for all of her life. I mean, people vote their interests. I cannot believe it, that so many women did not vote their interests. Or maybe that is their interest, maybe they like the subservient, maybe they live the role that America and the world has given them. I've always felt that to be born unequal and to die unequal is a terrible thing. You should do what you can to create a society that allows equality, especially for you."
Conversations with Maria Menounos airs live weekdays at 1 p.m. ET on SiriusXM Stars (Ch. 109).
For a free 30-day trial, check out http://www.siriusxm.com/freetrial/blog.
---
---
---