Allen: Colts 'got away from basics' after three 11-5 seasons
After three consecutive 11-5 seasons, the Indianapolis Colts got a little full of themselves. So said tight end Dwayne Allen about the Colts' 8-8 finish in 2015. "And, if you remember, 2012, it was a rookie bunch that came together … Continued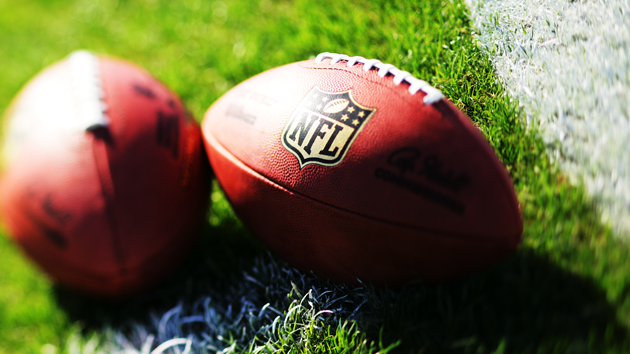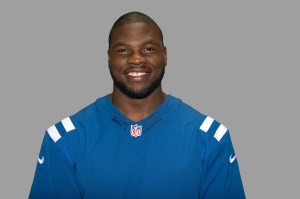 After three consecutive 11-5 seasons, the Indianapolis Colts got a little full of themselves.
So said tight end Dwayne Allen about the Colts' 8-8 finish in 2015.
"And, if you remember, 2012, it was a rookie bunch that came together and won that first 11 games, so winning had come easy to us, so we thought," Allen told Bruce Murray and Brady Quinn on the SiriusXM Blitz. "And I think we got away from doing some of the basics. We got away from great preparation, attention to detail and, of course, technique and other things.
Last year allowed Colts to 'refocus'
"So last year was great. And it's crazy with me saying it, but we were able to refocus and make the necessary changes so that we could stay on top of it."
Injuries to quarterback Andrew Luck also played a role in the Colts' struggles last season, although Allen said Luck, too, has been focused on doing whatever is necessary to rebound.
Luck 'isn't fazed by much'
"It's kind of crazy, but Andrew isn't really fazed by much," Allen said. "He signs the largest contract in NFL history and doesn't want to talk about it. It is what it is. That's the same way he is with his play. You see him throw an interception on the field, by the time he gets to the sidelines, he's forgotten about it and it's onto the next play.
"I'm sure that's what he did with last season. As much as he wanted to go out and cut down on mistakes and turnovers, we had other issues around him going wrong and he didn't get off to a great start. This year is a new year and I'm sure he's easily focused and excited to go back out there and continue to play the way he plays.
Wants Luck to play the way he knows how
"When Andrew plays his game, it's good enough for us to win. That's all I want Andrew to do is to continue to go out and play the way that he knows how to play and we'll be successful."
Dunlap: Bengals ready to show more poise over 16 games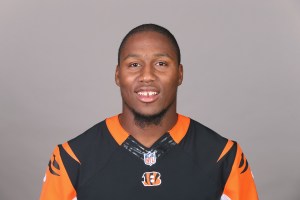 The theme for the Cincinnati Bengals' 2016 season was set on the night of Jan. 9.
Keep Your Composure.
Coach Marvin Lewis, his assistants, and veteran players have spent a good portion of the offseason and preseason discussing what happened in the final minutes of the wild-card playoff game the Bengals lost to Pittsburgh that night. They have repeatedly gone over the fact Vontaze Burfict and Adam Jones lost their cool and drew penalties that set up the Steelers' winning field goal.
'More disciplined football team'
"That's one of the big issues that ended our season last year and that's one of the things we look forward to correcting this season," defensive end Carlos Dunlap told Bruce Murray and Brady Quinn on the SiriusXM Blitz. "And that's why we're excited about getting started on Sept. 11 (against the New York Jets). We're a more disciplined football team than we showed that last two minutes of that last game that we played in, so we're going to go out there and show it for 16 games."
What made the message so impactful was that Burfict and Jones were among the players who delivered it, along with Lewis.
Burfict and Jones 'took ownership'
"The players who kind of let (the situation) get the best of them, they took ownership in those two incidents and they apologized to the team and vowed that they wouldn't let it happen again," Dunlap said. "The coaches reflecting on it and hammering that into the rookies in practice as well as in the meeting room, different situations that came up on NFL teams. (Lewis has) shown us those, so we got a combination of both of those so I feel like we're hearing it from both angles."
Arians: Cardinals expect Patriots to use Garoppolo's 'athleticism' in opener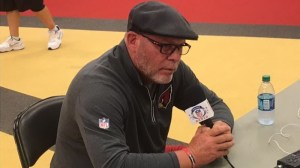 Bruce Arians knows it's coming — the blitz, coverage, formation, blocking scheme, whatever that he hasn't seen before, that no coach or player on the Arizona Cardinals saw during all of the extensive video analysis they've done of the New England Patriots.
'Going to get something you haven't seen'
The Cardinals' coach is counting on the Patriots to spring a surprise or two or three on his team in Sunday's season-opener, which will be highlighted by one major change on New England's part: Jimmy Garoppolo starting in place of suspended Tom Brady.
"Well, the one thing about Coach (Bill) Belichick, you're going to get something you haven't seen," Arians told Alex Marvez and Bill Polian on Late Hits. "He's a great coach and he's always got something new and they're ready for you, both sides of the ball.
Garoppolo is 'extremely accurate'
"We think (with) Jimmy, they're going to use his athleticism. He's extremely accurate. He's 70 percent through the preseason and we have a lot of respect for him coming out of the box. And they do a great job of run after the catch and run after a contact. We have to tackle really well in this game."
Arians fully expects his quarterback, Carson Palmer, to rebound from the four interceptions he threw in the Cardinals' NFC Championship Game loss against Carolina last January.
Palmer 'a workaholic'
"He's a workaholic," Arians said. "That thing was probably over for him a week after the season and he was back at it, full speed ahead.
"I'll bet he texted me 30 times over the weekend. We gave the guys Saturday, Sunday and Monday off, and that's too much time off for him. He has to be around and ready to go. But he is ready to go and I think he'll have another great season."
The coach is excited about the return of Tyrann Mathieu from the knee injury he suffered last season.
"He was voted captain this year and I was happy and proud for him," Arians said. "He's got the locker room on his side, and the first day he practiced, he had two interceptions and you could feel the energy on the defense go up one hundred percent."
Ron Rivera: Cam Newton has 'better feel' for Panthers' offense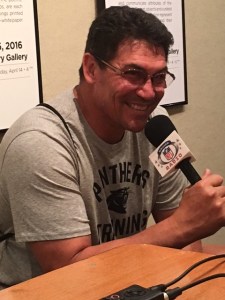 The Carolina Panthers didn't avoid looking at the videotape of Super Bowl 50, but only as a teaching tool rather than as any source of motivation for the 2016 season.
"Most of what we did was we used it, the specific plays out of it to look at, we did our cutups more than anything else," coach Ron Rivera told Jim Miller and Pat Kirwan on Movin' The Chains as he prepares his team for Thursday night's season-opener against Denver. "It's one of those things that you want to get past more so than anything else for obvious reasons."
'Most certainly a fashion icon'
Perhaps no one wanted to get past it more than quarterback Cam Newton, who will be remembered for his failure to jump on a fumble late in the game and for a post-game meltdown with the media.
But Rivera has been impressed with the way Newton has handled himself, on and off the field, through the offseason and preseason. The coach even appreciated the way his quarterback helped create a distraction from the Super Bowl fallout by wearing his assortment of hats during news conferences.
"He most certainly is a fashion icon," Rivera said. "He's one of those guys that really just enjoys himself. He had a good offseason. He was able to get away from football for a little bit and enjoy being a father. Then he did the Nickelodeon television show.
Newton was 'focused in on OTAs and minicamp'
"But then once he got back and focused in on OTAs and minicamp, I thought he did really good. I thought he had a real good session in during the spring and then came into training camp ready to roll. And you can see it. He's confident, he really seems to have grown even more so in what we do because he's got an even better feel for our offense right now."
---
---