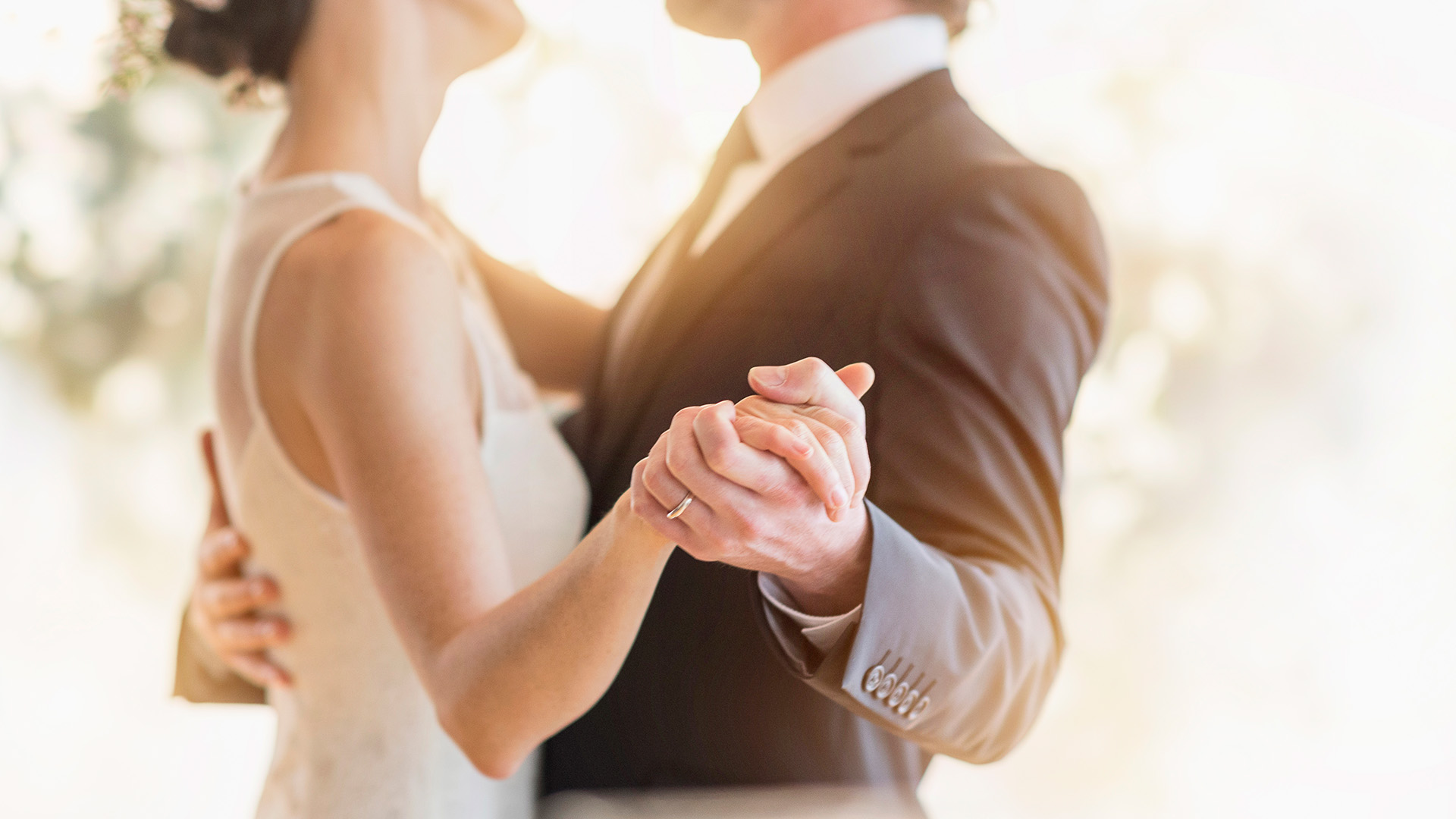 Wedding season is officially upon us! Late spring through early fall is the most popular time for couples to tie the knot. As the weather gets warmer, the days get longer, and the flowers are in full bloom, it's the perfect time to celebrate all things love.
Importantly, the song you choose for your first dance could make or break your big day. After all, a wedding is a party, and every party needs great music! Whether you're planning a wedding or you're just a hopeless romantic at heart, you'll love listening to these first dance songs.
Read on for some of the most charming first dance songs, and let the wedding bells ring!
---
Stream SiriusXM Love (Ch. 708) for all your romantic music needs
---
"At Last" — Etta James
This timeless classic is a dreamy song that no romantic should have to live without. The smooth, sweet melody combined with the passionate voice of Etta James instantly transports the listener to a fairy-tale world with lyrics that capture a euphoric love. If your partner makes your life feel like a song, this is the first dance song for you. This track has been used for the first dance at countless weddings, and it's easy to see why. It's enough to make anyone swoon!
Check out Katy Nichole covering the stunning song in the SiriusXM studios:
"Thinking Out Loud" — Ed Sheeran
It's hard not to get misty-eyed when you listen to this Ed Sheeran ballad. The idea of growing old with your true love sure is a nice one, isn't it? Sheeran's lyrics are confident that the love between him and his partner will endure the test of time, which is the perfect message for any wedding day. Sheeran knows that "When my hair's all but gone and my memory fades / And the crowds don't remember my name," true love will prevail between himself and that one special person. Pass the tissues!
Sheeran spoke to Howard Stern about his recent copyright lawsuit regarding the song. Find out how he won his case below:
"If I Ain't Got You" — Alicia Keys
There aren't many songs that better capture the essence of true love and commitment. Casting away superficial desires for things like diamond rings and roses, Keys emphasizes the importance of love over material possessions. She's got it right: for many, strong emotional bonds are the most important thing in life. This song creates an intimate atmosphere ideal for a couple's first dance, but it's also ideal for a passionate sing-along at karaoke. That's called range!
Watch Keys' breathtaking performance of the song live at SiriusXM:
"Your Song" — Elton John
"You can tell everybody this is your song" is the well-known refrain opening the chorus of this gorgeous 1970 track. Elton John's lovely lyricism is perfect for anyone who wants to shout about their love from the rooftops. There's no better time to be loud and proud about your love than on your wedding day!
Many artists have covered this iconic song throughout the years, including Lady Gaga and Ellie Goulding. Watch the video below to hear Tom Grennan's rendition of the much-beloved track for SiriusXM!
"All Of Me" — John Legend
This beautiful piano ballad is dedicated to John Legend's wife, the model Chrissy Teigen. The music video even ends with footage of their actual wedding in Lake Como, Italy. Talk about romantic! The lyrics describe a full and complex love that involves loving somebody inside and out, flaws and all. The emotive melody and touching message of this loved-up track will definitely have your wedding guests shedding a few tears if you choose this song for your first dance.
We were honored to have John Legend perform this song live in the SiriusXM studio. Check it out below!
"You're Still The One" — Shania Twain
Looks like we made it! The final song on our list is yet another beloved classic. If country music makes your heart sing, there "ain't nothing better" than this Shania Twain song for your first dance. In her heartfelt expression of unwavering love and devotion, Twain shows that true love can make it through all the challenges and changes that life brings. All her loving certainly paid off, because this song become Twain's first top-ten hit in the US, and we've been slow-dancing to it ever since.
Hear Alex G's laid-back version of the track below.
---
Find more heart-melting romance on SiriusXM Love (Ch. 708), our channel dedicated to all the lovers out there. Don't forget to check out our full list of channels for all your musical needs!
---
---
---