Roger Moore: Remembering the James Bond star on EW Radio
The screen legend died Tuesday after battling cancer.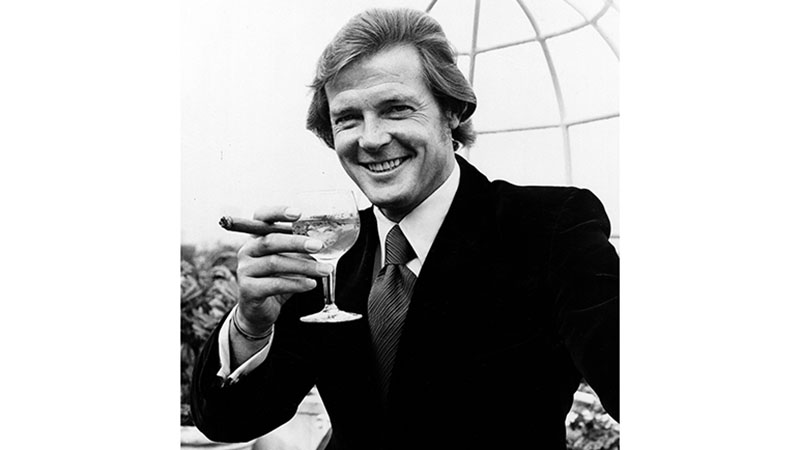 Actor Roger Moore poses with a martini and a big cigar at the Dorchester Hotel in London, on August 1, 1972, after the announcement was made that he will play the British secret agent James Bond 007, in the new production "Live and Let Die." (AP Photo)
Roger Moore played James Bond in more movies than any other actor — but his cocktail of choice wasn't the same as the suave spy's.
Entertainment Weekly film critic Chris Nashawaty called into EW Morning Live with an anecdote of the beloved star, who died Tuesday after battling cancer. He was 89.
Moore portrayed Agent 007 seven times from 1973-1985, adding a perfectly timed, arched eyebrow to the iconic characterization.
Nashawaty recalled a 2008 interview over lunch with the Hollywood great, telling hosts Dalton Ross and Jessica Shaw, "He was a really charismatic guy" with an "off-color sense of humor."
"He wasn't as prim and proper as you would expect," he said.
At that meal, "I could tell, looking at the waiter, when he asked, 'Mr. Moore, what would you like to drink?' He was just waiting for the words," Nashawaty said with a laugh. "You know, 'Martini.' And he goes, 'I'll have a Bloody Mary.' I could see the waiter deflate. He just wanted him to say, 'Shaken, not stirred.'"
EW Morning Live airs weekdays from 8-10 am ET on Entertainment Weekly Radio (Ch. 105).
(AP Photo)
---
---
---