Celebrate Ringo Starr's birthday with specials all week long on The Beatles Channel
Hear specials all week long in honor of Ringo Starr's 82nd birthday, including a special birthday mix and Guest DJ shows from legendary drummers.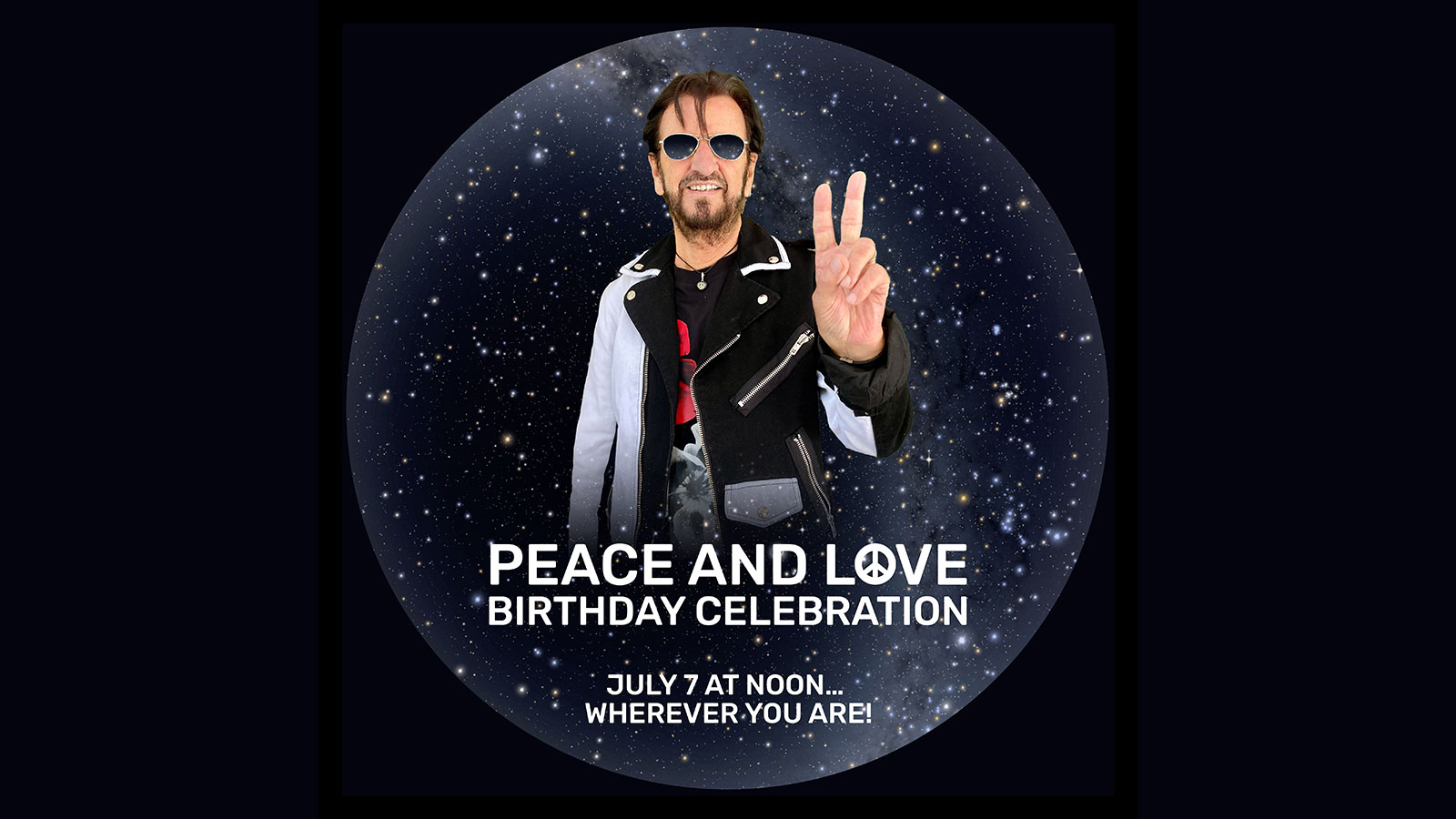 Ringo Starr is celebrating his 82nd birthday all week on The Beatles Channel (Ch. 18) and on the SXM App! Hear him host a special birthday mix show, picking some of his favorites by The Beatles, from his solo career and songs by artists who influenced him. Plus, a listener-voted countdown, Guest DJs from legendary drummers paying tribute to Ringo and much more throughout the week. See the full broadcast schedule below.

On July 7, Ringo Starr and his wife Barbara Starkey will be joined on his birthday by family and friends, including current All Starrs Steve Lukather, Edgar Winter, Colin Hay, Warren Ham and Gregg Bissonette, as well as friends Benmont Tench, Jim Keltner, Richard Marx, Matt Sorum, Ed Begley Jr, Linda Perry, Diane Warren, Roy Jr and Alex Orbison.
They will gather together in Los Angeles for Ringo's annual Peace & Love Birthday event, sponsored by SiriusXM The Beatles Channel, and at noon give the traditional "Peace and Love" exclamation. This year, Artemis Music Space Network through the International Space Station (ISS) will amplify that message not only to the entire planet but up into Earth's orbit and to the stars.
At noon, Ringo will signal the Artemis Mission Control Center in Houston, TX, to beam his message and music — Ringo's 2021 single release "Let's Change The World" and his "Star Song" (the music the stars made upon his birth as mapped out by Artemis) — to the International Space Station (ISS), where it will orbit around the Earth, passing over many countries and much of the Earth's population and beaming back down messages of peace and love while also traveling out to distant stars.
Prior to this, musicians including Langhorne Slim and Sawyer Fredericks will celebrate Ringo's music with tribute performances.
The global celebrations continue to be confirmed and so far include 26, beginning in Sydney, Australia, where Today's Karl Stefanovic has the first Noon "Peace & Love" event of the day. It then continues with events in Tokyo and Osaka, Japan; Moscow, Russia; Athens, Greece; Jerusalem, Israel; Ticino, Switzerland; Halle, Germany; Barcelona and Madrid, Spain; Venice, Italy; London, England; Buenos Aires and Chascomús, Argentina; Sao Paulo, Brazil; Lima, Peru; Panama City, Panama; San Salvador, El Salvador; Guatemala City, Guatemala; San Jose, Costa Rica; and Stateside in New York City, New York; Interlochen, MI (Interlochen Center for the Arts); Cleveland, OH (Rock and Roll Hall of Fame and Museum); Fairfield, IA (Marharshi University) and Los Angeles, California (Ringo usually invites fans to join him in person, however, this year the gathering in Los Angeles could not be made public to adhere to city ordinances). This year also sees the first "Peace and Love" celebration in South Africa, where people in Yeoville, Johannesburg will gather at Noon and participate at the Friday Hartley Shelter.
And remember – Peace & Love
---
Broadcast Schedule (all times ET):
---
Ringo Starr's Birthday Mix
July 7 at 11am and 9pm
July 8 at 3pm
July 9 at 12am
July 10 at 11am
Ringo Starr's Favorite Drumming Moments
Ringo takes control of The Beatles Channel with a playlist of hand-selected songs by The Fab Four and more featuring his favorite drum moments.
July 7 at 4pm
July 8 at 11am
Gregg Bissonette Guest DJ
Ringo's drummer for over 15 years, Gregg Bissonette will feature his favorite drumming moments from Ringo Starr in The Beatles.
July 7 at 1pm
July 8 at 9pm
July 9 at 3pm
July 10 at 1pm
8 Songs A Week
It's a special birthday mix dedicated to one of the most iconic drummers, musicians and singers in history — Ringo Starr. Which song with Ringo on lead vocals did fans decide is their favorite Find out on an all new 8 Songs A Week plus 2, hosted by Meg Griffin.
July 8 at 2pm
July 9 at 10am
July 10 at 1pm
July 11 at 12pm
Magical Ringo Maxi Concert
30 minutes of Ringo hits (Beatles and solo) captured live and assembled into one magical Ringo maxi concert.
July 9 at 9pm
Fab Fourum
Dennis Elsas, Bill Flanagan and Tom Frangione will host a birthday tribute to Ringo Starr, featuring former members of Ringo's All Starr Band including Steve Lukather and Warren Ham. Plus lots of other Ringo topics!
July 6 at 9pm
July 9 at 7am
July 10 at 6pm
Breakfast With The Beatles
Chris Carter will feature 3 hours of Ringo Starr music on his morning show.
July 7 at 8am
Dark Horse Radio
For Ringo's birthday, Laura Cantrell celebrates by exploring Ringo's musical friendship with George Harrison.
July 7 at 3pm
July 9 at 11pm
July 10 at 4pm
July 13 at 12pm
Northern Songs
Bill Flanagan celebrates Ringo's Birthday with a show dedicated to his work as a session drummer.  He'll play songs Ringo drummed on, featuring artists like Stephen Stills, Howlin' Wolf, Joe Walsh, Tom Petty and of course, John, Paul and George.
July 4 at 11pm
July 8 at 12am
July 9 at 7pm
July 10 at 6am
Way Beyond Compare
Host Tom Fragione dedicates this week's show to Ringo Starr for his Birthday as he features rarities, alternate takes and demos of songs featuring Ringo.
July 4 at 2pm
July 5 at 11pm
July 8 at 4pm
July 10 at 10am
My Fab Fours: Rock Drummers
Hear some of rock's most legendary drummers each pick their four favorite songs by The Beatles where Ringo stands out the most to them. They'll discuss how Ringo Starr's drumming influenced their careers.
Max Weinberg – E Street Band
July 4 at 10pm
Peter Criss – Original Kiss Drummer
July 10 at 2pm
Simon Kirke  – Bad Company & Free Drummer
July 7 at 7am
Tico Torres  – Bon Jovi Drummer
July 9 at 10pm
Denny Seiwell  – Original Wings Drummer
July 10 at 9pm
Steve Jordan  – Drummer for The Rolling Stones, Keith Richards, John Mayer & Eric Clapton, SiriusXM Host
July 6 at 2pm
Dennis Diken  – Drummer – The Smithereens
July 5 at 3pm
Liberty Devitto – Former Billy Joel Drummer For 30 Years
July 9 at 11am
Alvin Taylor  – Drummer – George Harrison, Elton John, Eric Clapton
July 4 at 7am
Apple Jam
Join David Fricke and Tom Frangione for Apple Jam, a show dedicated to the music and artists of Apple Records. This month, a look at Ringo Starr's Apple Records contributions in celebration of his 82nd birthday this month.
July 8 – 11pm
July 10 – 12am
---
---
---