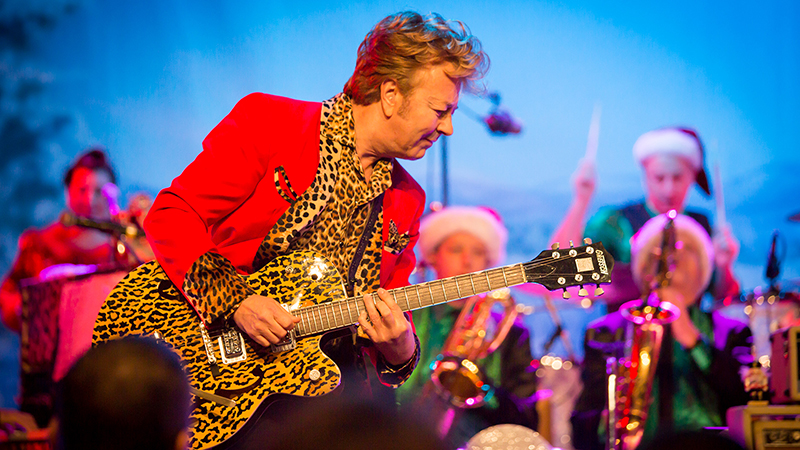 Brian Setzer and his 18-piece orchestra whipped up a huge dose of retro holiday cheer for a private concert exclusively for SiriusXM subscribers at the Hard Rock Café in New York City as a special stop on The Brian Setzer Orchestra's 13th annual "Christmas Rocks!" Tour.
The iconic guitarist, songwriter, vocalist and three-time Grammy Award winner performed rocked-up versions of holiday favorites including Jingle Bells and the Nutcracker Suite, plus songs from his latest Christmas album Rockin' Rudolph. The performance also included Setzer's classic Stray Cats hits Rock This Town and Stray Cat Strut.
The "Christmas Rocks!" concert will premiere on Outlaw Country (Ch. 60) on Friday, Dec. 9 at 8 p.m. ET, with encore airings on Dec. 10 at 8 a.m. ET and 10 p.m. ET and Dec. 11 at 12 p.m. ET, Dec. 12 at 2 p.m. ET, Dec. 14 at 10 a.m. ET and Dec. 16 at 10 p.m. ET. The concert will also be replayed throughout the month on Holly (Ch. 17) as well as Outlaw Country.
For a free 30-day trial, check out http://www.siriusxm.com/freetrial/blog.
---
---
---