Rescue Me reunion: 5 things we learned about the Denis Leary dramedy at ATX
Like the FX show itself, the Rescue Me reunion panel at the ATX Television Festival was full of f-bombs, laughter and bittersweet reflection. The series followed New York City fire fighter Tommy Gavin (Denis Leary) and his family inside and outside the … Continued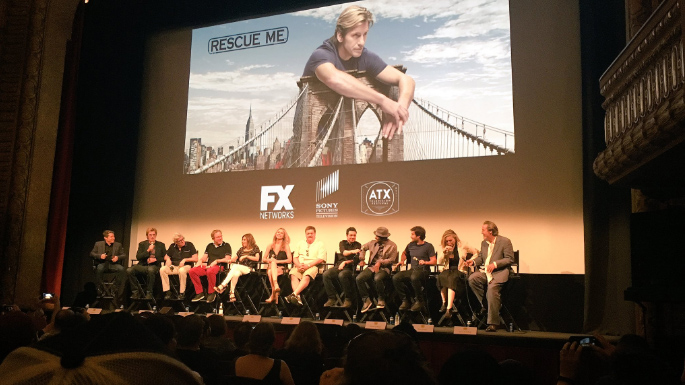 Like the FX show itself, the Rescue Me reunion panel at the ATX Television Festival was full of f-bombs, laughter and bittersweet reflection.
The series followed New York City fire fighter Tommy Gavin (Denis Leary) and his family inside and outside the Engine Company 99 as they dealt with the aftermath of 9/11 for seven seasons.
Raw, real and flamingly funny, Rescue Me was a politically incorrect show about a horrific attack that changed politics forever — and proof that healing is rooted in humor.
Here are five takeaways from Friday's panel in Austin, Texas:
Creators Denis Leary and Peter Tolan first came up with the concept watching the Twin Towers fall on Sept. 11, 2001, while shooting another show, The Job, across the river in New Jersey. Leary was also inspired by two heroic firemen in his life: his cousin, who died in a Massachusetts blaze, and his friend who survived 9/11, and planned on writing a film. "That's when you said to me, 'You know what, we shouldn't think about it as a movie. We should think about it as something that deals with a crew of guys after 9/11 sort of recovering and watching those guys go through that," Leary told Tolan. "Some guys were drinking their way through it, some guys were f***ing their way through it, some guys were falling apart, some guys were resigning and getting out of being firefighters."
The characters comparing the size of their … manhood by measuring them against remote controls was inspired by real events. Leary recalled eating breakfast with a group of real firefighters and hearing one complain, "We have a f***ing d*** measuring contest in the firehouse, and this c***sucker uses it." "And I was like, 'Wait a minute,"he said. "I got my notebook, I started writing it down!"
Tatum O'Neal considers her part as Tommy's sister "the best experience" of her career. She's the youngest person to ever win an Oscar and has starred in countless roles, but she remembered her time on Rescue Me as the most precious —even if she couldn't bring herself to say one dirty word, taint, originally in one of her first scripts."It's the space between your vagina and your a**hole," she explained as the audience roared. "I remember I texted him or I bumped into him and said, 'Denis, my kids are little, they're going to think — I can't say that.' And you worked with me and you let me say something sort of like it, and you ended up using it for people who were actually more funny than me. So thank you for that!"
Andrea Roth has no regrets about the controversial rape scene between Tommy and her character, his estranged wife Janet, in season 3. "I think it was a wonderfully written, very complex situation between two incredibly dysfunctional people who love-hated one another, and it was great to watch because of just how — they were doing the best that they could with the skills that they had," she said. "And I did not understand everybody's offense to it because we weren't condoning the situation. We were just acting as these two characters would act."
A devoutly Catholic, "talented" actress quit her job when she found out her character would have an affair. "What the f***? Have you seen Spotlight?" Leary joked. Another actor dropped out of his part of a priest, "who I swear to you knew going in he was a pedophile, frankly, just because he was a priest." Tolan cracked.
Hear full ATX coverage all weekend on SiriusXM Entertainment Weekly Radio (Ch. 105).
For a free 30-day trial, check out http://www.siriusxm.com/freeTrial.
---
---
---