Rep. Louie Gohmert 'looks forward' to Trump calling out Republican dissenters
Gohmert also expressed optimism about the repeal of the Affordable Care Act.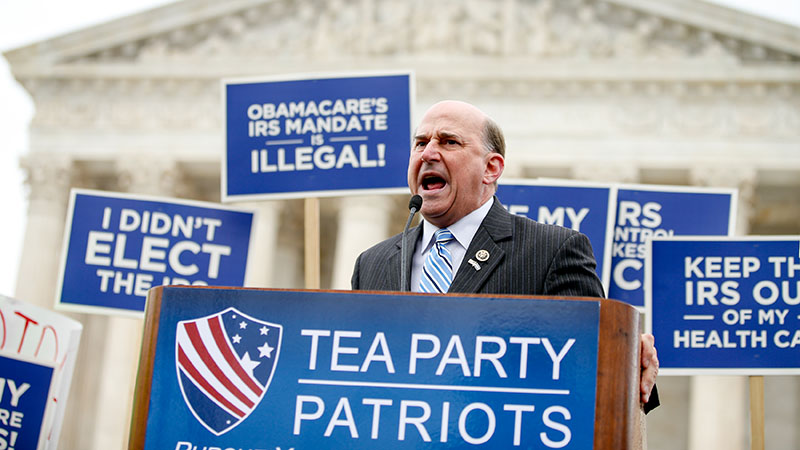 Rep. Louie Gohmert, R-Texas speaks at a rally outside the Supreme Court in Washington, Wednesday, March 4, 2015, as the court was hearing arguments in King v. Burwell, a major test of President Barack Obama's health overhaul which, if successful, could halt health care premium subsidies in all the states where the federal government runs the insurance marketplaces. (AP Photo/Andrew Harnik)
Rumblings of Republican infighting over how to repeal and replace the Affordable Care Act triggered a recent Tweet-storm by President-elect Trump.
And Trump's blunt use of 140 character statements to call out adversaries has also attracted a new fan.
"I was concerned at first with all the Twittering [Trump] did," admitted Rep. Louie Gohmert when speaking to Breitbart London Editor-in-Chief Raheem Kassam on Thursday. "But, by golly, it gives him a way around The New York Times straight to the people to set the record straight."
Gohmert, a key member of the Tea Party movement in the House of Representatives, has been one of the biggest advocates of repealing the 2010 healthcare legislation. As the transition of power begins to come into focus, Gohmert seems able to shake off the years of disappointment he felt under Speaker John Boehner's tenure.
"By golly, in my private meetings — we've had a number of them already this week working on the issue of repealing Obamacare, I'm going, 'Wow, this is actually what we promised, this is incredible.'"
His sense of optimism in the party's future success is also rooted in Trump's willingness to call out members who vote against party lines.
"I look forward to the days when we pass something, like a repeal of Obamacare in the House, and send it to the Senate and then Trump sends out [a Tweet saying] 'here are the Republicans who are not agreeing to keep their promises on what we promised, I promised, they promised. And here's their names,'" Gohmert said. "We never had a president that did that before. I think we're going to be able to get a lot more done having a president that will push the issue like that."
Breitbart News Daily airs weekdays at 6 am ET on SiriusXM Patriot (Ch. 125)
For a free 30-day trial, check out siriusxm.com/freetrial/blog
AP Photo/Andrew Harnik
---
---
---